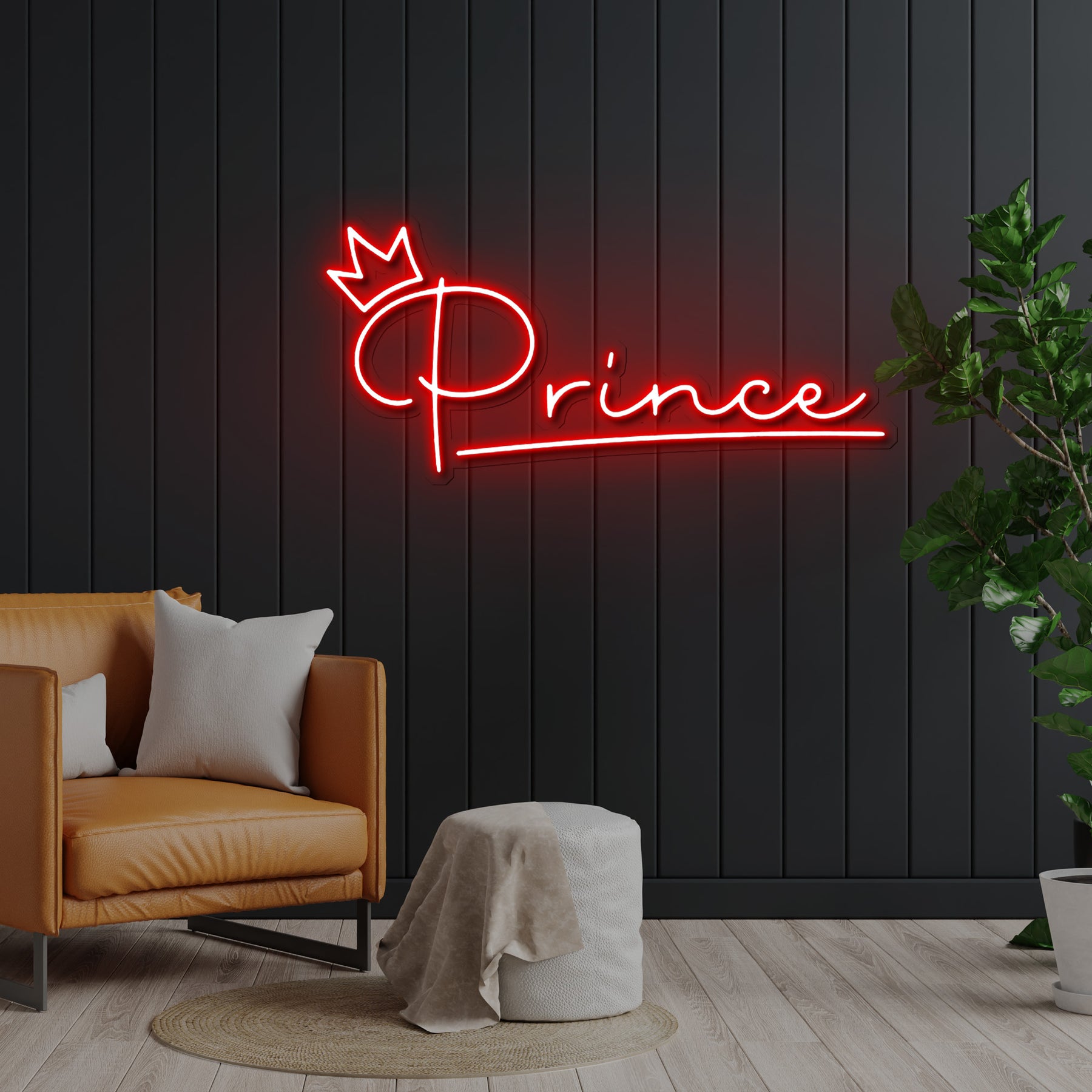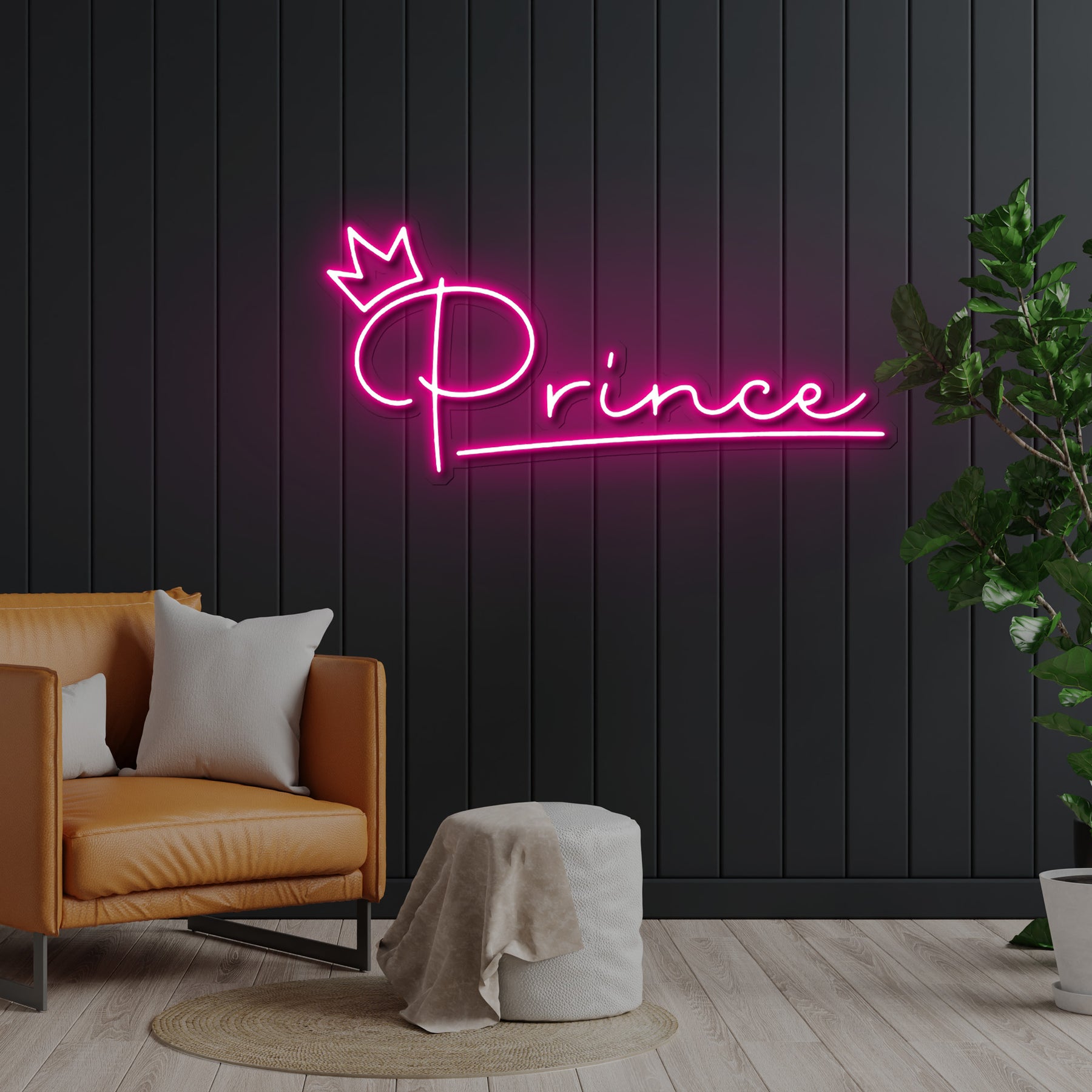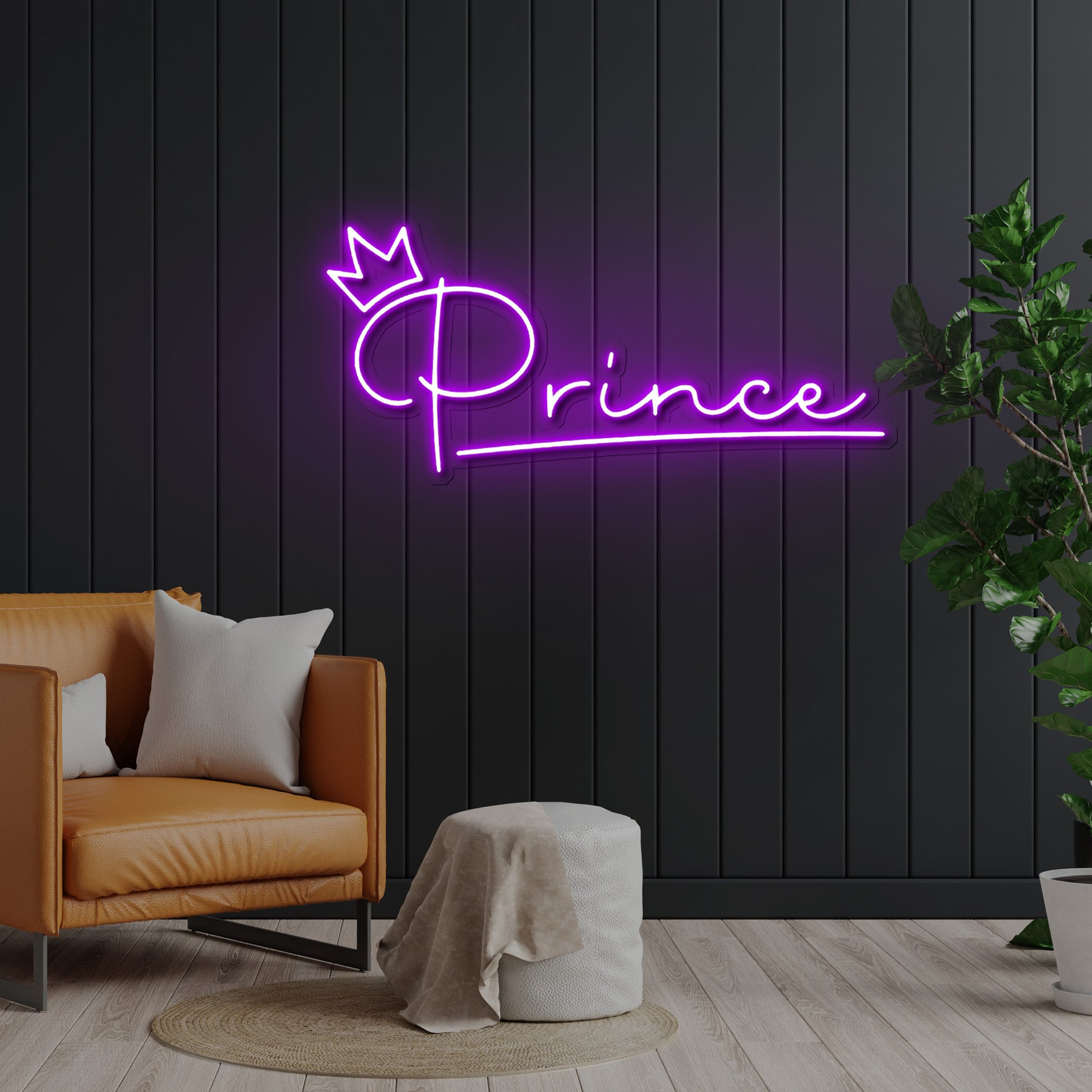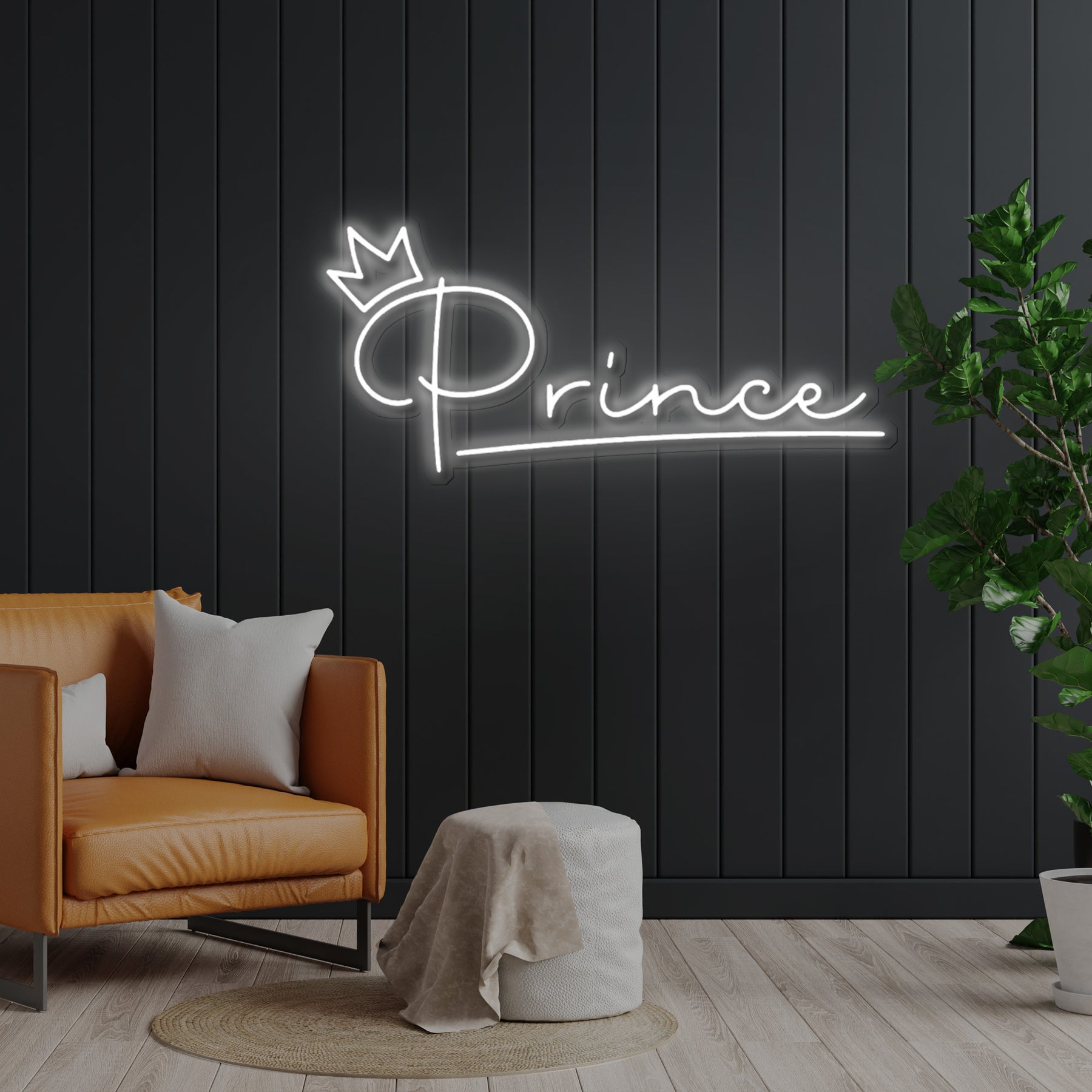 Princess
Backing Style:
Cut to Shape
Princess Neon Sign For Decor Baby Girl Room
The Princess neon sign from Orant Neon is a must-have for every little girl's room. The classic fairytale princesses inspire the sleek, white design. It has a glittery, girly feel that is perfect for any princess-themed room. The sign is also very versatile and can be used in various ways.
Neon Princess sign collection
Neon sign aesthetic is a great way to add flair to your home decor. They come in various colors and designs, and you can find them to match any style.
Do you intend to expand your family by adding a new member? Maybe a young princess? If so, this might be the ideal decoration for her bedroom or nursery! Instead, are any close relatives or friends having a girl and you'd like to send them something adorable but special that will be much more sentimental than matching onesies for the mother and child?
This adorable Princess neon light would be the most thoughtful and practical gift and could be displayed anywhere. Moreover, it serves as a nightlight! Why are you holding out?
Princess peach neon sign
This fun and colorful neon Princess sign perfectly shows your love for Princess Peach! This sign is made with high-quality materials and everything you need to get it up and running.

Whether you're a fan of the Super Mario series or love all things pink and sparkly, this sign will brighten up any room. Order yours today and let everyone know that Princess Peach is your favorite!
>>>> Read more: Levitate your prayers with praying hands neon sign

Neon Princess light art
This fun and funky neon sign art is perfect for any princess-themed room or party. The sign features a bright pink princess crown with the word "Princess" in white letters. The crown is adorned with sparkling jewels, making it fit for royalty. This sign is sure to add some extra flair to your decor.
Princess neon light bedroom
We think the best place to hang this Princess neon sign is above your bed in your bedroom. This will add such a great mood to the ambiance. That warm, soft light from the neon signs for sale will take the room to another level. This is a neon sign bedroom idea worth trying right away, right?
>>> Refer: Stay home and chill with the let's stay home neon sign

Princess neon signs daughter
For your little princess, this distinctive custom neon sign will bless her with a soft touch of light. The LED neon sign is perfectly safe to use. When the symbol is installed in your daughter's bedroom, there's nothing to worry about.
Can I design my own Princess neon light?
In addition to the products available, you can create a Princess neon light at Orant Neon. Refer to the information below to own an eye-catching product!
Tech specifications of neon sign

Size: Customize as your request (Minimum size of a letter is 4CM)
Flexible Size LED Neon (Width x Height): Dimensions (6 x 12mm) or (8 x 15mm)
LED Neon Flex Jacket: White coat (White display off) / Color jacket (Color display off)
Neon Color LEDs: Red, Blue, Green, Orange, White, Warm white, Light pink, Yellow, Lemon yellow, Ice blue, Purple, Pink
Next round: 5mm . Acrylic Sheet
Acrylic board color : Transparent/black/color
Guarantee: one year
Backboard shape: Cut to Shape, Square Back, Invisible Acrylic
LED Power Adapter: Standard 230v or 110v LED power adapter
AC power plug: EU / UK / AU / US . plug
Main part: Acrylic sheet, Neon flex, Power supply, Installation accessories
Transparent cable: Approx. Length 2m (from LED sign)
AC power cord: Approx. 1.5m long (from transformer)
Installation method: Mount (on the wall) or Hang by rope (on the ceiling)
Color
Yes, we offer neon customizable Princess LED neon signs in many colors. We also offer you a wide range of variations. At Orant Neon, customers can select from 25 neon sign colors. There are 11 colors; when neon signs are off, they seem white, and when they are on, they appear as colors. Another 10 colors will be given color jackets to keep the light on even when it is off.
Size
Our signs come in a range of neon sign sizes, from 60cm (2ft) to over 300cm (10ft). If you have a specific custom size, leave us a message. Besides, you can choose your font. Our team of designers will assist you in creating a distinctive design that fits your needs.
Things you need to know before buying a Princess LED neon sign
Buying neon sign for sale is not tricky. However, if you're unfamiliar with neons, you undoubtedly have a lot of queries concerning the purchasing procedure.
How does the LED neon sign work?
Long-life transformers power our Princess neon light. One of our skilled neon artisans handmade each LED neon sign in our international studio. Most of the LED Neon signs plug into a power socket. We do offer battery pack options for minor signs.
Included in your purchase are the following:
LED neon sign customized to your specifications

Power supply and adaptor

Wireless remote & dimmer

A 12-month international manufacturer warranty

Drill holes for installation
How much do neon princess lights cost?
If you get our pre-made sign, the price will depend on the size. If you want a fully customized version of the Princess neon light, the cost will be based on your customization. It can vary depending on the font, sizing, design complexity, and total length of Neon used. You need to confirm the design with our team for an accurate price.
Shipping Information
All orders are processed and ready to be shipped within 5-7 business days upon receipt of payment. Orders are not shipped or delivered on weekends or holidays.
| | | |
| --- | --- | --- |
| Shipment method | Delivery Time | Shipment cost |
| Standard | 10-14 Business Days | FREE |
| Express Shipping | 8-10 Business Days | $35 |
Please note: If your order has any other changes, the delivery time will be later than expected, corresponding to the number of days waiting for order adjustment.
Related products:
Every little girl dreams of being a princess, and what better way to make that dream a reality than with a Princess neon sign from Orant Neon? This sign is the perfect way to add a touch of magic to any little girl's room. This sign will be the ideal piece of decoration for your palace.