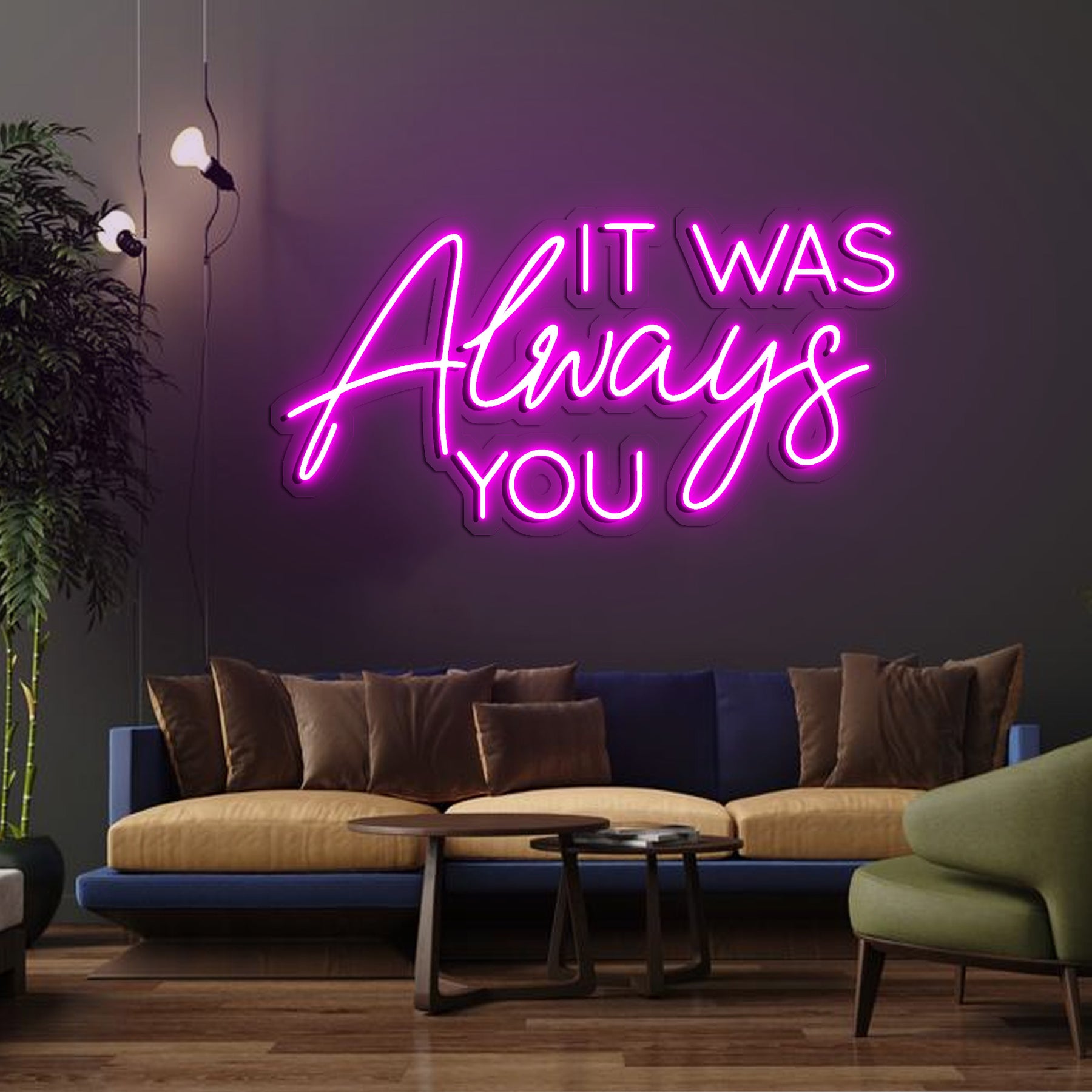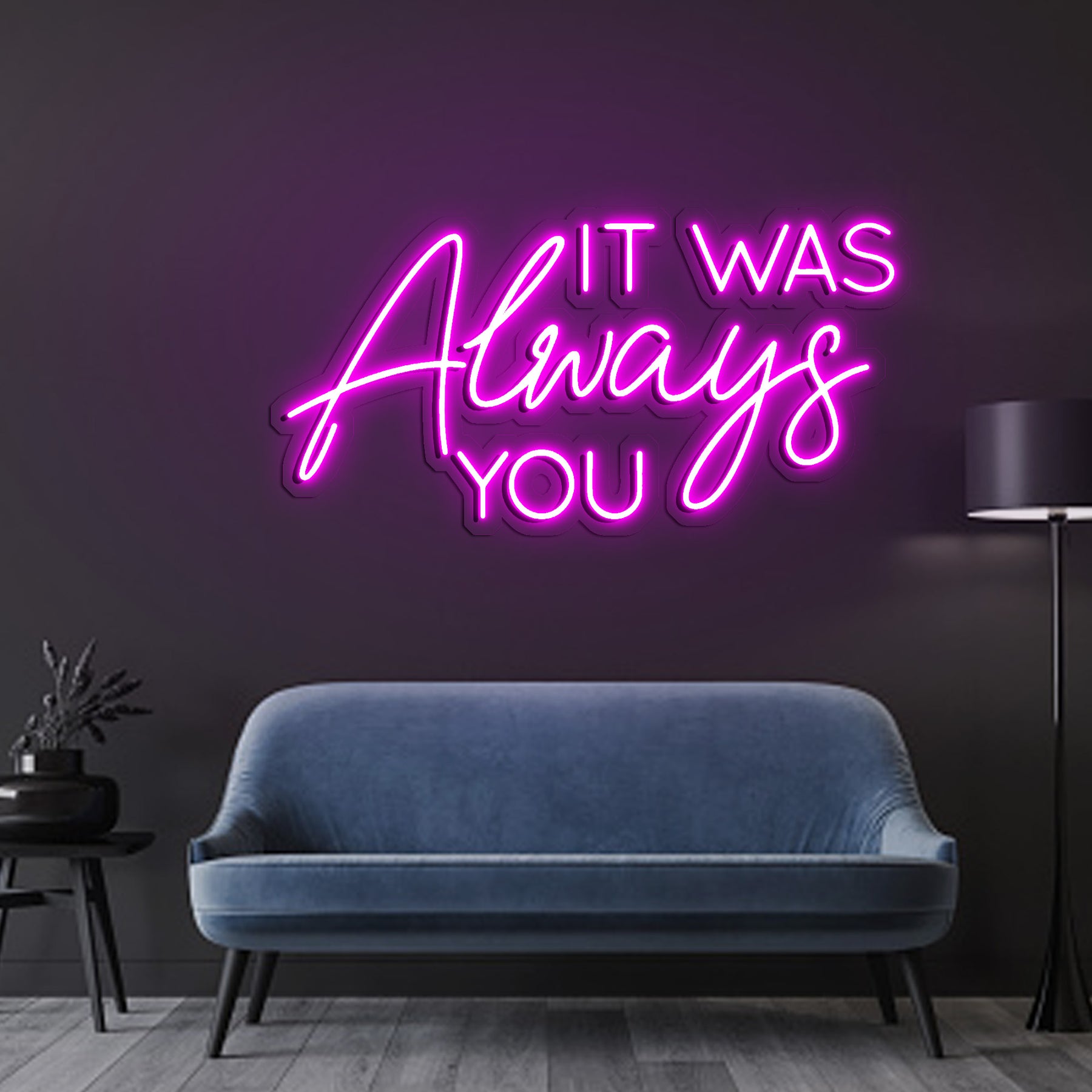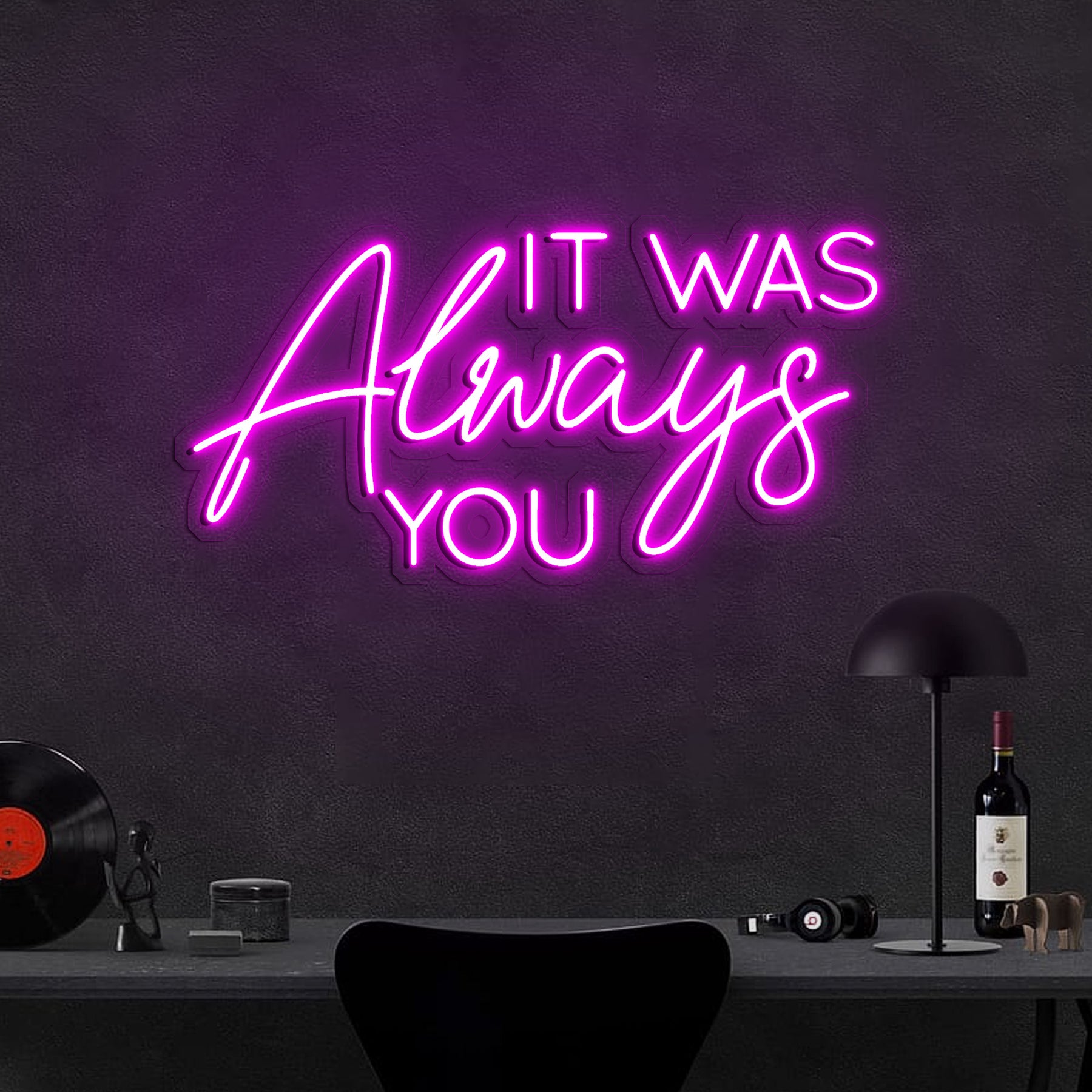 It Was Always You
Backing Style:
Cut to Shape
Best It Was Always You Neon Sign For Decor Wedding Party
It Was Always You neon sign of Orant Neon to tell your sweetheart how you feel. The sweet phrases on the neon light were specifically chosen to convey to your lover how much you meant to them.
Meaning of the It Was Always You neon sign
While the neon sign aesthetic has been around for decades, it has recently gained popularity in design. This type of aesthetic is often used to create a retro or vintage look. Neon signs can add color to any space and be hung on walls or shelves.

The product is prevalent in pop culture. It was created by artist Scott Campbell and has been featured in several movies and TV shows. The sign is often associated with the idea of fate or destiny.

"It Was Always You" can be interpreted in several ways. It could mean that you are with the person you're meant to be with or have always been drawn to that person. It could also be interpreted more literally as "it was always you who I wanted to be with."

It Was Always You neon sign collection
With a bright and colorful design, this neon lights would be perfect for your home or office. Let's look at the collection of a neon sign It Was Always You.
It Was Always You led sign

wedding
Make your wedding more stylish and contemporary with product. This wedding neon light helps create a relaxed party atmosphere. This wedding neon goes perfectly with many wedding decorations. This neon signs for salee will help create more memorable photographs during the wedding celebration.
It's always been you neon sign
Surprised your loved one with It's always been you neon sign, a great gift for any occasion. This neon sign is perfect for contributing to the chill and dreamy vibe that provides genuine joy thanks to the soft, pleasant light.
>>> Explore more: It was all a dream neon sign | Turn out it's not real

Can I design my It Was Always You neon light?
Use our website's best custom neon signs tool to create your own neon. If you have a unique design in mind, submit the form and our team will do our best to provide the detail of your sign.
Font
You can use our preset font on the website. In case you want a unique font, contact us and our designers team will assist you in creating the design that fits your font capabilities
Color
Orant Neon offers you a wide variety of options. Customers can select from 25 colors for Jack Daniels neon signs. There are 11 colors in total; when neon signs are turned off, they appear white, and when turned on, they appear as colors. Another 10 colors will be given color jackets to keep them lit up even when they are turned off.
Size
Our signs are available in various sizes, from 60cm (2ft) to over 300cm (10ft). The dimensions listed are based on the largest dimension (length or height). If you need a custom size, please feel free to contact us.
>>> Discover more : Pump yourself up with the heartbeat neon sign

It Was Always You sign neon

price
The size of the sign you want to create will affect your final price. The bigger the sign you decide to make, the higher the price. This will also depend on the complexity of the form design.
Where to hang I

t Was Always You light up sign

?
This neon It Was Always You is a lovely way to enhance a space with light, creativity, and personality. We think the best place to hang this sign is the bedroom. The quote "It Was Always You" is perfect to stay above the bed.
Are LED neon signs dangerous?
The LED neon sign is much safer and more eco-friendly than conventional glass neon lights. The sign is also long-lasting, power-saving, heat-free, and simple in various settings.
Shipping Information
All orders are processed and ready to be shipped within 5-7 business days upon receipt of payment. Orders are not shipped or delivered on weekends or holidays.
| | | |
| --- | --- | --- |
| Shipment method | Delivery Time | Shipment cost |
| Standard | 10-14 Business Days | FREE |
| Express Shipping | 8-10 Business Days | $35 |
Please note: If your order has any other changes, the delivery time will be later than expected corresponding to the number of days waiting for order adjustment.
Similar products:
When it comes to finding the perfect way to declare your love, this It Was Always You neon sign is always the way to go. After all, what could be more romantic than blinking lights in the shape of a beautiful quote? Get your lover a sign at neon sign store Orant Neon today!