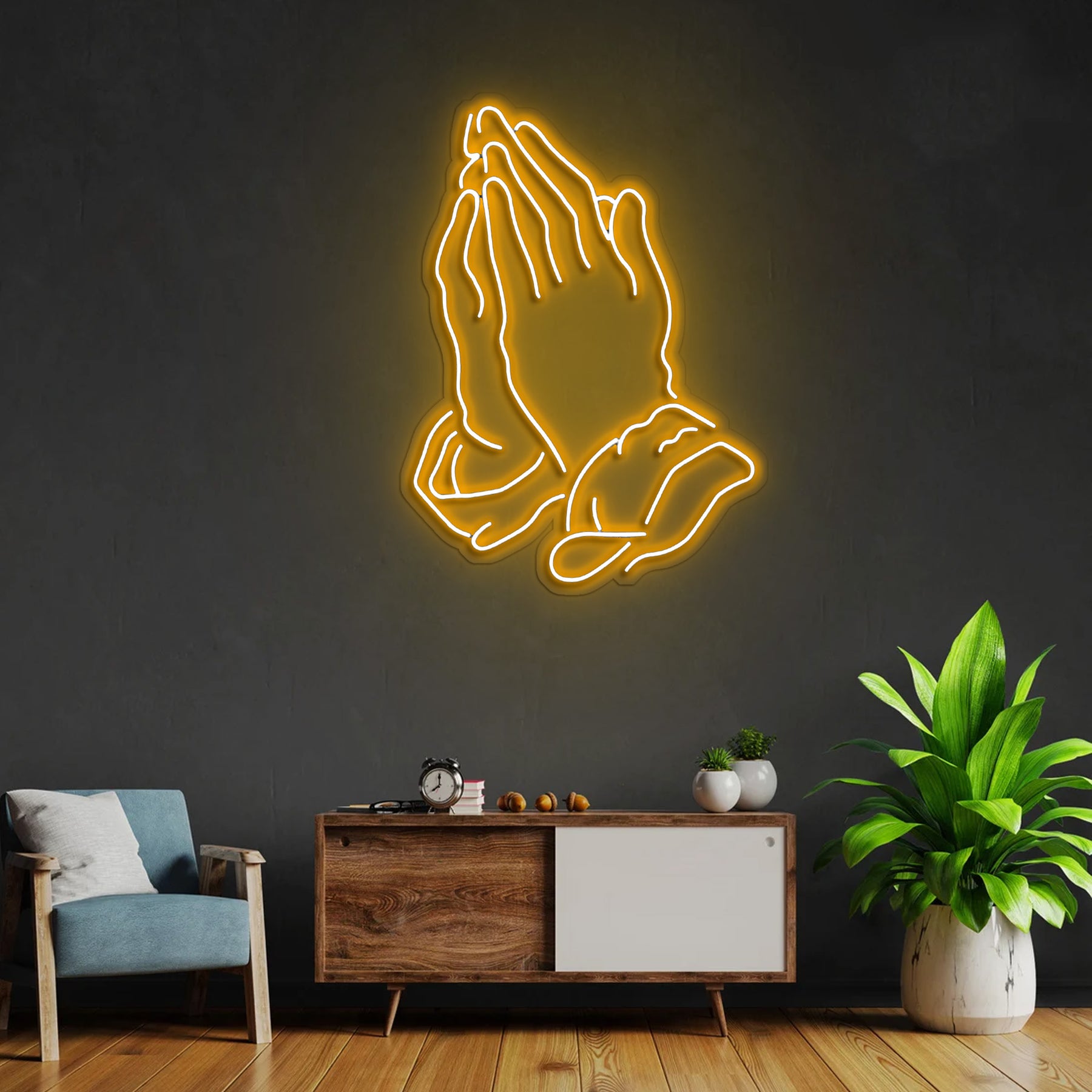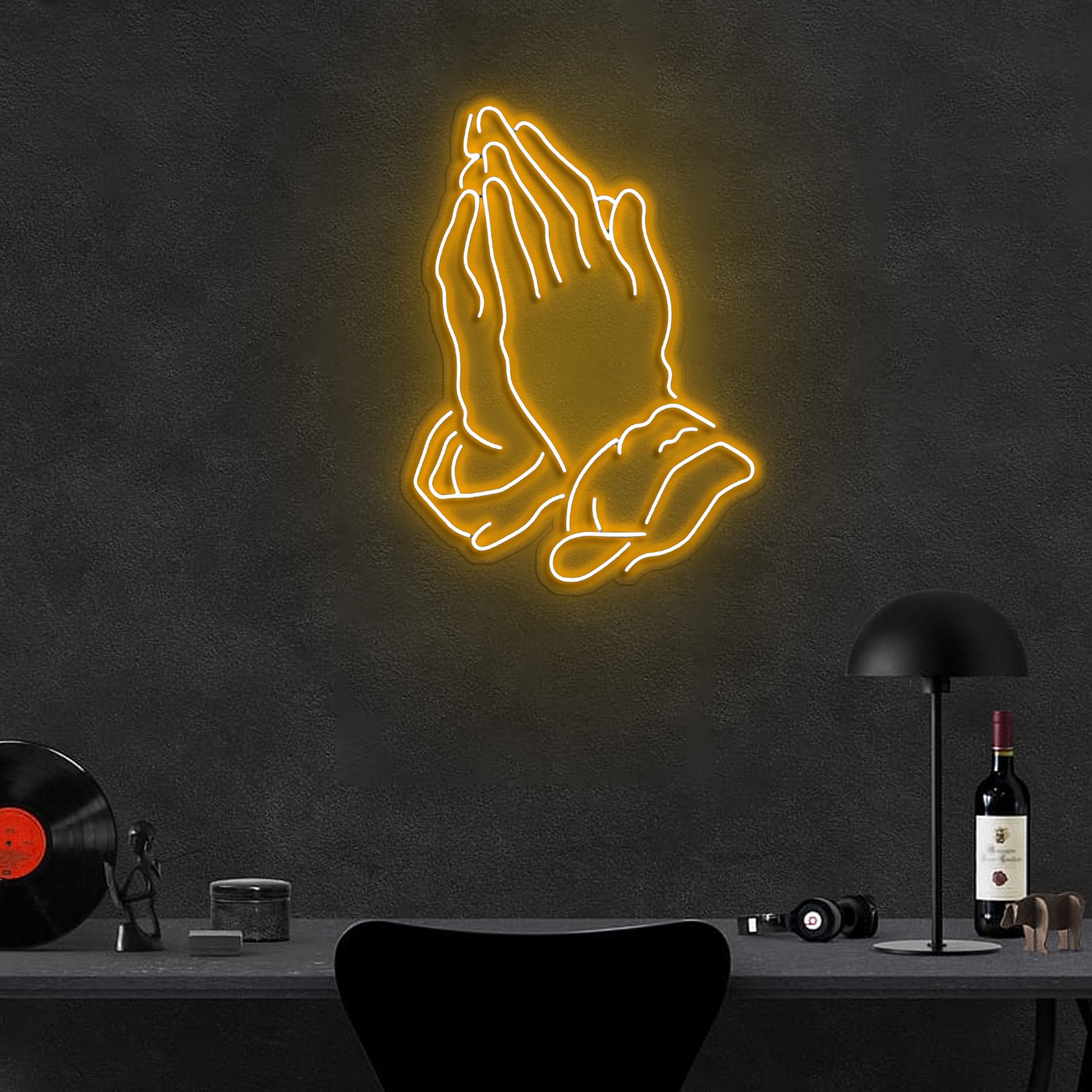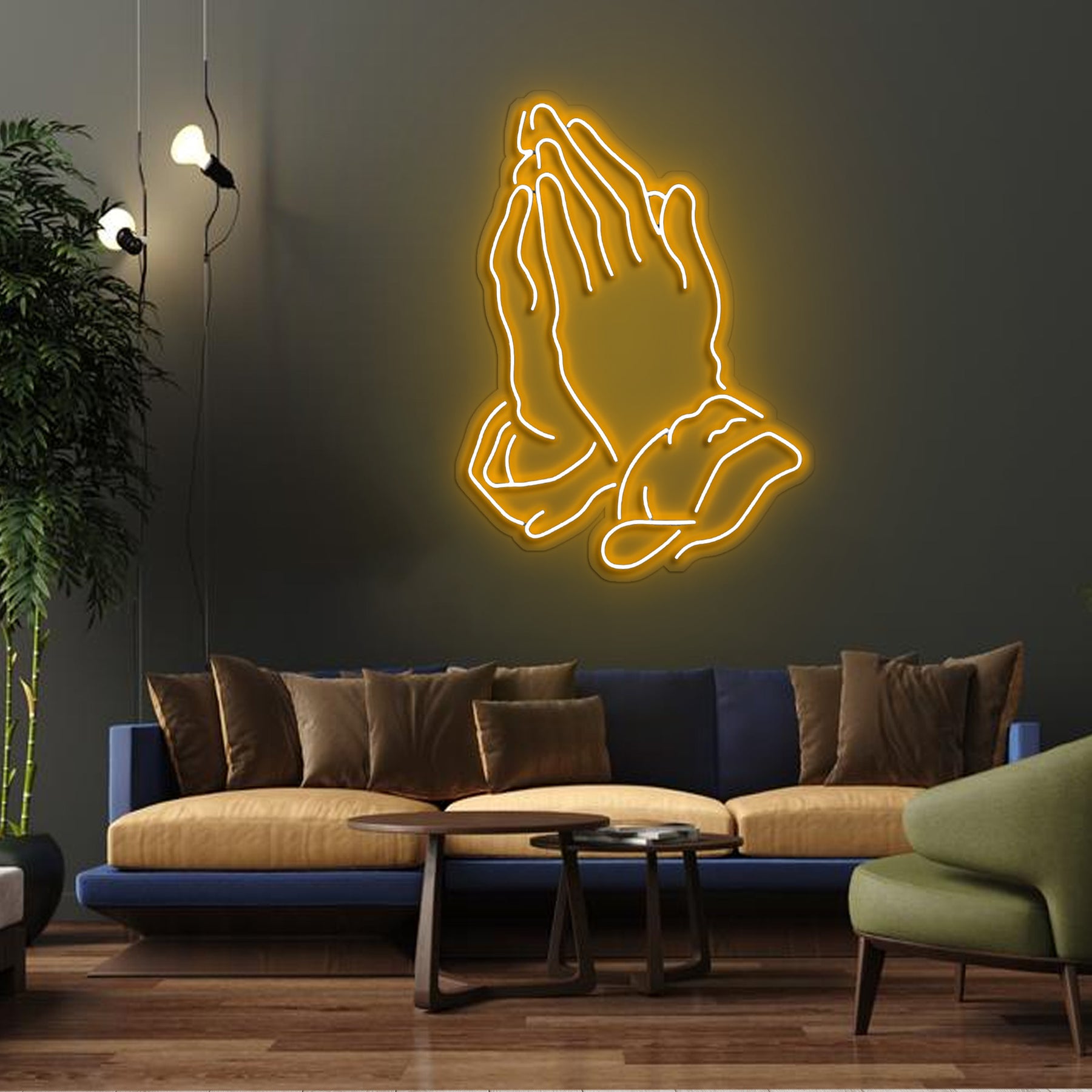 Praying Hands
Backing Style:
Cut to Shape
Levitate Your Prayers With Praying Hands Neon Sign
Let thepraying hands neon sign of Orant Neon fill your space with a cozy and beautiful neon glow. Create a magnificent neon halo that illuminates the walls and levitates your prayer.
>>> Discover more: Neon sign aesthetic - Light up your space with aesthetic neon signs

Meaning of praying hands symbol
The praying hands' posture is often associated with Christianity, but this doesn't mean that people who are not Christian use it only for prayer. Praying hands represent devotion to God. They signify obedience, submission, sincerity, reverence, and respect to the one who owns greater power.
Praying hands neon sign collection
Here are some praying hands neon signs that will be a fantastic addition to your home. It is sure to bring a beautiful atmosphere to whatever space you like.
Praying hands neon sign art
Praying hands neon sign art is a popular choice for home and business owners who want to add a touch of spirituality to their décor. It is sure to add beauty and light to any space. Praying hands neon sign art is a beautiful way to show your belief in a higher power and to share your faith with others.
Praying hands neon sign for bedroom
The praying hands neon sign is a unique way to light up your bedroom. The neon signs for sale creates a relaxing and calming ambiance in your bedroom. Whether you want to use it as a nightlight or want to add some flair to your decor, this praying hands neon sign is a great choice
>>> Refer: Stay home and chill with the let's stay home neon sign

Praying hands neon sign for decor
The praying hands neon sign led is a great way to add extra style to your home décor. Praying hands neon sign decor can be used in so many ways. If you're looking for something different to revamp your room, then this might be a good choice. You could use it as a wall light, or you could put it in your window as decoration.
Praying hands neon sign for wedding
Neon prayer hands make the perfect addition to any wedding ceremony. These come in various colors and styles, so you're sure to find the perfect match for your wedding theme. Whether placed at the ceremony site or reception hall, this unique neon sign is sure to add a touch of spirituality to your big day.
Praying hands neon signs for the bar
There's nothing more neon than a pair of praying hands. And there's nothing more bar-appropriate than a neon sign. So why not combine the two and get a neon praying hands sign for your bar? Neon signs are common in many bars, but this praying hands neon sign will make your bar stand out from the rest.
What color does Orant Neon offer?
Color is an important factor when it comes to choosing a neon sign. We have all kinds of different colors that will surely satisfy your taste.
Green neon praying hands
The color green is closely related to the natural world. It's a calming and revitalizing color. Green neon sign inspires a sense of wealth and is linked to comfort, tranquility, repose, and security.

Gold neon praying hands sign
Gold is a valuable metal and is associated with riches and opulence. The hue of gold represents success, high status, and accomplishment.
White neon praying hands sign
White is the palest color. White is luminous and may provide highlights or a feeling of spaciousness. White neon sign also denotes innocence and purity.
>>> Explore more: It was always you neon sign - For your only soulmate

Custom praying hands neon sign
You can create your own praying hands Custom Neon Light Signs using Orant Neon's online design tool.
We can help you create unique LED neon signs for every event and space. You have complete control over your neon sign, including text, size, fonts, colors, packing styles, and dimmer.
If you want a specially customized sign, you can submit your idea, and our talented design team will contact you to provide all the details about your design.
Prayer hands neon sign installation
Our LED signage doesn't need to be installed or maintained by a professional. They have a plug-and-play wiring solution and are intended to be easy to install. They are fixed to premium, transparent acrylic stands, boxes, or backboards. Backboards are prepared for mounting right out of the box and include pre-drilled holes for quick wall attachment.
Is this praying hands neon sign battery-operated?
Most signs, lights, lamps, and wall art are plug-in devices. We have battery pack alternatives for miniature lights, lamps, and signage, so you can put it anywhere in your home without worrying about cords or plugs. Please contact us to find out if your unique design is appropriate for a battery pack.
Are LED neon signs safe to use?
Our neon sign is entirely safe to use. The LED neon is highly durable since it is made of a flexible plastic tube that can be bent into form and placed. It is made of solid and premium materials. Additionally, they are eco-friendly and resistant to breaking.
Where can I get the praying hands neon sign for sale?
The praying hands neon sign is available at Orant Neon in various sizes, shapes, and colors. We also offer unique customization signs for your design. We are shipping worldwide for FREE. Our happy customers are everywhere:
Japan

Los Angeles

Las Vegas

NYC

UK

Perth
Shipping Information
All orders are processed and ready to be shipped within 5-7 business days upon receipt of payment. Orders are not shipped or delivered on weekends or holidays.
| | | |
| --- | --- | --- |
| Shipment method | Delivery Time | Shipment cost |
| Standard | 10-14 Business Days | FREE |
| Express Shipping | 8-10 Business Days | $35 |
Please note: If your order has any other changes, the delivery time will be later than expected, corresponding to the number of days waiting for order adjustment.
Related products:
The praying hands neon sign is a beautiful addition to any space. It is perfect for people looking to show their faith or anyone who wants to add a touch of spirituality to their décor. Get your sign at neon sign store Orant Neon today!!