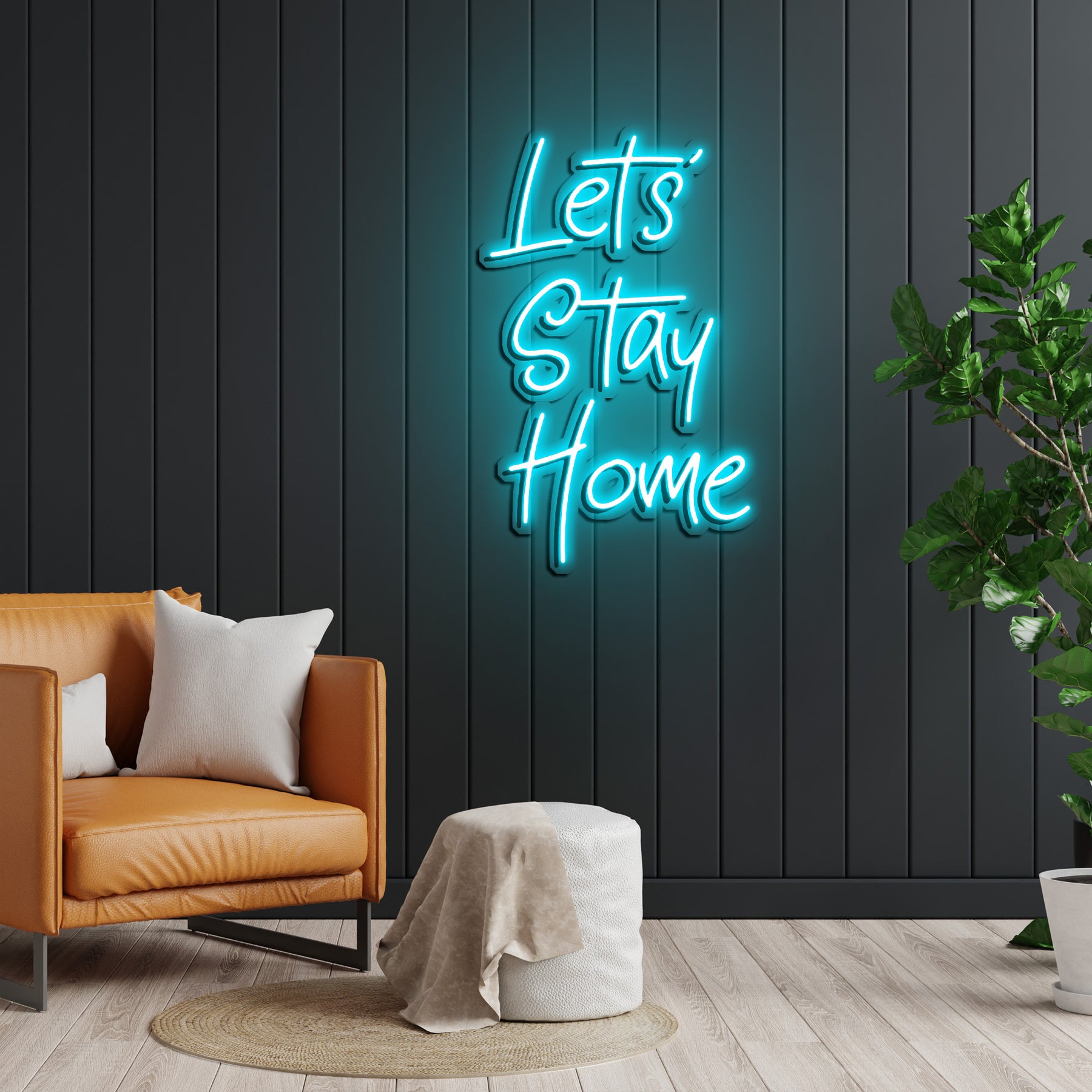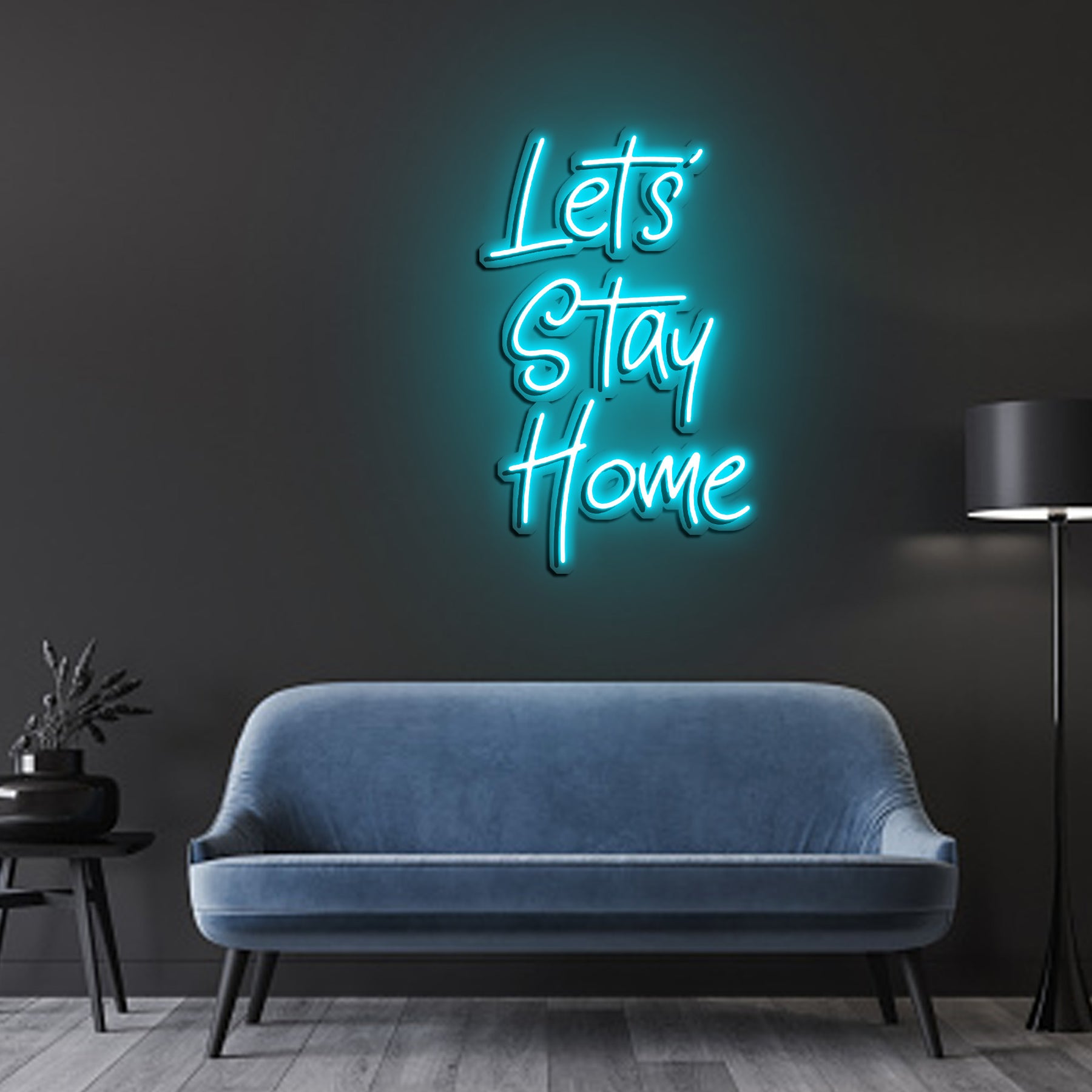 Let's Stay Home
Backing Style:
Cut to Shape
Best Let's Stay Home Neon Sign For Home Decor
Home is the best place to be. Stay inside, escape the outside world, and savor the glow of this let's stay home neon sign. Orant Neon's sign can add life to your blank walls and create a unique atmosphere.
>>> Refer: Aesthetic neon sign - Light up your space with aesthetic neon signs

Let's Stay Home neon sign collection.
Today, the neon sign aesthetic is returning to add personality and style to a room. They can create a mood or atmosphere, make a statement, or add light and color to a room.

If you want a fun and unique way to decorate your home, check out the Let's Stay Home Neon Sign! This sign is a great way to add personality to your space and show your guests that you are a fun and friendly host.
Let's check out some neon signs in the Let's Stay Home collection together now!
Let's Stay Home neon sign
Enjoy the peace of the neon signs for sale as you awaken every day. It's an ideal nightlight to provide a somber, dreamlike atmosphere. These colorful signs will surely add a personalized touch to any room.
Let's Stay Home neon sign decor.
With a Lets Stay Home neon sign, we can turn our living rooms into disco clubs, our kitchens into restaurants, and our bedrooms into movie theaters. With the bright colors and the retro feel, this is a great way to brighten your home.
Let's Stay Home neon sign custom.
Here at Orant Neon, we offer neon signs custom that allow you to create a truly unique sign. Whether you want your favorite phrase in light or want to design a one-of-a-kind logo, we can help you bring your vision to life. You have complete control over your neon sign.
Size
Our Let's Stay Home neon sign custom is available in sizes ranging from 60 cm (2 ft) to more than 300 cm (10ft). Contact us if you want a custom size. The neon sign sizes depend on the largest dimension, either Height or Length. Send us a message if you'd like to know the specific measurements.
Fonts
Script and sans-serif font for neon sign perform better than other types of designs. We recommend using fixed-line width fonts. Neon cannot correctly depict calligraphic or different variable-width typefaces. Our team of designers would be pleased to help you create a distinctive design that works with our scaling and font capabilities if you have your heart set on a specific font.
Colors
25 neon sign colors are available to customers at Orant Neon. When neon signs are turned on, eleven of the total hues will be colored; otherwise, they will be white. Another 10 hues will have a color jacket to make sure the light is constantly on, even when it is off.
>>> Discover more: It was always your neon sign - For your only soulmate

Where to buy the Let's Stay At Home neon sign?
You can get your beautiful Lets Stay Home neon light at Orant Neon. We Free Standard shipping worldwide for free,e and no minimum purchase is required. Our products come with a 24-month guarantee that protects electrical components. Only ominous signs are eligible for returns and refunds at Orant Neon.
Some notes about the Let's Stay Home neon sign
Here's something you might want to take note of before purchasing a neon light cheap.
Can I put the neon sign outside?
LED neon signs are meant for indoor use only. Please get a custom neon outdoor sign if you want to use your new custom neon sign outside or somewhere else where it could get wet.
Our outdoor signs have an IP67 waterproof grade. Products with the IP67 rating are shielded from dust and protected against submersion in water for up to 30 minutes at a depth of up to 3.3 feet (1.1m).
>>> Explore more: It was all a dream neon sign | Turn out it's not real

How long does the neon sign last?
Our LED signage has a 50,000-hour continuous usage rating. If a breakdown does occur, it usually affects the transformer or circuit board, and if it happens after the warranty has expired, a cheap replacement can be provided.
Does a battery power this?
Our Let's Stay Home neon sign decor is a plug-in device. We do have a battery pack alternative for appropriate signage. Please get in touch with us to determine if your unique design suits a battery pack.
Can I touch the neon sign?
Low voltage is a feature of LED neon. That's why LED neon signs produce very little heat and are touch-safe.
Shipping Information
All orders are processed and ready to be shipped within 5-7 business days upon receipt of payment. Orders are not shipped or delivered on weekends or holidays.
| | | |
| --- | --- | --- |
| Shipment method | Delivery Time | Shipment cost |
| Standard | 7-14 Business Days | FREE |
| Express Shipping | 5-10 Business Days | $75 |
Please note: If your order has any other changes, the delivery time will be later than expected, corresponding to the number of days waiting for order adjustment.
Related products:
There's no denying that neon signs have become increasingly popular in recent years. Whether they're used to add a touch of whimsy to the atmosphere or to make a bold statement, neon signs are a great way to show off personality. So make your space a little more fun with neon sign shop.