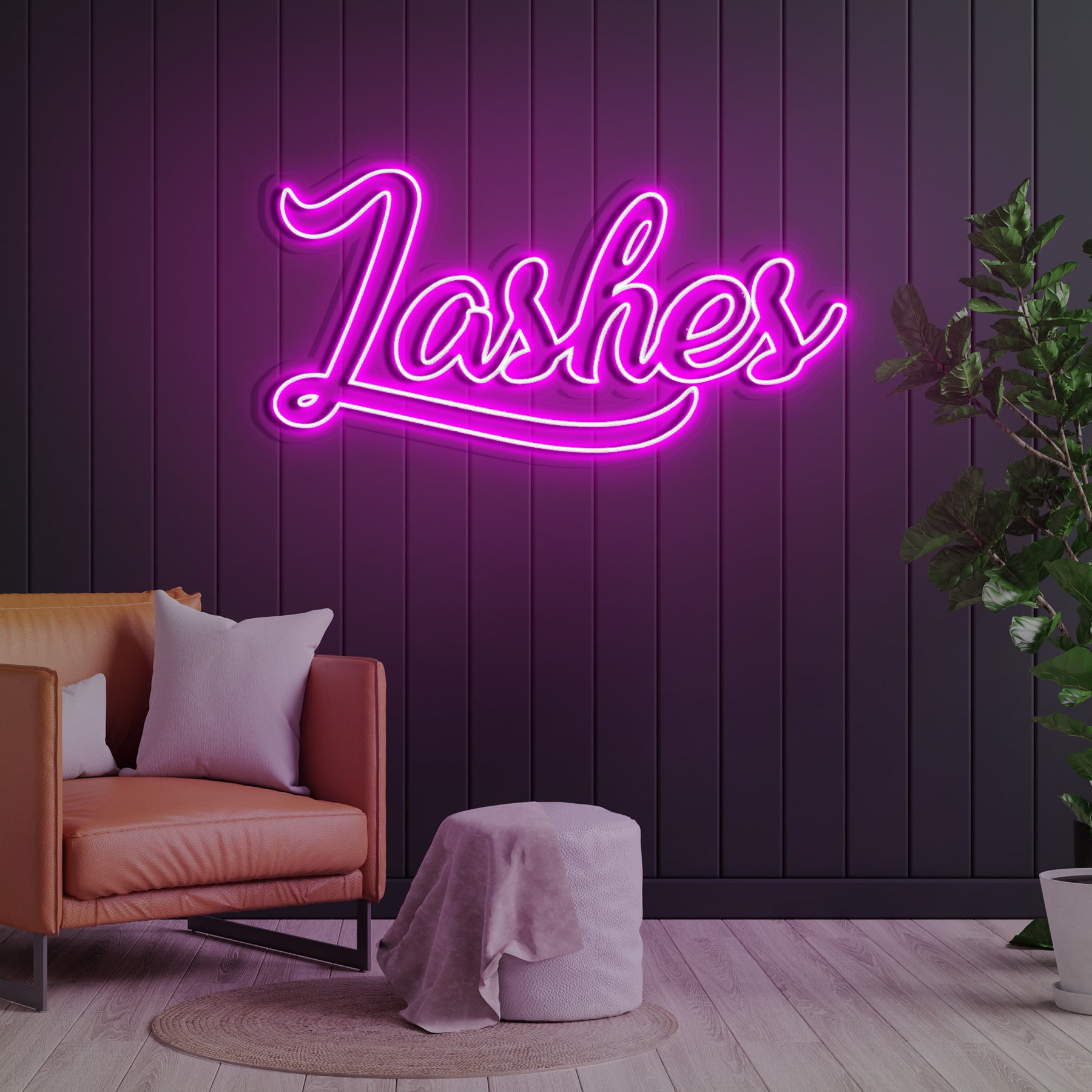 Lashes Neon Signs | Beautify Your Salon With Fabu
You look gorgeous, darling, fabu-lashes! For an Instagram-worthy aesthetic, place lashes neon signs in your beauty parlor or hit lounge. Orant Neon sign is ideal for any beauty studio, bar, or the lash store where you may get drowned in beauty.
Story of lashes neon signs
Lashes neon sign is one of the best-selling models in our "Beauty neon sign" collection. We made the eyelash neon sign from the inspiration of girls' long, dark, and beautiful eyelashes. With the bright, vivid neon color, these will be the best eyelashes you'll ever see.
Neon eyelash sign

collection

You might want to consider a neon sign for people who want to make their spa look better. An eyelashes neon sign, for specific, will glam up the whole space and beautify the room. Imagine the soft light touching your eyelashes; wouldn't that be awesome?
Lashes neon sign
A warm-pink of pair of neon-inspired lashes to enliven your lash bar or beauty parlor. Hang it on the wall or in your clear window to attract customers. Nobody can resist a bright shining neon glow.
All you need is lashes neon sign
No love, all you need is lashes. This magnificent light will illuminate the entire area and elevate it. A neon lashes sign will give your salon a pleasant and lovely appearance, making your clients feel at ease and joyful.
Lash babe neon sign
Oh, my babe, you deserve beautiful eyelashes. The sign is perfect for lash rooms that need great light. Get a lash babe neon lash sign today and brighten your space with great style.
Neon lash sign

bedroom

Not only for beauty and cosmetic studios, you can also enjoy lashes neon lights in the comfort of your bedroom. The sign is perfect for completing the look you've always dreamed of. Get your lashes, girls!

>>> Explore more: Glamorize your salon with beauty salon neon signs

Customize beautiful lashes neon sign
We at Orant Neon are committed to turning your visions for neon signs into reality. We can create any neon sign, no matter how basic or intricate the design is. Our beautiful custom lashes neon sign will give any room a spark of originality. Visit the custom led signs and design the neon lights according to your ideas.
Lashes neon sign font
We can almost duplicate any font for neon sign you wish for the lashes neon sign. We can design a neon sign that suits your taste and detail, whether you're searching for something customary or more fashionable.
Lashes neon sign color
What neon sign color is your favorite? Do you favor more subtle colors or strong, vivid ones? Whatever your taste, we have a color for you! You are guaranteed to discover the ideal shade for your neon sign because we offer a total of 25 colors.
Some popular neon sign colors that you can refer to:
Lash neon light

size

We can make ample neon light cheap as promised. The minor neon signs we provide start at 60 cm (2 ft), while the largest ones reach over 300 cm (10ft). Just let us know if you require a particular size, and we'll try our best.
Custom eyelash neon light cost
The price may change depending on the design's size and intricacy. Due to our factory price, which no one else can match, our neon signs are reasonably priced. We can work with you to create the ideal neon sign at an affordable cost.
Ideas for neon sign lashes
Depending on the interior of your space, you can customize the neon signs for sale to make a perfect match. Do you like feeling warm and inviting? Choose the red color. Want to give your salon a cozy and deep vibe? Take the blue sign. The font is also an essential factor that will change the ambiance. If you're looking for simplicity, use modern fonts, or try out handwriting fonts in case you like a bit of vintage.
Some models of neon signs are suitable for decorating beauty salons:
Injected With Love neon sign

Girls Girls Girls neon sign

Eyes & Lashes neon sign

Everything Did neon sign
Cosmetink neon sign

Where to buy
eyelash light up signs

?

Orant Neon offers worldwide shipping for free. You can find the best eyelash neon signs here. We have happy clients all across the world. For the pre-made selection, you'll find a lot of characters in our online shop. Contact us if you don't like any, and we will make your custom-made sign.

Shipping Information

All orders are processed and ready to be shipped within 5-7 business days upon receipt of payment. Orders are not shipped or delivered on weekends or holidays.
| | | |
| --- | --- | --- |
| Shipment method | Delivery Time | Shipment cost |
| Standard | 10-14 Business Days | FREE |
| Express Shipping | 8-10 Business Days | $35 |
Please note: If your order has any other changes, the delivery time will be later than expected corresponding to the number of days waiting for order adjustment.
Similar products: Beautify your space with Hello gorgeous neon sign
Bright, eye-catching neon signage gives your place a unique appearance. Orant Neon's lovely lashes neon sign will elevate your beauty spa. It makes a gorgeous addition to the interior of your salon.