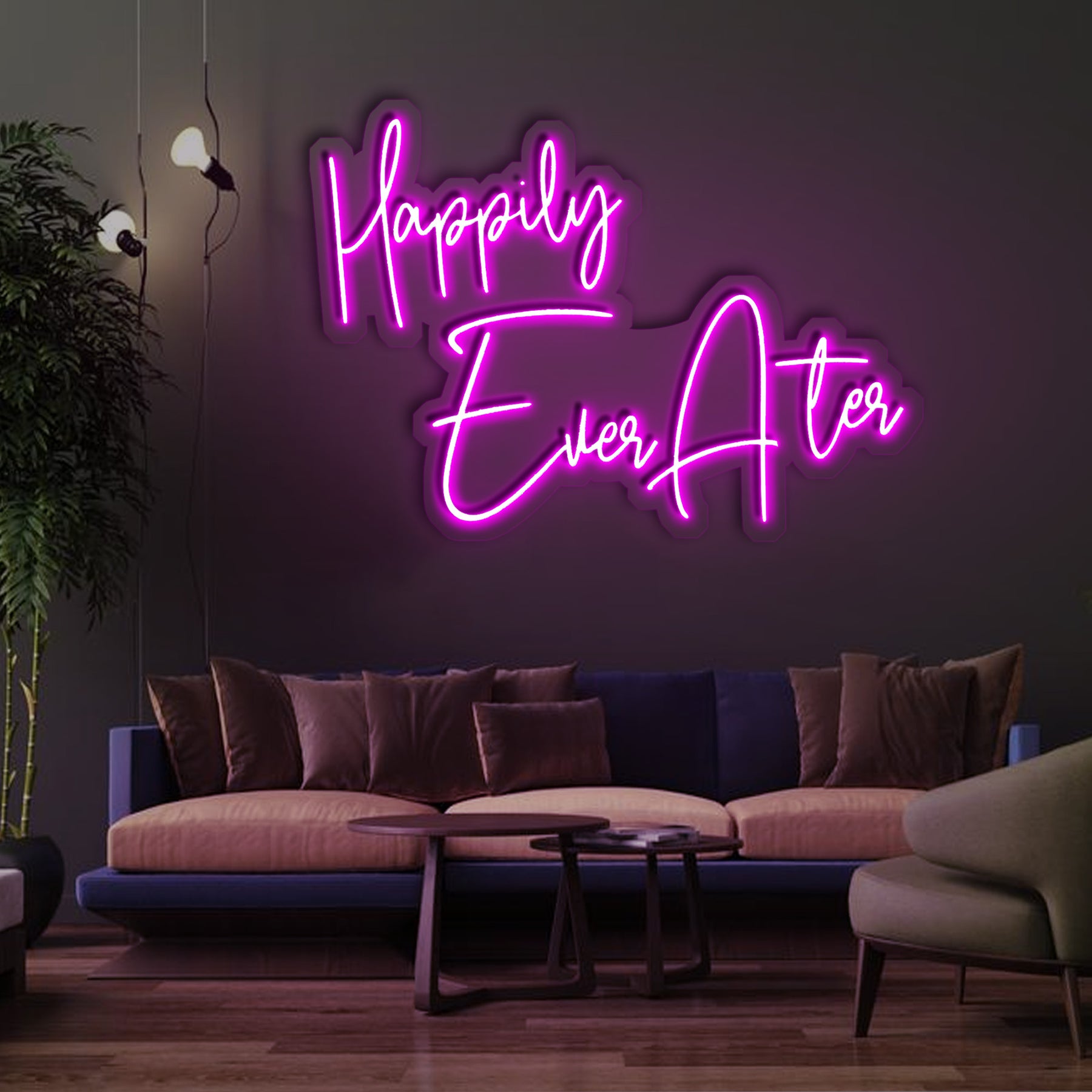 Happily Ever After
Backing Style:
Cut to Shape
Happily Ever After Neon Sign | Make A Romantic Wedding
Happily Ever After neon sign is a perfect addition to any ceremony backdrop, flower wall, arch, or moon gate. It brings a warm and romantic feeling to the wedding or engagement party Plan and lights up your important events with Orant Neon!
What is the meaning of the Happily Ever After neon sign
Neon lights have a way of brightening up any space, and the Happily Ever After neon sign is no exception. Happily Ever After is a meaningful wish for couples on their big day. That's why Happily Ever After neon light is often the first choice when people think of neon sign for wedding.
The most creative Happily Ever After neon signs in Orant Neon
Here is some products Orant Neon, please refer.
Happily Ever After sign for wedding
A product is the perfect way to add a touch of fun and excitement to your wedding day. This unique decoration will not only help you to remember your special day, but it will also add an element of whimsy and romance.
Happily Ever After neon sign party
What could be more fun than a Happily Ever After sign party? This is the perfect way to add some excitement to any event.
Whether you're celebrating a birthday, anniversary, or just a special moment, a Happily Ever After neon sign will help make it even more memorable.
>>> Discover more: Take your decor to the next level with an engaged neon sign

Can I pick my own color while making a neon cloud sign?
All our product is made just for you and may be customized in size, color, and other factors. We may create any neon sign you like in various typefaces and colors.
These signs are an excellent method to promote your company. They come in 22 popular colors and can be turned off when not needed, so they won't distract people walking by or while you're driving! One side has a cover that goes over it, ensuring its color remains even if brightness decreases (just like regular lights).
When choosing a hue for your neon light, you have the option of Orange, Baby Pink, Green, Hot Pink, Blue, Red, Purple, Lemon Yellow, Ice Blue, Yellow, or Warm White. When the sign is off, and you require a white jacket, you can pick from the colors White Orange, White Yellow, White Pink, White Green, White Blue, Cold White, and White Red. Follow neon customizable sign to know more detail.
Happily Ever After neon sign green
Green Happily Ever After neon sign is the perfect way to add a touch of fun and whimsy to your decor. If you're looking for a way to add some magic to your life, the Happily Ever After neon green is a perfect choice.
Happily Ever After neon oranger sign
Happily Ever After is a famous saying that is often used to describe the ideal ending to a story. And what could be more perfect than a neon sign in the shape of an orange? This fun and unique decoration will surely add some personality to any home or office.
Happily Ever After neon pink sign
The bright pink color is eye-catching and sure to stand out, while the playful font adds a sense of fun. Best of all, this sign is sure to remind you that happy endings are possible – no matter what life throws your way.
>>> Explore more: Drunk In Love neon sign to brighten up your wedding day

Ideas for a Happily Ever After light up sign
Do you know the idea of the Happily Ever After neon yet? In weddings or parties, it used to be used to decorate the background for photography or the ceremony.
Neon sign with pretty blooms against a background of nature
Happily Ever After neon sign, which is available to buy in cool or warm white, is given a very exquisite vibe by these subtle, delicate blossoms set against the venue's natural background. It has a timeless aesthetic with ethereal beauty.
Simple but charming
Do you prefer a more simple appearance? If we do say so ourselves, our Happy Forever stands out quite a bit against the wood paneling in this space. It becomes a point of curiosity because it is hung from our copper counter and is for sale or rent.
How much does happily ever sign neon cost?
Happily Ever After isn't just for fairy tales anymore! Now, you can have your very own Happily Ever After neon sign in your home. And the best part is that our factory price is very affordable, so you can have your Happily Ever After neon without breaking the bank.
How much does a neon signs for sale actually cost? The answer depends on a few factors, including the sign's size and the design's complexity. Neon signs can range in price from a few hundred dollars to several thousand, so it's essential to work with a reputable neon sign company to get an accurate quote.
Where can I get Happily Ever After sign neon decor?
We offer it free worldwide with standard shipping. If your country is not a standard supported option at checkout, please contact us, and we will arrange a custom shipping option for you. However, if you want to shorten the delivery time, Orant Neon will not support shipping.

We are confident that Orant Neon can meet all your requirements with modern technology.
Shipping Information
All orders are processed and ready to be shipped within 5-7 business days upon receipt of payment. Orders are not shipped or delivered on weekends or holidays.
| | | |
| --- | --- | --- |
| Shipment method | Delivery Time | Shipment cost |
| Standard | 10-14 Business Days | FREE |
| Express Shipping | 8-10 Business Days | $35 |
Please note: If your order has any other changes, the delivery time will be later than expected corresponding to the number of days waiting for order adjustment.
Relevant products:
Happily Ever After neon sign is the newest offering for a trendy and on-trend design! To view other products or order quickly, please visit Neon Sign Shop Orant Neon!