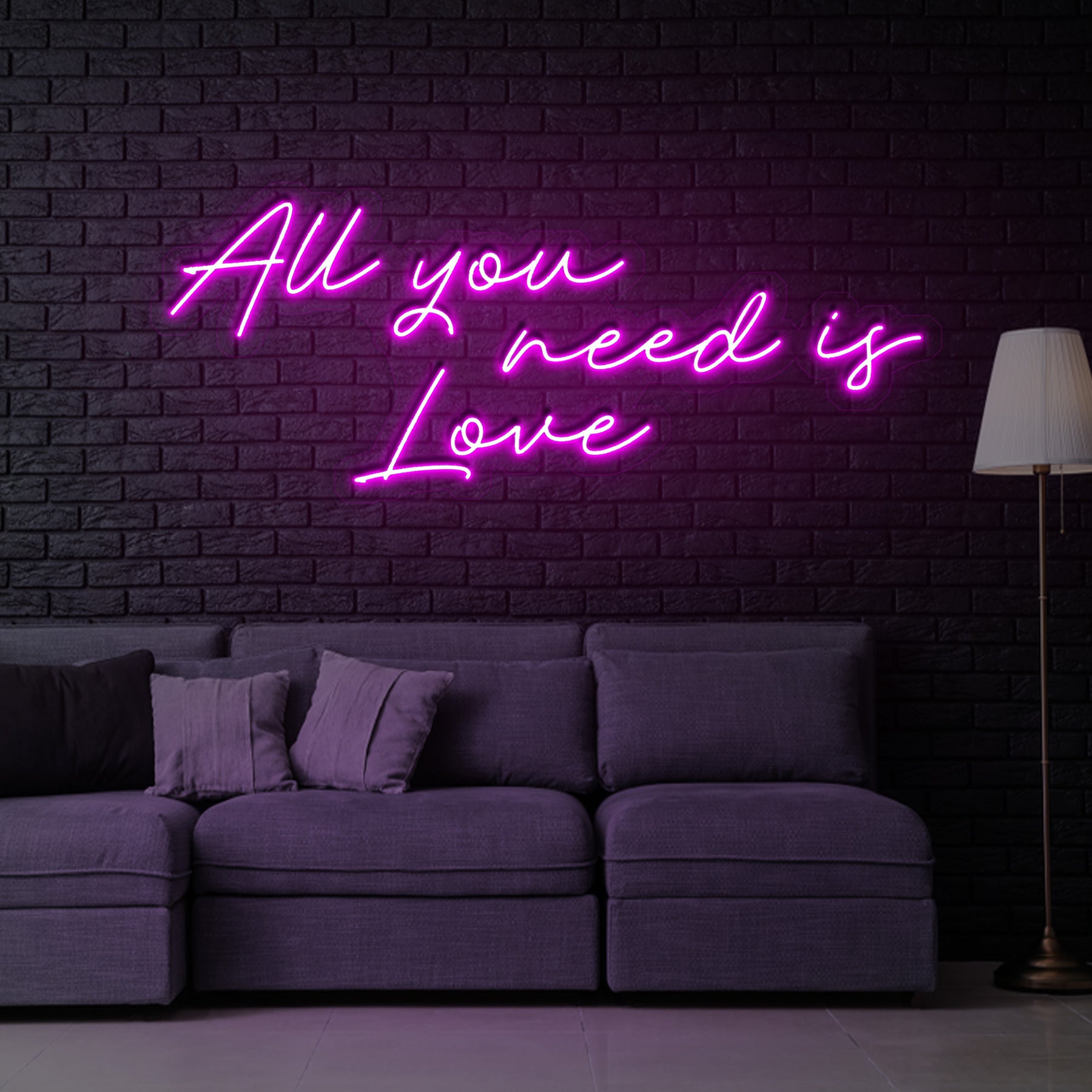 All You Need Is Love
Backing Style:
Cut to Shape
All You Need Is Love Neon Sign | Great Wedding Decor Ideas
Let's create a romantic space for your loved ones with the All You Need Is Love neon sign. Let's start a meaningful day with Orant Neon!
>>> Discover more: Wedding neon sign - Make the moment more meaningful
What does the neon sign All You Need Is Love mean?
Were you looking for a creative and entertaining home decoration idea? Then why not consider the All You Need Is Love neon sign? These signs are perfect for highlighting the space, creating a romantic atmosphere, or bonding family members. And with so many different designs, you're sure to find the ideal sign for your home.
Information about All You Need Is Love neon sign for sale
Beautiful neon lights may be fixed or hung on a wall, window, or flat surface. The dimmable neon sign, Press the power key once you're connected to turn on the neon signs on sale and change its brightness. It features drill holes, and the box contains crystal wire and mounting screws as extras.
For boyfriends, girlfriends, teenagers, families, partners, and friends, neon signs are excellent presents. Neon signs are the best option to draw attention to your house, party, bar, or make everyday life more colorful and enjoyable. This must be the location.
>>> Discover more: Happy Birthday neon sign - Create your memorable moments
Can I choose my color while creating a neon sign?
You are free to choose the color of your product with neon light custom of Orant Neon's service. We offer 12 different colors for our customers to choose from. Refer to the colors below to make the right choice.
All You Need Is Love neon sign black
If you need is love...and a neon sign Orant Neon! Nothing says "fun" like a bright, colorful neon sign. And what could be more fun than a purple neon sign aesthetic? Perfect for adding a touch of whimsy to any room, this sign will elicit smiles from everyone who sees it.
All You Need Is Love neon sign in white
This All You Need Is Love neon light white is the perfect way to add some fun and personality to your space.
All You Need Is Love neon green sign
The bright green letters are sure to stand out, and the message is one that everyone can get behind.
All You Need Is Love neon pink sign
The All You Need Is Love neon sign for sale in pink is a great gift for anyone who loves pink or simply someone who could use a little more love in their life.
>>> Explore more: Til Death Do Us Party neon sign - Light up party with a neon sign

Can I use any font I like?
We know that every brand and design has its unique personality, which is why we offer a wide range of fonts with different styles. We only recommend using fixed line widths for Neon because it can accurately represent these types of designs in our product!
Some calligraphic or variable thicknesses won't work well when translated onto paper through fabric printing processes like those used by many companies today - but don't worry.
If you are looking for font for neon sign our talented designers will be happy to assist in making sure all details align properly before sending them off.
The cost of neon sign
We provide neon signage manufactured to order, starting at about $100. Cost may vary depending on font, size, design complexity, and total length of Neon used.
Where can I get All You Need Is Love neon light
?
We offer free international shipping on all our products, so no matter where in the world we'll be sending it out - there are never any extra fees involved with ordering from us.
Orant Neon has provided many products to customers in many countries, such as:
All You Need Is Love neon sign decor
All You Need Is Love, and what better way to show your loved ones how much you care than with a colorful All You Need Is Love neon light? That can be used as a photo backdrop or as part of a wedding or party decor. In addition, it is also decorated during other events such as Mother's Day or Father's Day.
How to repair the All You Need Is Love neon sign
Insufficient power supply
One of the possible problems with neon lights is blinking or blinking neon lights.
Please use a multimeter to power up the light. If the power is not enough, use the transformer to make adjustments.
Wires were broken
If the neon light does not work, check for a short or broken wire, a faulty tube inside the lamp, or too low voltage. Then check the wire and replace the defective part.
Glass tube leaks
The glass tube should be checked for any leaks along the tube if the light is faint. Tossing the damaged tube and buying a new one can be less expensive and more straightforward.
The problem of machine variable
All or some of the aforementioned issues, such as dull or flickering lights or lights that don't function at all, can be brought on by a broken transformer. Recheck the transformer and buy a new one if damaged.
Shipping Information
All orders are processed and ready to be shipped within 5-7 business days upon receipt of payment. Orders are not shipped or delivered on weekends or holidays.
| | | |
| --- | --- | --- |
| Shipment method | Delivery Time | Shipment cost |
| Standard | 10-14 Business Days | FREE |
| Express Shipping | 8-10 Business Days | $35 |
Similar products:
Hopefully, with the above sharing, readers have learned more new ideas to decorate. All You Need Is Love neon sign for your space. For other products, please visit Orant Neon's website!