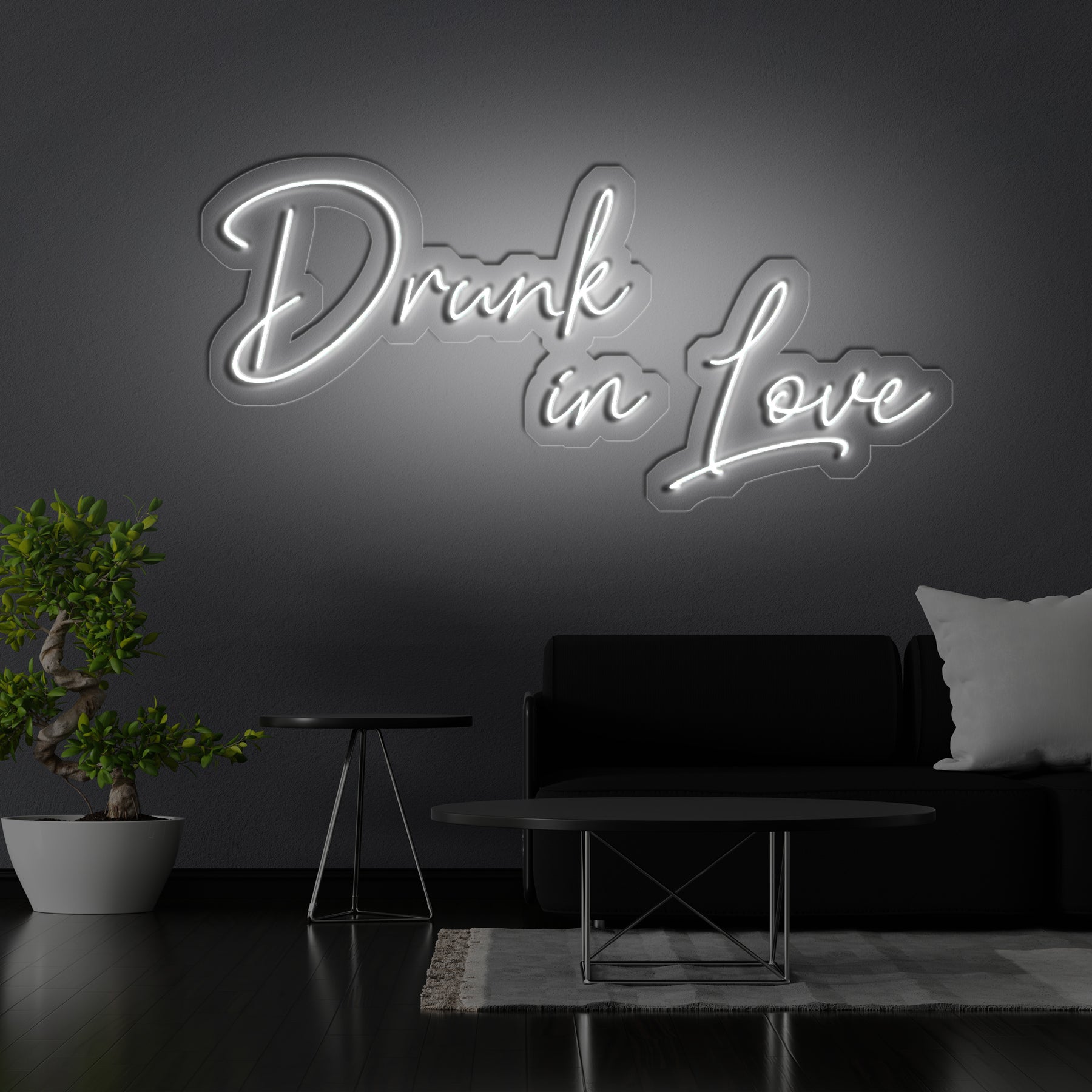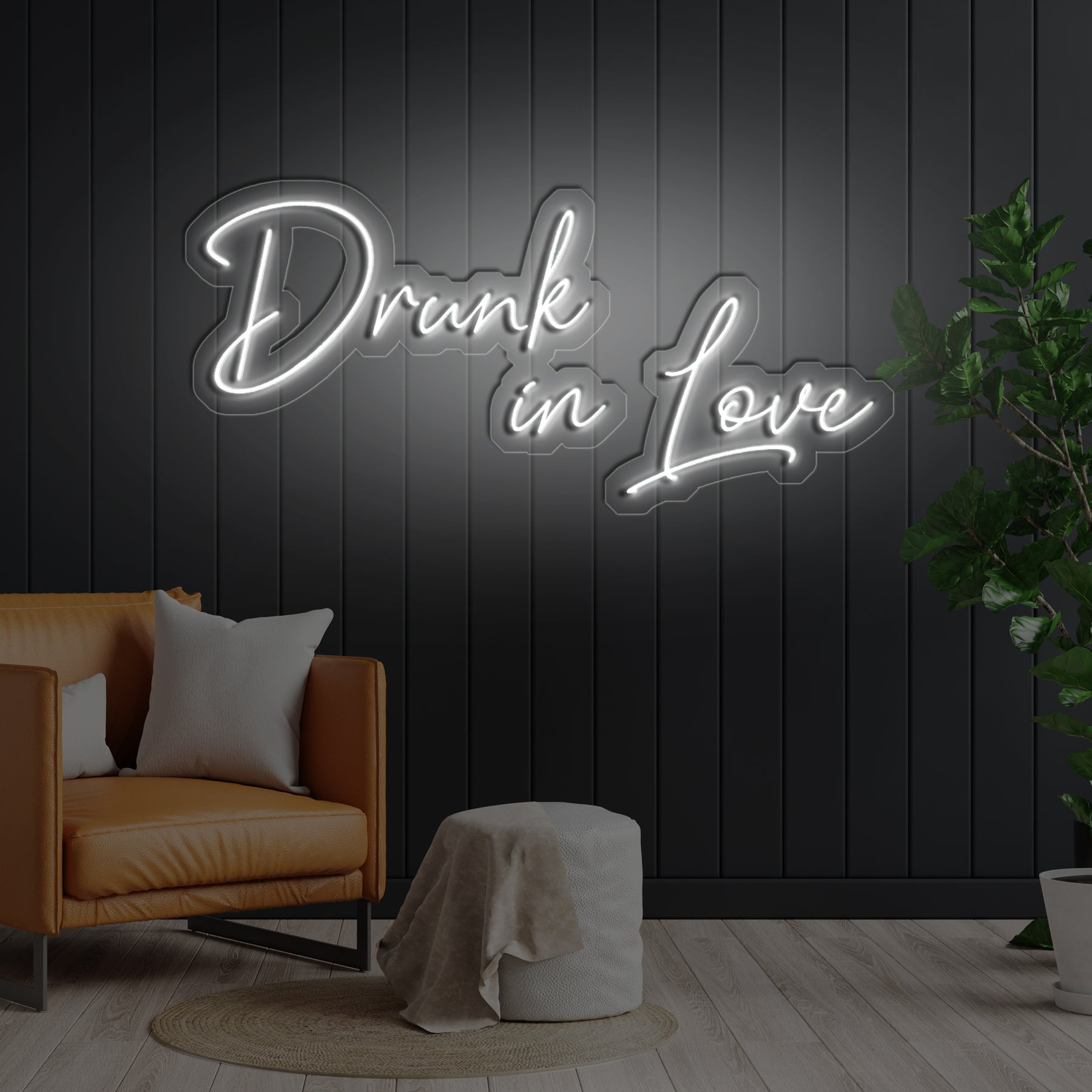 Drunk In Love Neon Sign To Brighten Up Your Wedding Day
Backing Style:
Cut to Shape
Drunk In Love Neon Sign To Brighten Up Your Wedding Day
Put the Drunk In Love neon sign at your wedding or party to show your passionate love for your loved one. Let love reign with Orant Neon!
>>> Discover more: Neon sign for wedding - Make the moment more meaningful
Meaning of Drunk In Love neon sign
"Drunk in Love" is a neon wedding sign that pays homage to Beyonce's famous song. There will be an extraordinary ray of light to make your special day even more special. It will blend perfectly into your interior, a beautiful reminder of this unique moment after the big day.
Drunk In Love neon sign collection
Check out the Drunk In Love neon sign collection below to make the best choice.
Drunk in love neon sign at the wedding
Drunk In Love neon signs at the wedding are all the rage these days, and it's not hard to see why. Not only do they add a touch of fun and personality to the big day, but they also help to create a festive atmosphere that gets everyone in the mood to celebrate.
Drunk In Love neon sign birthday
What better way to celebrate your birthday than with a Drunk In Love sign? This fun and festive sign is the perfect way to let your friends and family know you're ready to party. The Drunk In Love neon sign is a great way to decorate your home or office for your birthday party.
Drunk In Love neon sign bedroom
Something about a Drunk In Love neon sign bedroom just oozes romance. Maybe it's the glowing, romantic light or the playful font, but whatever it is, we're here for it. This fun and flirty style isis perfect for anyone wanting to add a little extra drama to their bedroom décor.
>>> Explore more: Create a dream home with an All You Need Is Love neon sign

Drunk In Love neon sign custom
With neon sign custom service, you can create your unique Drunk In Love light up sign.
Colors
What color possibilities are there for you? We have a selection of 12 neon sign colors for our LED and glass neon artworks:
Those colors are Red, Green, Teal, Blue, Pink, Light Pink, Yellow, Purple, Ice Blue Orange, White, and Warm White. On request, we also provide RGB Multicolor Changing LED signage.
Some popular neon sign colors that you can refer to:
Size
Our signs are available in various sizes, ranging from 60 cm (2 ft) to more than 300 cm (10ft). Do not be reluctant to contact us if you want a custom size. When choosing neon sign sizes, you should consider a few factors about the space you intend to hang it to design the best neon signs.
Fonts
For example, script and sans-serif font for neon sign perform better than other designs. Only fixed-line width fonts are advised so neon can depict them correctly. Neon cannot correctly define calligraphic or different variable-width typefaces.
If you're determined on a particular typeface, our designers would be pleased to help you make a unique design that works with our sizing and font options!
Price
You can have a custom neon sign made starting at just $100. The cost will vary depending on your desired signage project's font, sizing, and design complexity - but we're always happy to help!
The idea for Drunk In Love light
Neon lights are the perfect way to add extra flair to your decor. Whether you're looking for a Drunk In Love neon sign to hang above the bar or a colorful backdrop for your next party, neon lights will make a statement. Just attach a string of lights to the bottom of your balloon and watch it glow. Neon lights are also great for illuminating backdrops and other dark areas.
So whether you're looking for a little extra light or want to add some extra pizzazz to your decor, neon light is the way to go.
>>> Refer: Happy Birthday neon sign - Create your memorable moments
Where to buy the Drunk In Love neon sign for sale?
You may purchase a neon "happily ever after" sign in your country.
We mail it for free anywhere around the globe. Please contact us so we can set up a custom delivery option for you if your country is not one of the usually supported options during checkout. Orant Neon will not help shipping, but if you wish to speed up delivery.
Given today's technology, we are convinced that Orant Neon can fulfill all of your criteria.
We have provided this product to several clients in a number of locations, including:
The UK.

Los Angeles.

Las Vegas.

Japan.
Shipping Information
All orders are processed and ready to be shipped within 5-7 business days upon receipt of payment. Orders are not shipped or delivered on weekends or holidays.
| | | |
| --- | --- | --- |
| Shipment method | Delivery Time | Shipment cost |
| Standard | 7-14 Business Days | FREE |
| Express Shipping | 5-10 Business Days | $75 |
Related products:
Drunk In Love neon sign will be a unique idea for special events like weddings and engagements. If you're looking for something out of the ordinary, let Orant Neon be with you.