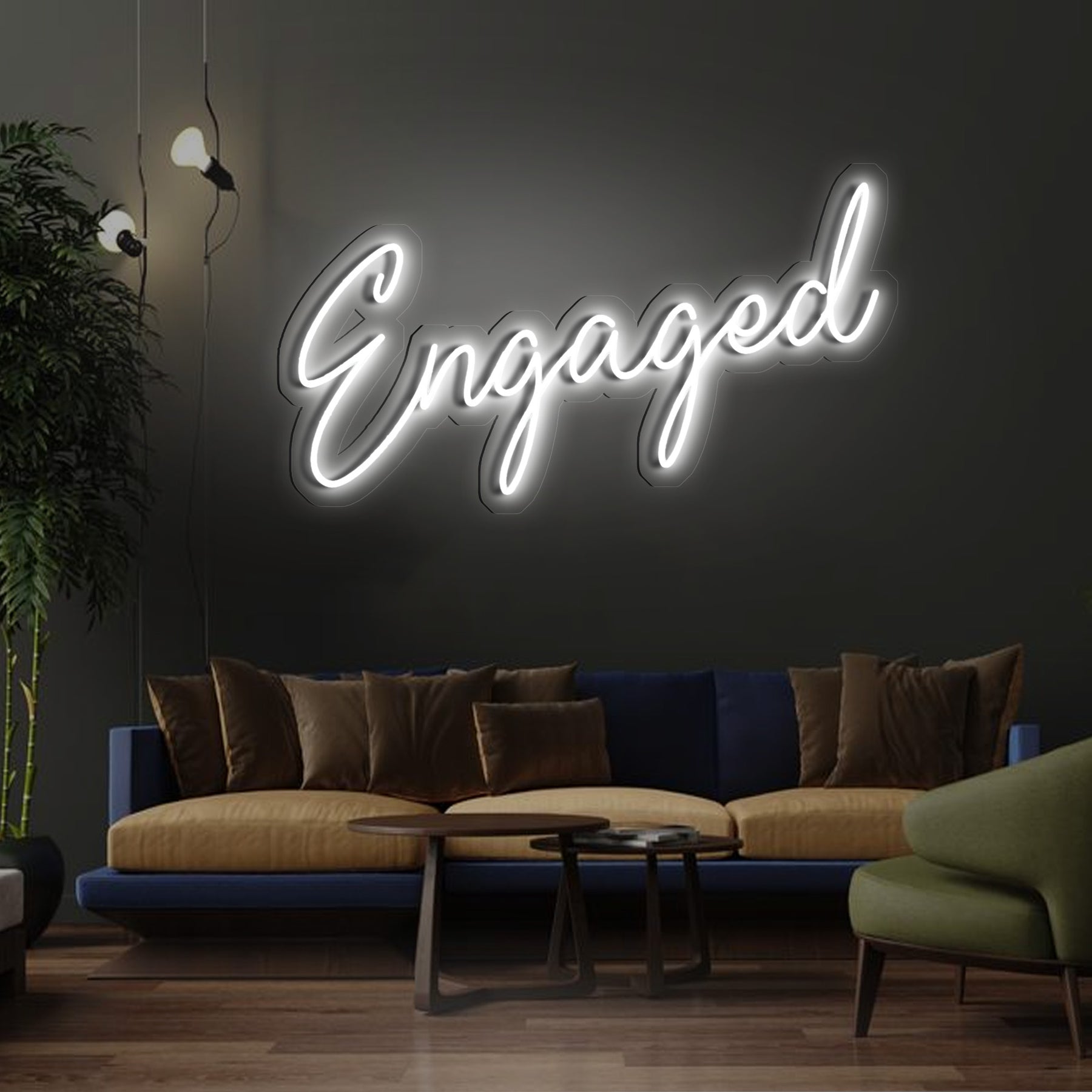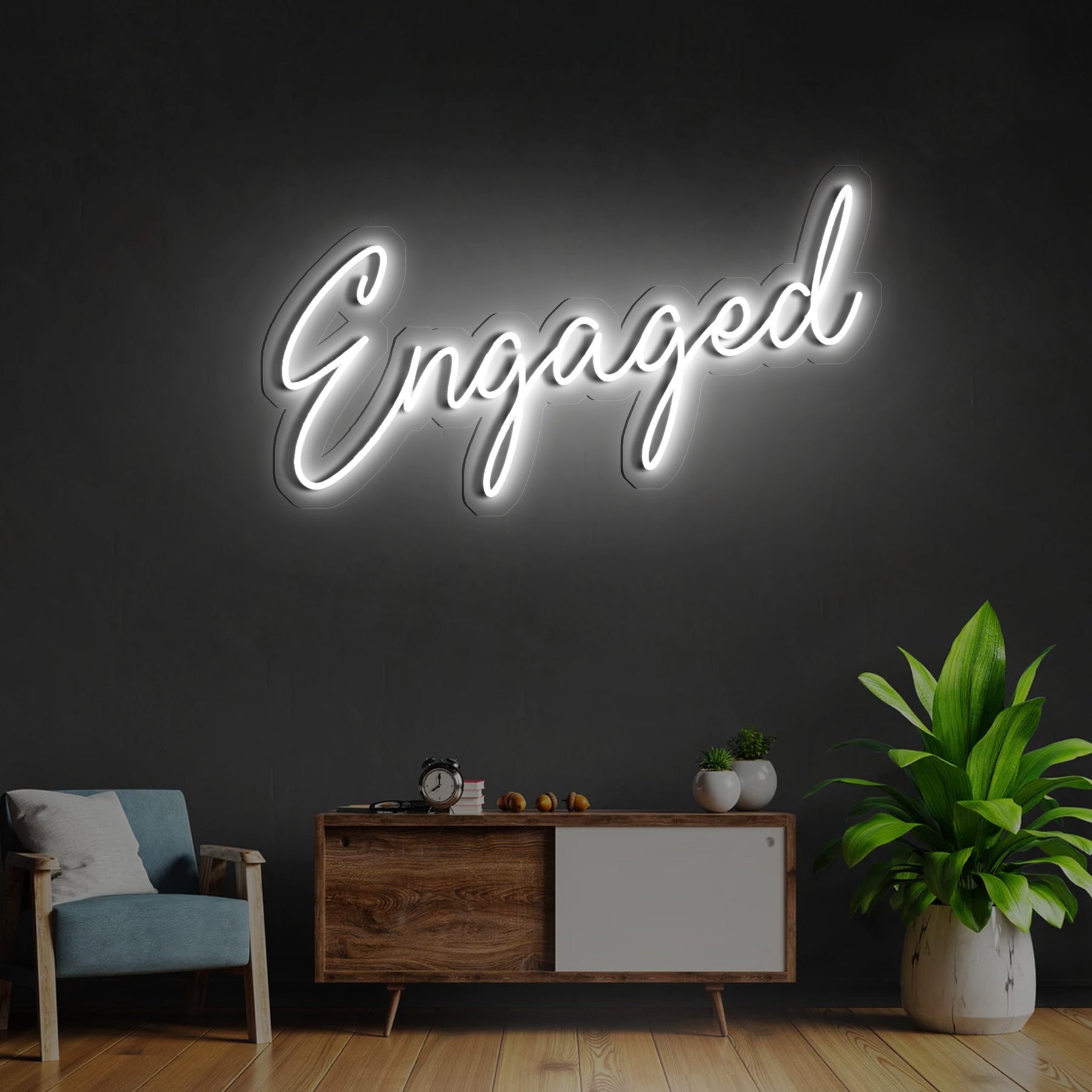 Engaged neon sign
Backing Style:
Cut to Shape
Engaged Neon Sign | Great Decor Ideas For Special Day
With creativity, you can take your decor to the next level with an engaged neon sign attached to your fateful event. This blog post of Orant Neon will show you how to create your own Neon sign to add some serious style to your engagements and weddings.
Meaning of engaged neon sign
Engaged light up sign is the featured product in our "Wedding neon sign" collection. Use a neon engaged sign as the centerpiece of your engagement party to declare your engagement! This incredibly adaptable sign would look great either beside the dance floor or framing the dessert! You could tuck it inside a wall of flowers or greenery for a photo booth backdrop.
Information about engaged neon light for engagement party
The engaged neon light is made with thin and soft lettering, suitable for use in engagement and wedding spaces.
An neon affixed to the product will include the following:
Customized LED or Neon Glass Signboard made to your request

Power supply and adapter

Wireless Remote Control & Dimmer (only available for LED Lights)

International manufacturer's warranty for 24 months

Drill the installation hole
>>> Discover more: Drunk In Love neon sign to brighten up your wedding day

Can I choose my favorite color when creating a neon sign?
All our neon sign orantneon.com are made to order and may be customized to your size, color, and design preferences. We can create whatever neon sign you like in various typefaces and colors.
For your selection, there are 22 widely used hues. When the sign is off, all 12 are white; when the sign is on, they are colored. The remaining ten colors come with a jacket, a cover that fits over the tube to ensure that the color is still visible even when the sign is turned off (just not as bright).
When choosing a hue for your neon light, you can choose Orange, Baby Pink, Green, Hot Pink, Blue, Red, Purple, Lemon Yellow, Ice Blue, Yellow, or Warm White. When the sign is off, and you require a white jacket, you can pick from the colors White Orange, White Yellow, White Pink, White Green, White Blue, Cold White, and White Red. If you require RGB neon, get in touch with us. Read more information about custom service to know neon custom signs.
>>> Explore more: Create a dream home with All You Need Is Love neon sign
Where can I get the engaged neon sign for sale?
With Orant Neon, you can design, create and get your own engaged neon light at home. We provide free standard shipping to all countries. Please contact us if your country isn't a supported default choice during checkout so we can set up a personalized delivery option for you.

However, Orant Neon will not support free shipping if you need urgent production. Please contact us directly, and I will make your request.

Orant Neon can confidently meet your wishes about the product. We have served many customers from diverse countries with the following products:

Japan
Jakarta
Korea
Jordan
Shipping Information
All orders are processed and ready to be shipped within 5-7 business days upon receipt of payment. Orders are not shipped or delivered on weekends or holidays.
| | | |
| --- | --- | --- |
| Shipment method | Delivery Time | Shipment cost |
| Standard | 10-14 Business Days | FREE |
| Express Shipping | 8-10 Business Days | $35 |
Similar products:
How about some fun wedding decorations? Engaged neon sign or an especially meaningful gift for your loved ones. Let Orant Neon help you bring smiles to their faces at this special moment in life with our fantastic selection of products!