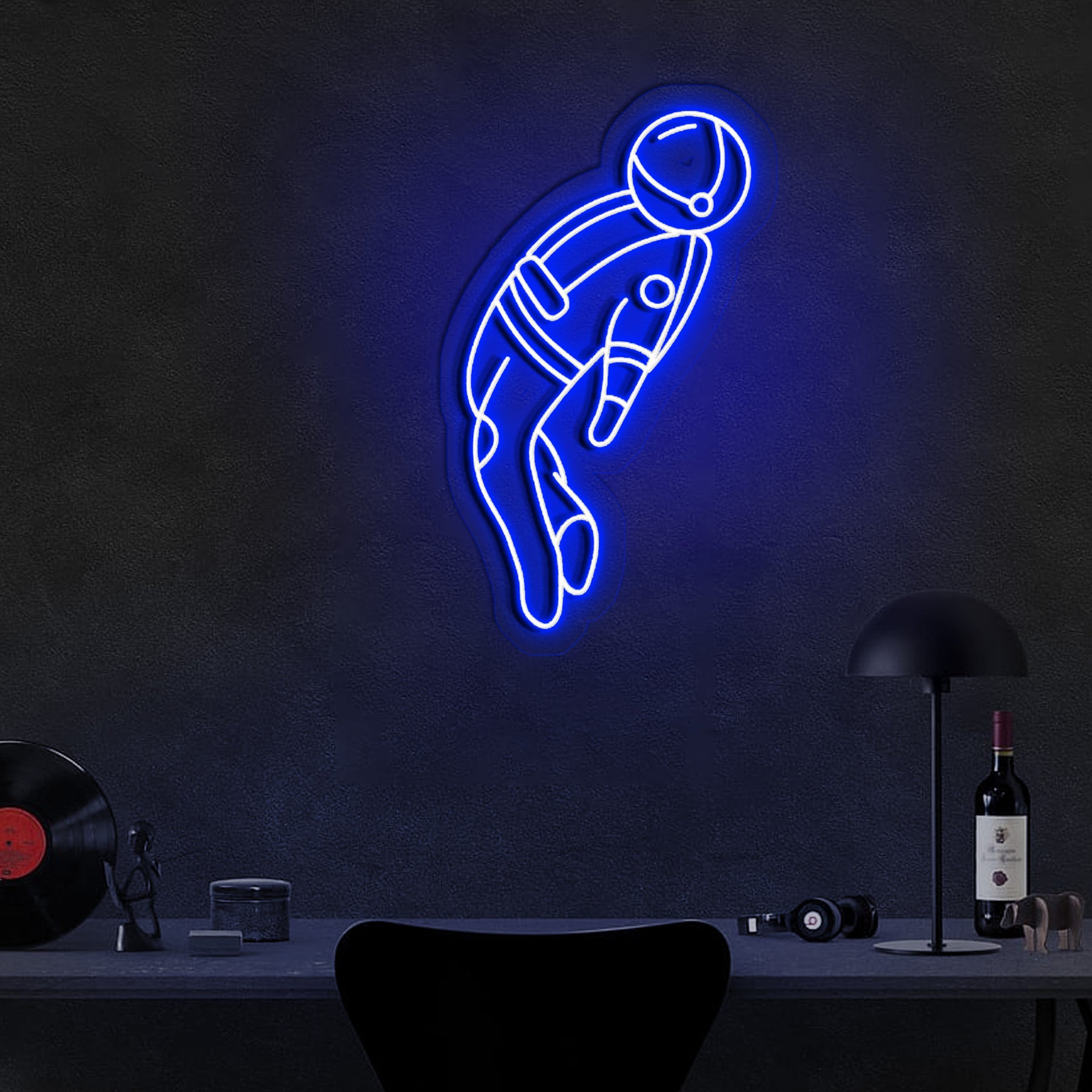 Spaceman| Bring The Universe Into Your Home
The Spaceman neon sign is iconic and full of art. If you are a space lover, you should not miss this neon light. Whether you're after a classic or a modern look, this neon pattern is easy to put together.
>>> Discover more: Space Neon Sign | Bring The Whole Universe Closer
Meaning of Spaceman neon sign
The Spaceman neon sign is a popular symbol that has been used since the 1960s. It is often associated with the counterculture movement of the time, which was a reaction to the conformity of the 1950s.
The sign can be seen in many places, from nightclubs to art galleries. It is a reminder of the rebellious spirit of that era and stands for freedom, creativity and individuality. The Spaceman neon signs continue to be a popular symbol today as they still resonate with people who want to stand out from the crowd and express their uniqueness.
Some space neon sign suitable for home decor can refer to:
Space Head Multicolour

Rocketship

Meteoroid

Lost in Space

How to create Spaceman neon light?
If you have a unique idea for Spaceman neon lights, it can be done at Orant Neon, we provide custom led sign service for customers.
Font
If you are wondering about font for neon sign, don't worry, we have nearly 30 fonts for you to choose from. You will indeed create your perfect neon light.
Sizes
The minor neon sign sale we provide start at 60 cm (2 ft), while the largest ones reach over 300 cm (10ft). Just let us know if you require a particular size, and we'll try our best. When choosing neon sign sizes, you should consider a few factors about the space you intend to hang it to design the best neon signs.
Color
At the Orant Neon, customers can choose from 25 neon sign colors. There are a total of 11 colors. When the neon light is off they are white and when the light is on it will show the correct color. The other 10 colors still retain their color even when the lights are off (just not as bright).
Some popular neon sign colors that you can refer to:
Which space is suitable to hang Spaceman neon light sign?
In fact, you can hang Spaceman neon lights in any space you want. However, since it is representative of an alcoholic drink, it will not be suitable for you to leave it in places with too many children.
For Bar
Spaceman neon lights are a great way to add a unique touch to any bar or restaurant. These eye-catching neon signs for bar provide an attractive and inviting atmosphere that can easily draw in customers. With their bright colors, bold shapes, and creative designs, Spaceman neon light can be used to create a one-of-a-kind look for any bar or restaurant.
For kid room
Spaceman neon lights can be a great addition to any kid's room. Not only do they add a fun and unique touch, but they also create a calming atmosphere that is perfect for relaxation and sleep. If you're looking for an eye-catching way to spruce up your child's bedroom or playroom, consider adding a Spaceman neon sign!
For Party
Spaceman neon lights are the perfect way to add a fun and unique touch to any party. From classic spaceman designs to custom shapes, these lights will make your gathering one of a kind. With their easy installation and customizable colors, you can have the perfect party atmosphere in no time at all!
Shipping Information
All orders are processed and ready to be shipped within 5-7 business days upon receipt of payment. Orders are not shipped or delivered on weekends or holidays.
| | | |
| --- | --- | --- |
| Shipment method | Delivery Time | Shipment cost |
| Standard | 10-14 Business Days | FREE |
| Express Shipping | 8-10 Business Days | $35 |
Please note: If your order has any other changes, the delivery time will be later than expected corresponding to the number of days waiting for order adjustment.
The application of Spaceman neon sign is very diverse, you can unleash your creativity with it. If you have any ideas for your neon lights, please contact Orant Neon, we will help you make it happen.