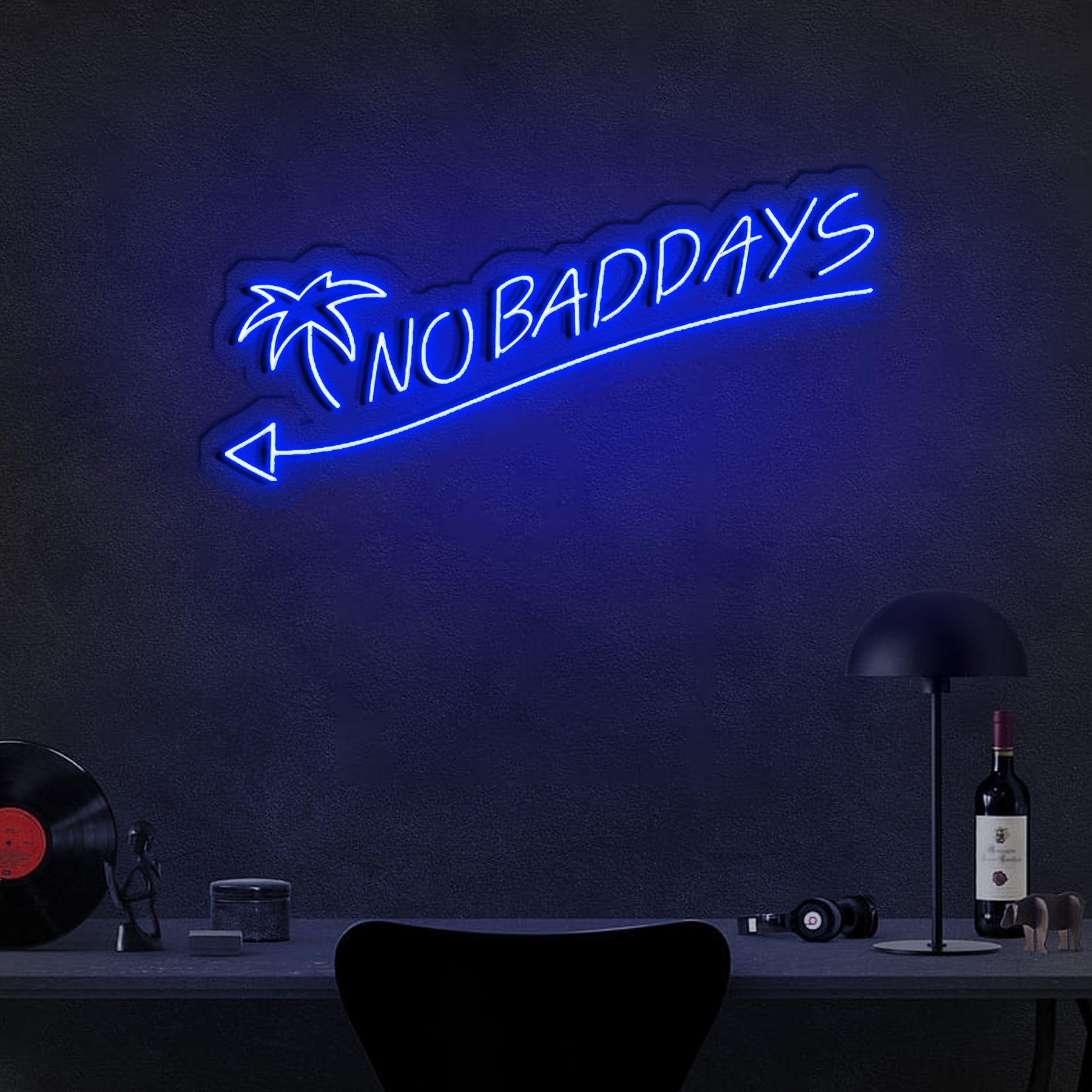 No Bad Days Neon Sign | Great Motivation For You
Check out Orant Neon's No Bad Days neon sign to look for a fun and colorful way to brighten your home or business! This vibrant sign is sure to add some personality to any space and is durable.
Meaning of No Bad Days neon sign
When it comes to feeling motivated, sometimes all it takes is a little neon sign motivation to light the way. Just like a physical sign can help guide you to your destination, this sign can help guide you to your goal.

Bad things happen to us, but at the end of each day, we should always be able to find one thing that makes us laugh or smile. And if you cannot do that at the end of each day, something needs to change.
The No Bad Days light up sign is so important because it helps us make the most of every day whether through a small act of kindness or a day off with our best friends. Life is too short of having bad days, so let's all try to remember that there are no bad days, just bad moments.
How do you choose the best color for your bedroom's No Bad Days neon signs?
When looking for neon sign bedroom ideas, everyone wants it to bring a warm, relaxing and romantic space. The color of your walls matters around 70% of the time since the neon sing can only eclipse it when it is clear. Are there some hues that seem nicer in a bedroom?
The colors pink, red, white, purple, and orange are fantastic for sending out a cozy and calming atmosphere. Try your best to have either white, black, or maybe the same color on your walls while experimenting with any of the five colors listed above. As a result, the neon light will appear 10 times better, and the color will be amplified.
At the Orant Neon, customers can choose from 25 neon sign colors. There are a total of 11 colors. When the neon light is off they are white and when the light is on it will show the correct color. The other 10 colors still retain their color even when the lights are off (just not as bright).
Some popular neon sign colors that you can refer to:
Can I have a No Bad Days neon sign design?
Whether you're looking for a fun message like "No Bad Days" or something more specific like your company logo, Orant Neon can customize a light sign that's perfect for you.
To try out your sign design, you can go to neon custom sign and start by customizing the font, color, and size you like. In addition, if you already have a different design, do not hesitate to send it to Orant Neon's team to create a unique product!
Some things to know when buying No Bad Days light up sign
What shout do you know before purchasing a No Bad Days neon light? Check the information below with Orant Neon's article!
Price
Each sign is made to order, and the No Bad Days neon sign design's price will depend on the design's complexity, color, or size you require. So if you're looking for a quick price quote, simply contact us through our website, and we'll be happy to provide one. The No Bad Days neon sign at Orant Neon currently costs depending on size and other criteria.
How to install it?
Most of my neon sign use an electrical outlet with a 4.9ft transparent cord plugged into a US-certified AC adapter. An extra 3-6ft black wire from the adaptor fits into the socket. A complimentary remote and dimmer will immediately be added to your order at checkout.
Longevity
And regarding quality, our glass No Bad Days neon sign for sale is second to none. They're rated for 75,000 hours of continuous use, so you can be confident they'll last for years with proper care.
Plus, if they ever do reach the end of their lifespan, they can easily be re-gassed (filled with fresh Neon gas), so there's no need to worry about them becoming obsolete. So no matter what you're looking for, you can rest assured that Orant Neon has you covered.
Shipping Information
All orders are processed and ready to be shipped within 5-7 business days upon receipt of payment. Orders are not shipped or delivered on weekends or holidays.
| | | |
| --- | --- | --- |
| Shipment method | Delivery Time | Shipment cost |
| Standard | 10-14 Business Days | FREE |
| Express Shipping | 8-10 Business Days | $35 |
Please note: If your order has any other changes, the delivery time will be later than expected corresponding to the number of days waiting for order adjustment.
Relevant products: Hustler neon sign - Break the delay
No Bad Days neon sign can help you get more motivation by setting a positive tone for your day. This sign is a great way to start your day on the right foot and help you stay focused and motivated throughout the day. Visit Orant Neon's website and bring one to your room!