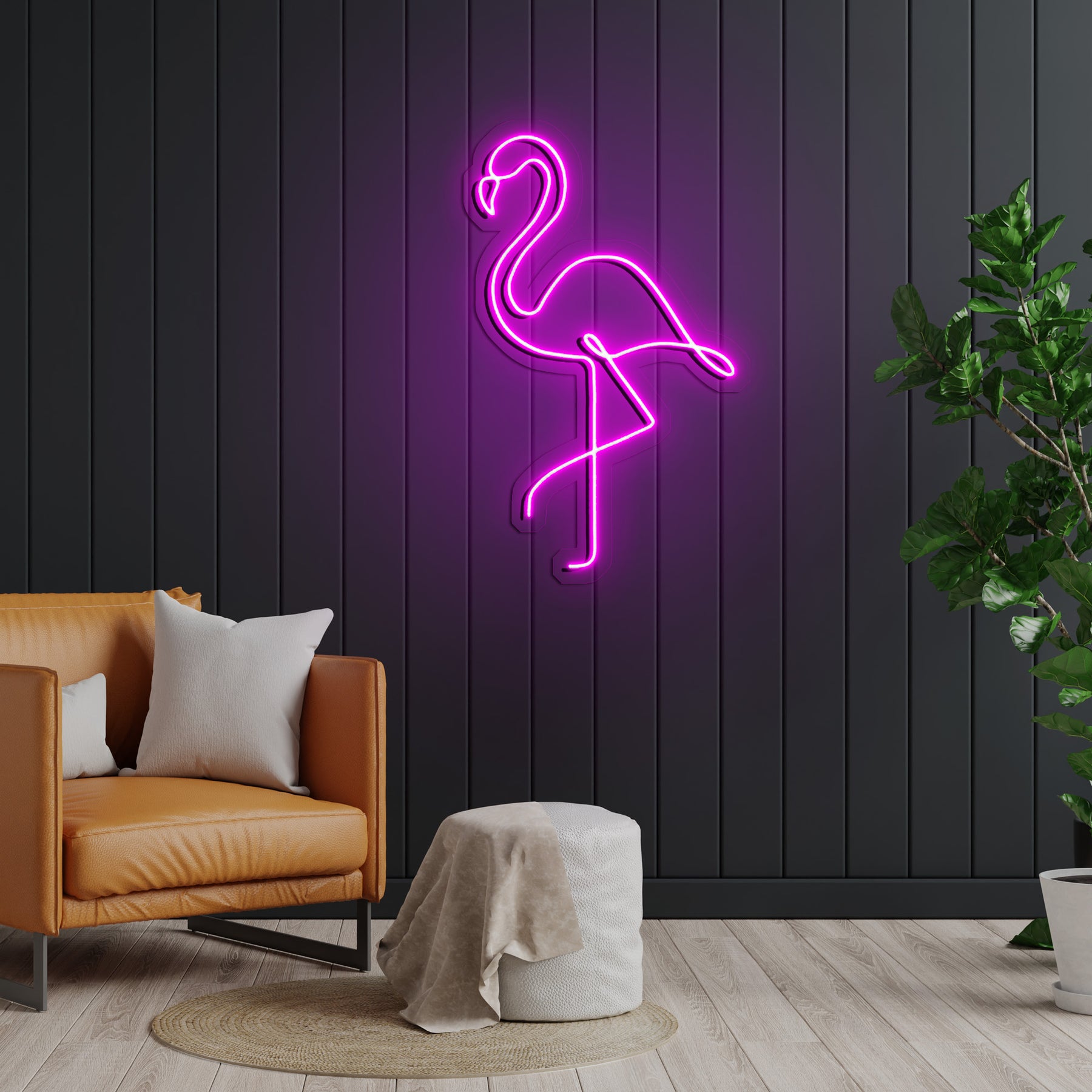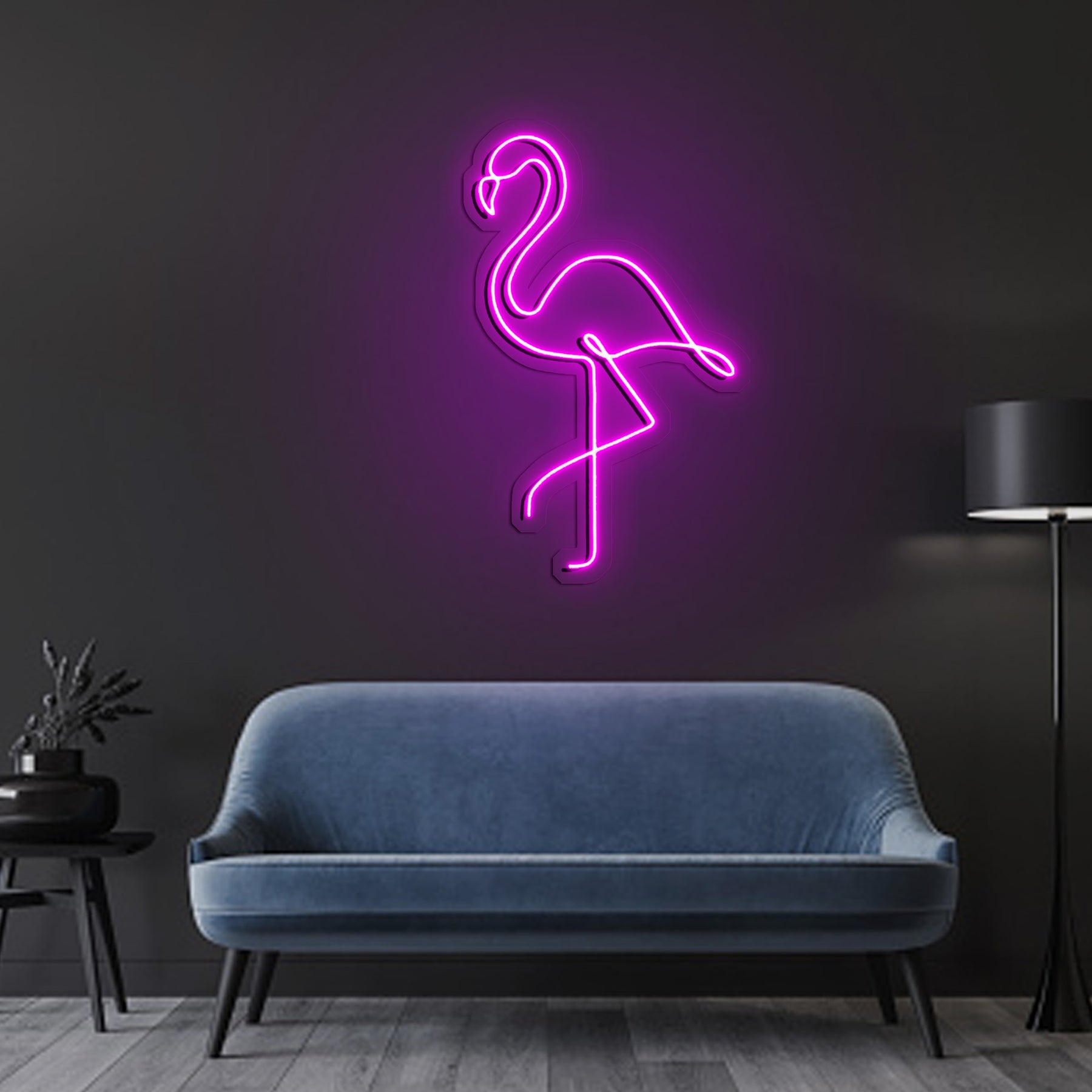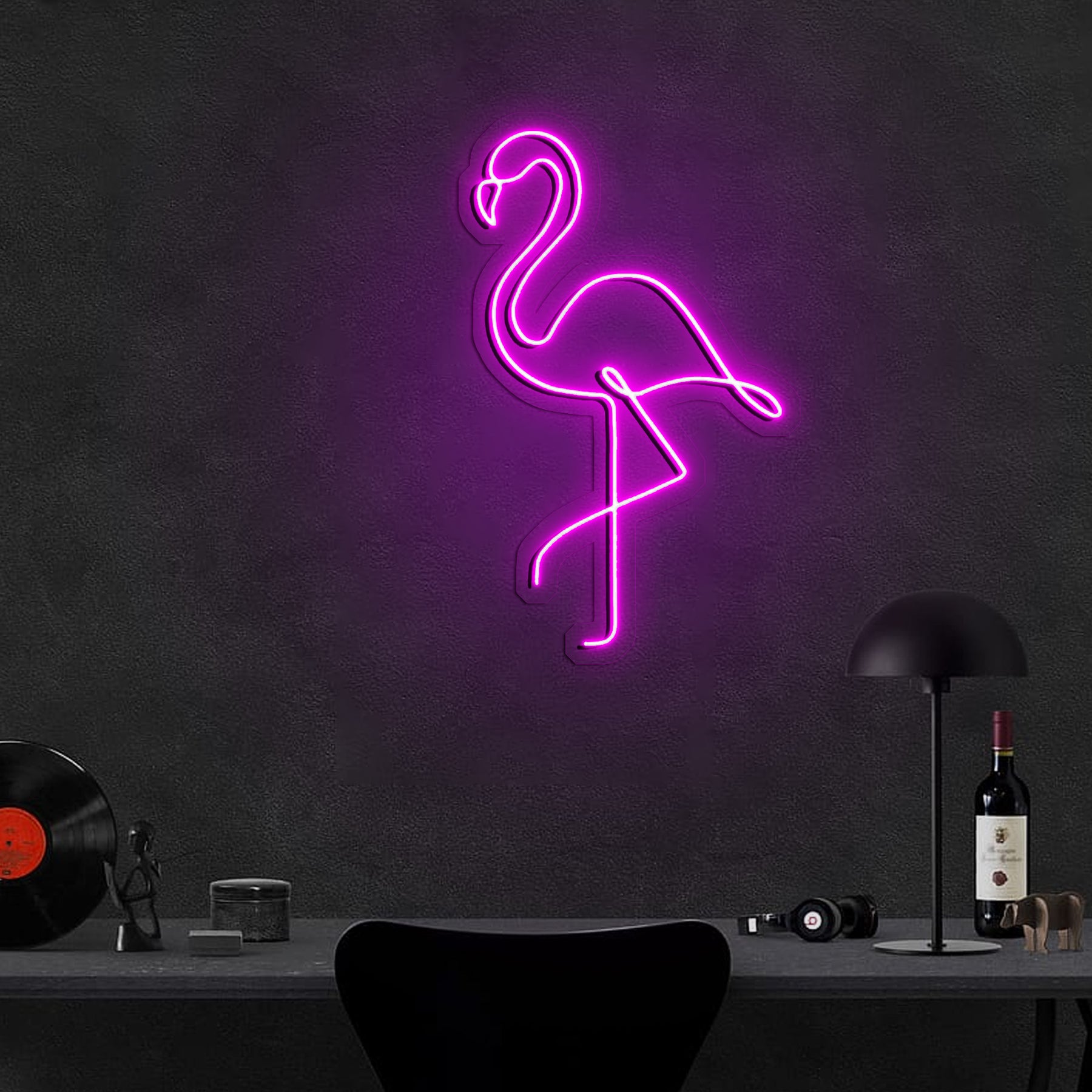 Flamingo
Backing Style:
Cut to Shape
Description
This Flamingo Neon Sign is perfect for giving any space a nice and aesthetic vibe. The stylish neon sign of Orant Neon is the ideal lighting decoration to brighten your area and add a bit additional pop.

Flamingo is a bird that carries the meaning of a peaceful and happy life. Therefore, Flamingo neon signs is a very popular product in our "Aestheic neon sign" collection.
Tech specifications of neon sign
Size:

Neon

as your request (Minimum size of a letter is 4CM)

Flexible

Size Neon Sign:

(Width x Height): Dimensions (6 x 12mm) or (8 x 15mm)

Neon Sign

Flex Jacket

: White coat (White display off) / Color jacket (Color display off)

Neon Color LED

: Red, Blue, Green, Orange, White, Warm white, Light pink, Yellow, Lemon yellow, Ice blue, Purple, Pink

Next round

: 5mm . Acrylic Sheet

Acrylic board colo

r: Transparent/black/color

Guarantee

: 24 month

Backboard shape

: Cut to Shape, Square Back, Invisible Acrylic

LED Power Adapter

: Standard 230v or 110v LED power adapter

AC power plug

: EU / UK / AU / US plug

Main part

: Acrylic sheet, Neon flex, Power supply, Installation accessories

Transparent cable

: Approx. Length 2m (from LED sign)

AC power cord

: Approx. 1.5m long (from transformer)

Installation method

: Mount (on the wall) or Hang by rope (on the ceiling)
Can I create my own Flamingo neon light?
Yes, you can create your own Flamingo neon sign at Orant Neon. You consider get custom neon signs. All of our neon lights can be customized in terms of size, color, and other factors.
Custom colors
For your selection, we offer 25 widely used colors. When the sign is off, all 12 of them are white; when the sign is on, they are colored. The remaining 11 colors come with a jacket, which is a cover that fits over the tube to ensure that the color is still visible even when the sign is turned off (just not as bright).
Custom sizes
We have a range of sizes available from 60cm (2ft) all the way up to over 300 cm! If you need something custom-made, don't hesitate to reach out. The dimensions indicated are based on either length or height - whichever suits your requirements better; we'll be happy to accommodate them for you.
FAQs about Flamingo neon light
Use the LED Flamingo neon outdoor
We do have the option for custom outdoor signs. The high-quality, durable, and waterproof lights can be installed on any exterior surface - giving them an even more stunning look.
Buy neon Flamingo sign
You can get the Flamingo neon signs for sale at Orant Neon. Our LED neon light signs are handmade from neon light tubes. We keep our prices as low as possible while ensuring that our products meet the highest standards of quality. Whether you're looking for a fun way to light up your home or business, we have the perfect solution for you.
The flamingo neon light wall is not working
All of our indoor and outdoor signs come with a 24-month manufacturer warranty. In case your Flamingo neon light wall is not working, Orant Neon will try to find the source of the fault and find a solution.
Shipping Information
All orders are processed and ready to be shipped within 5-7 business days upon receipt of payment. Orders are not shipped or delivered on weekends or holidays.
| | | |
| --- | --- | --- |
| Shipment method | Delivery Time | Shipment cost |
| Standard | 10-14 Business Days | FREE |
| Express Shipping | 8-10 Business Days | $35 |
Please note: If your order has any other changes, the delivery time will be later than expected corresponding to the number of days waiting for order adjustment.
Related products:
The Flamingo neon sign is the perfect decoration for any room. It is bright and colorful, and it will add a fun and festive atmosphere to any space. Whether you are looking to decorate your bedroom or you are looking for a way to spice up your home office, Orant Neon's signs will surely add a pop of unique feeling.