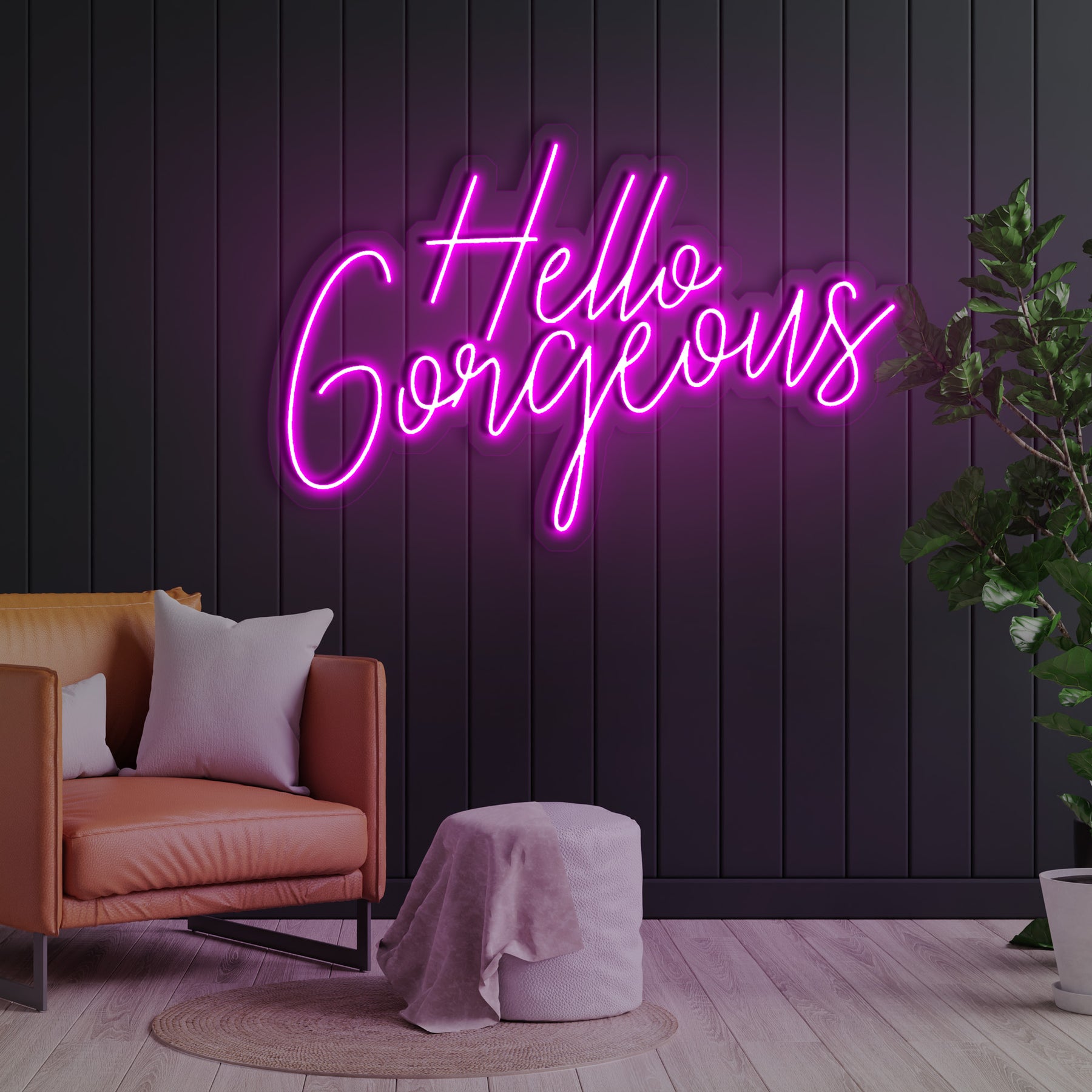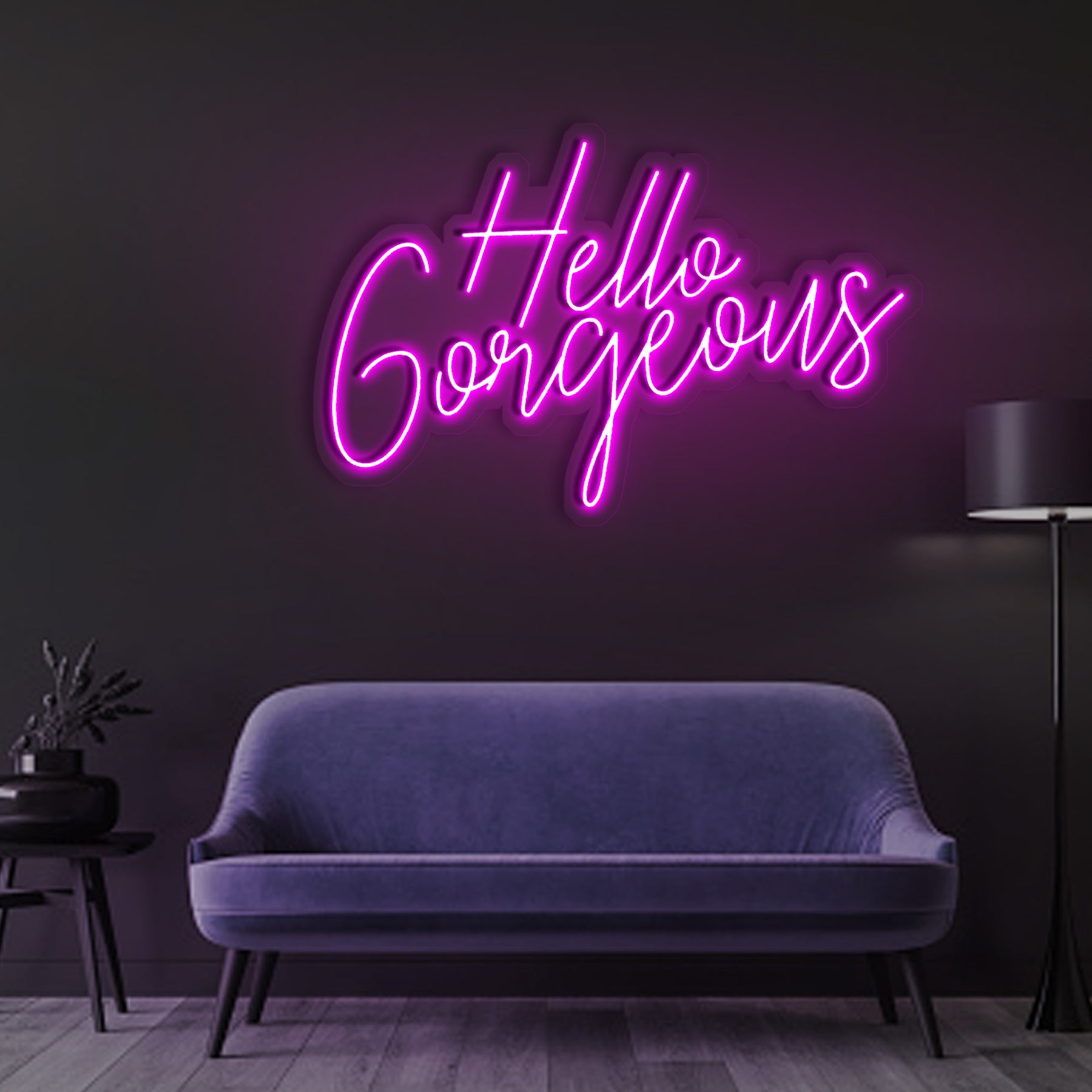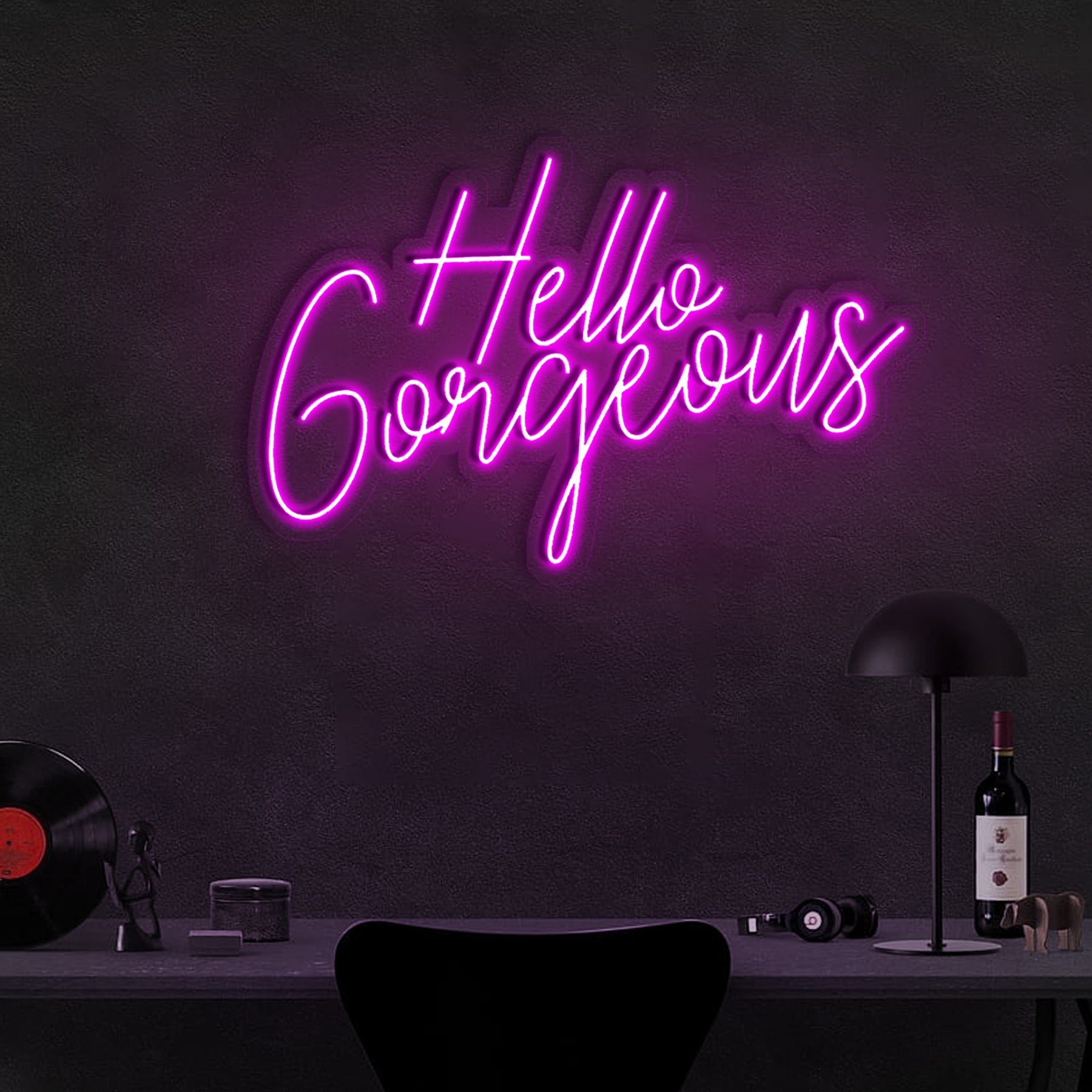 Hello Gorgeous Neon Sign | Sweet Greetings For You
Well, hello gorgeous, how are you doing today? This hello gorgeous neon sign is perfect for beauty and cosmetics studios. With Orant Neon's sign, you can quickly light up your space in style and create a fantastic vibe for your spa.
Hello gorgeous neon sign for the beauty spa
Hello gorgeous neon sign is part of our "Beauty neon sign" collection. The bright and eye-catching colors are sure to turn heads, while the fun and playful font will put a smile on everyone's face. Whether you're looking for a fun way to advertise your business or simply want to add a touch of character to your spa, this sign is a great way to do it.
Hello gorgeous neon sign collection
This product is an outstanding product that attracts attention, creates a unique atmosphere, and makes your store more appealing.
Hello gorgeous neon sign art
Neon signs are not only aesthetically pleasing, but they are also very versatile. Nothing like a truly unique artwork that will make everybody say wow. You can customize the sign to your idea and have fun with each letter. Each piece of neon art will be one-of-a-kind, and you use this sign to show off your true self.
Hello gorgeous neon sign for the hair salon
There's no doubt about it; a hello gorgeous signs are a great way to decorate any hair salon. The bright colors and eye-catching message are sure to attract attention and potential customers. This is a great way to add funny and playful vibes to your hair salon.
Hello gorgeous neon sign for karaoke bars
This a great marketing tool. If you're looking for a cost-effective way to decorate your karaoke bar, this gorgeous neon sign is the way to go.
Hello gorgeous neon sign vintage
If you are looking for something a little more unique, you can also find vintage hello gorgeous neon signs. These signs are perfect for adding a touch of class and sophistication to your business. The warm colors and classic fonts will give your business an inviting and welcoming feel.
Hello gorgeous light up sign ideas
You can use a hello gorgeous neon light in many different ways. As mentioned above, you can use it to add some fun and excitement to your karaoke bar. You can also use it to decorate your beauty spa or cosmetics studio. Not only for business purposes, but this sign would also fit perfectly in your bedroom or anywhere in the house that needs a soft-warm inviting glow.
Hello gorgeous led neon sign price
Costs for neon signs vary based on the size and complexity of the design. Our factory pricing that others can't match makes our custom-made neon signs very reasonably priced. We will help you get the best sign at the best price.
Neon hello gorgeous sign size
We can make both big and small signs as per your request. However, there are some restrictions. We need letters to be at least 5 cm tall. The neon can only be cut to a specific size and twisted to a certain degree. Although smaller sizes are conceivable, we often advise sticking with a minimum size of 10cm/letter because this enables us to produce the best results.
Colors of hello gorgeous neon signs
We have 25 colors in total. You can pick a color that will turn white when the sign is off. We also offer neon signs that remain their original hue even when it's off.
Can I design my own hello gorgeous neon signs?
You can get hello gorgeous custom neon light at Orant Neon. With our customization service, you can make the sign in your favorite color, font style, and size. We will also help you make a unique neon light to your liking.
FAQ about hello gorgeous neon signs
Here, we've gathered some of the most common questions and answers about the hello gorgeous neon sign.
How does it work?
Instead of using fragile glass, each unique neon sign is constructed with a solid acrylic backing. Long-lasting transformers power our LEDs. Eco-friendly LED lights provide a bright glow.
Is it energy efficient?
Compared to traditional neon tubes, light-emitting diodes are more energy-efficient usage. Our neon signs use relatively little energy. They are very cost-saving.
Are they battery-operated?
Most of our signs are plugged in. But we still offer battery packs for small signs. Please contact us to find out if your neon sign is suitable for a battery power source.
Shipping Information
All orders are processed and ready to be shipped within 5-7 business days upon receipt of payment. Orders are not shipped or delivered on weekends or holidays.
| | | |
| --- | --- | --- |
| Shipment method | Delivery Time | Shipment cost |
| Standard | 10-14 Business Days | FREE |
| Express Shipping | 8-10 Business Days | $35 |
Please note: If your order has any other changes, the delivery time will be later than expected corresponding to the number of days waiting for order adjustment.
Similar products:
Hello gorgeous neon sign is a perfect decor for beauty and cosmetics studios. The bright colors and fun fonts add a touch of great personality to any space. Get yourself your own special custom hello gorgeous sign at Orant Neon today!