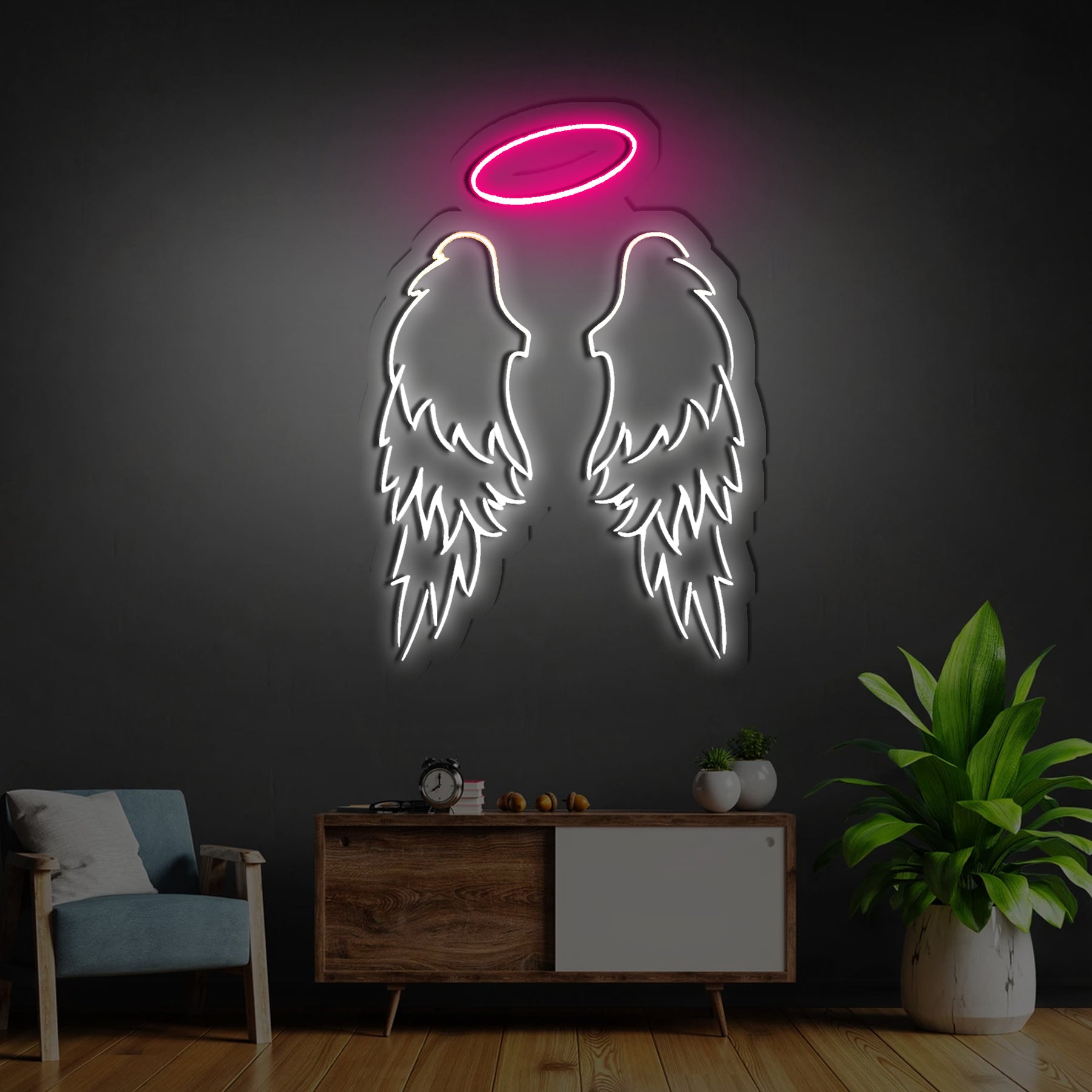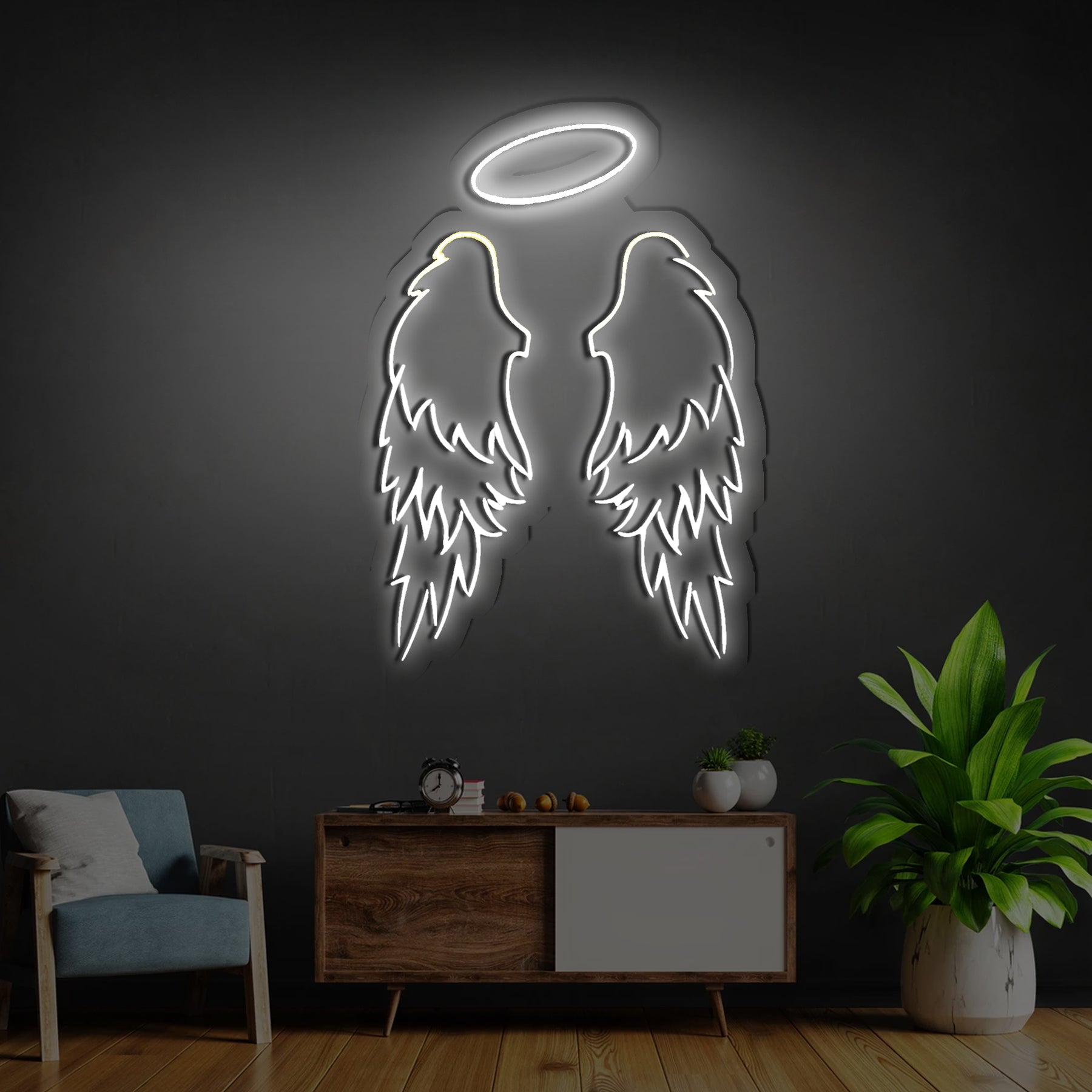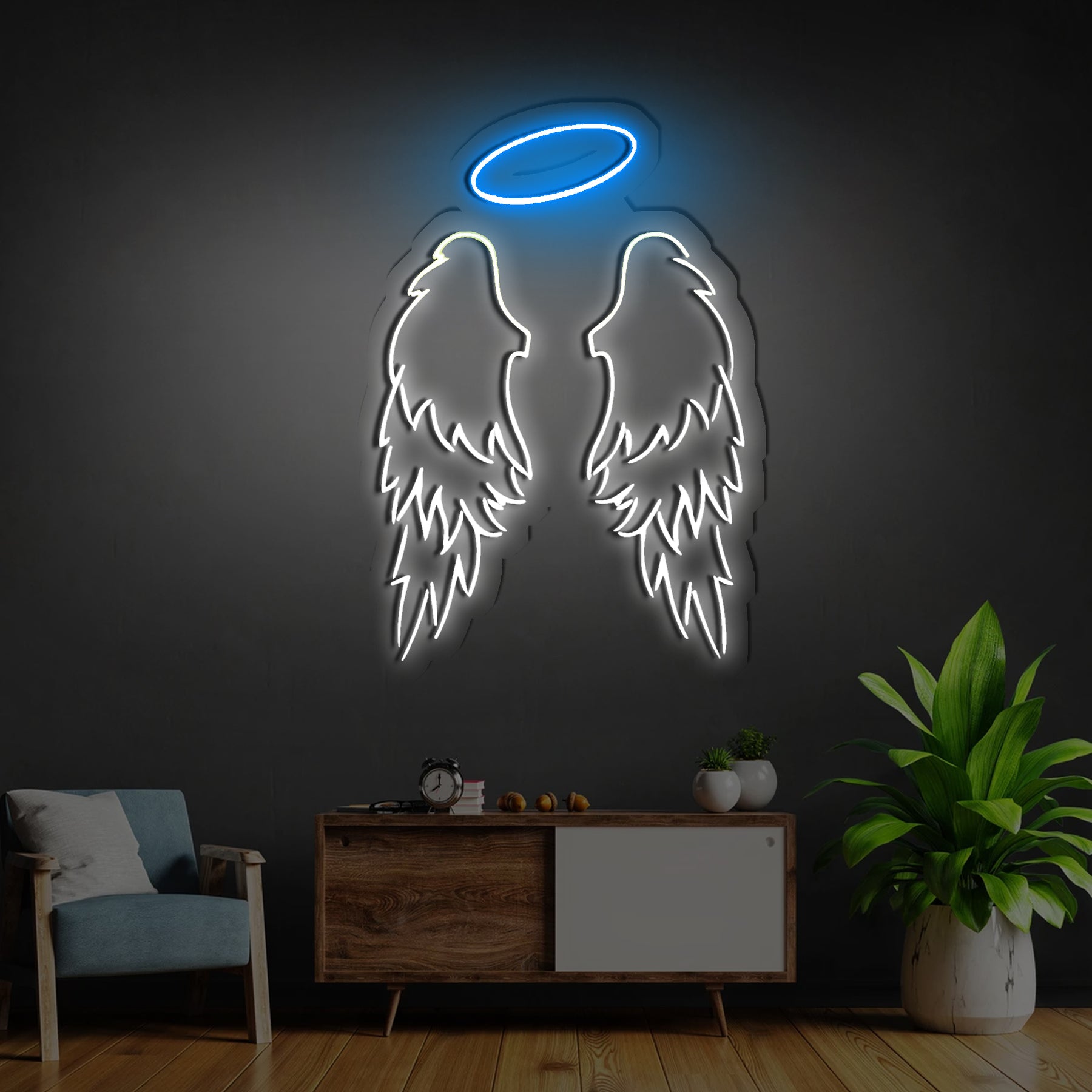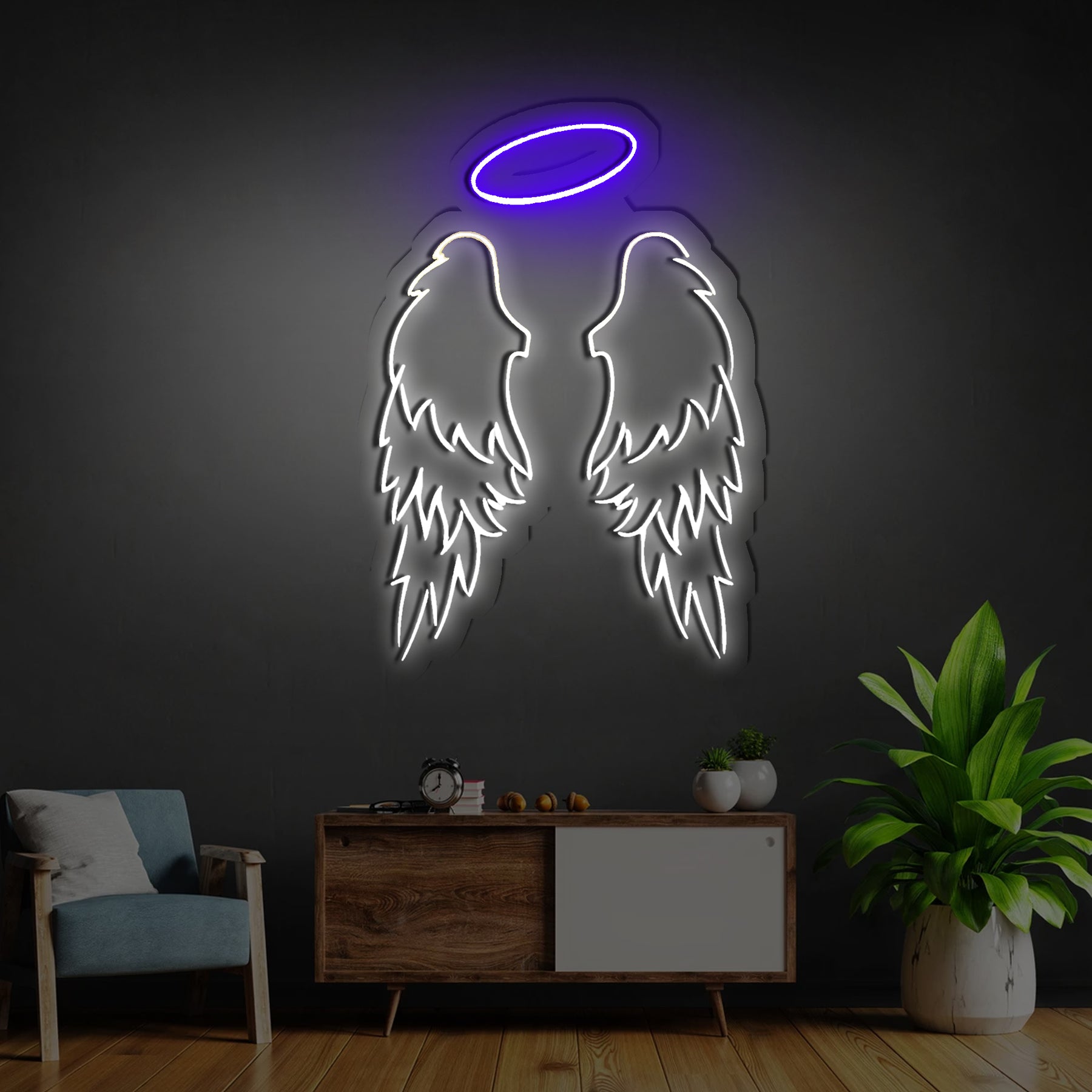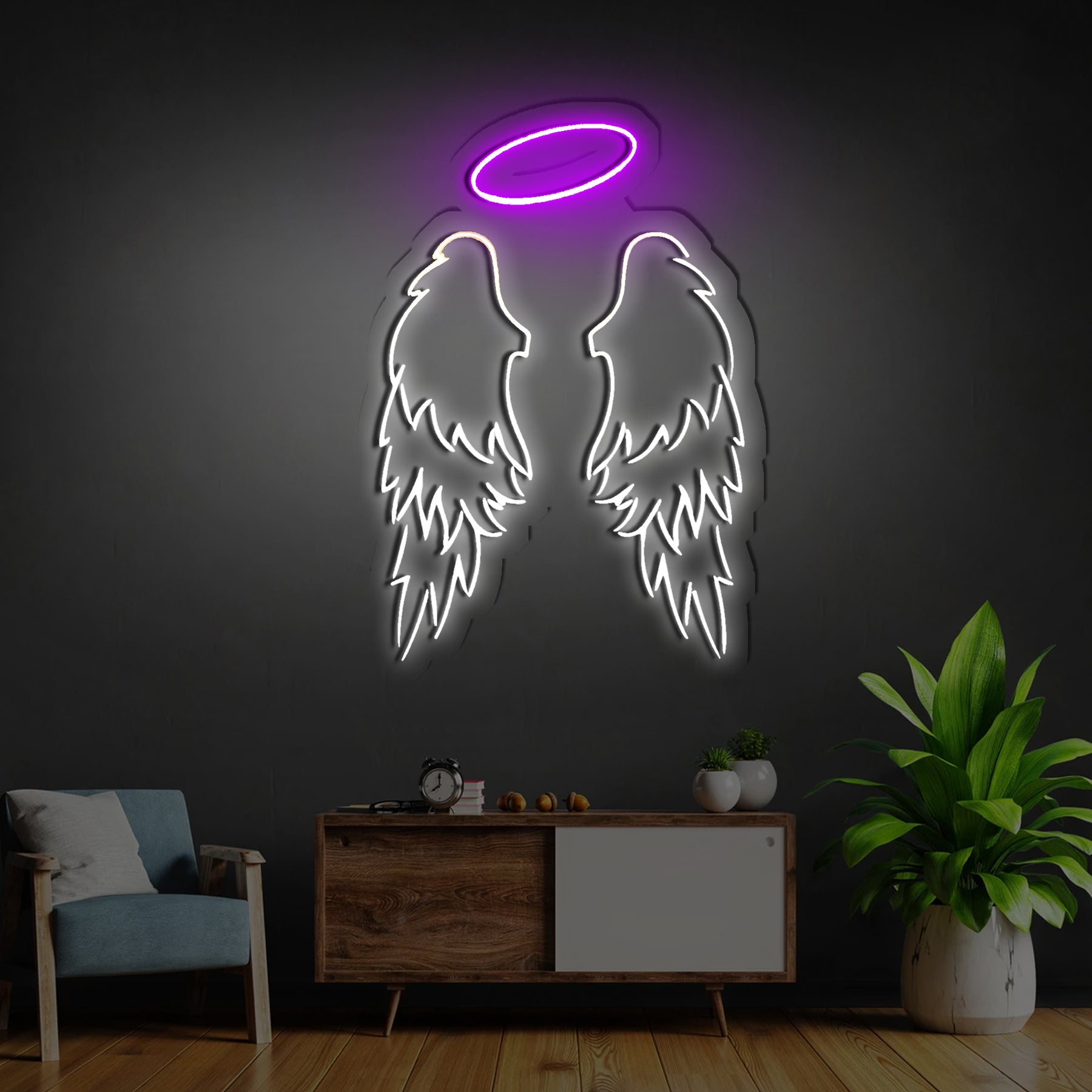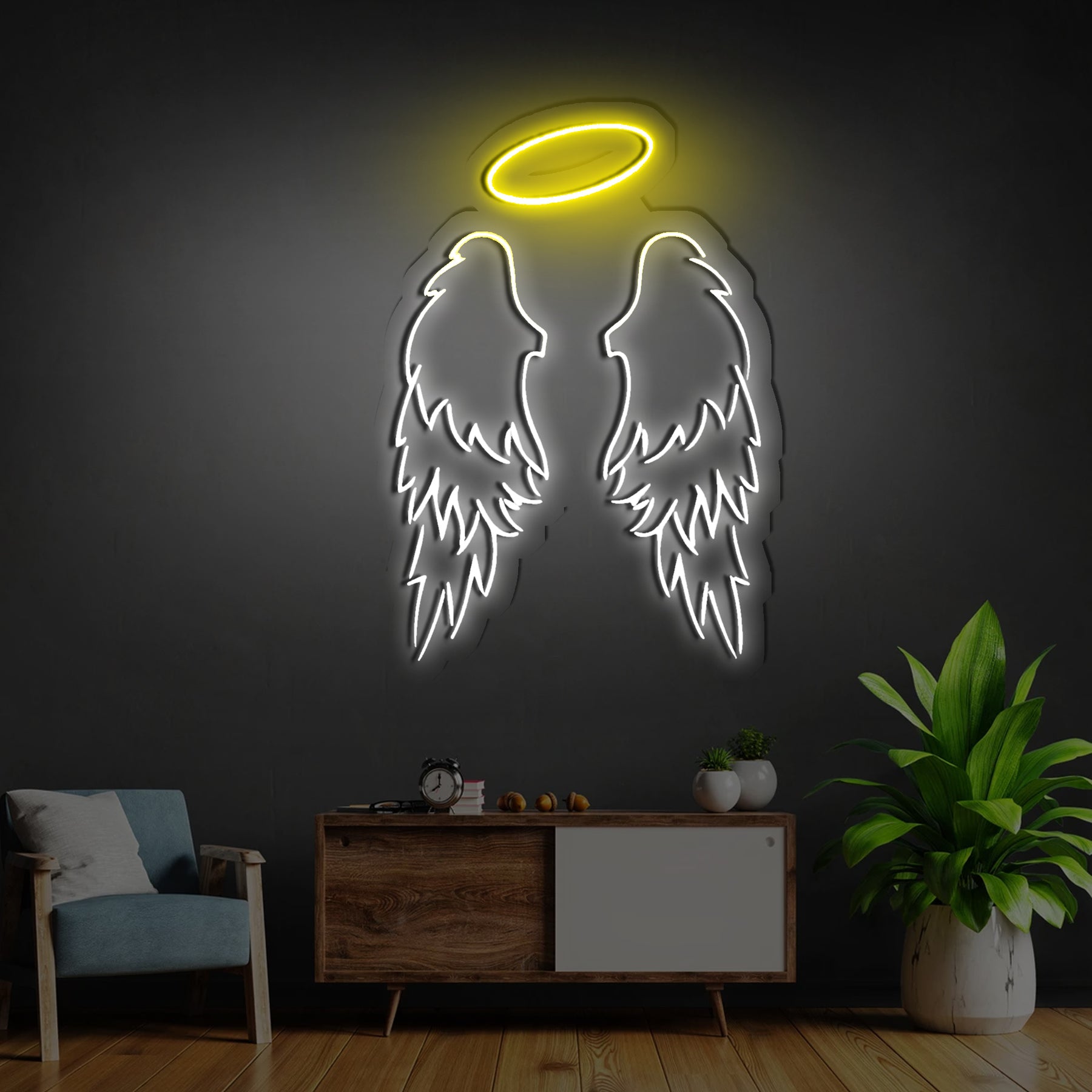 Angel Wings
Backing Style:
Cut to Shape
"Angel Wings" Multicolour  | Let's Fly Away
This beautiful angel wings multicolour neon sign is perfect for any angel lover. The elegant wings are perfect for adding a touch of contemporary style to your space. Whether you're looking for a unique piece of wall art or simply want to add a bit of light and color, this sign of Orant Neon is sure to please.
>>> Refer: Aesthetic neon signs - Light up your space with aesthetic neon signs

The meaning of angel wings
It's believed that we all have a guardian angel that watches over us. They say that angel wings bring good luck and protect you from bad juju. The most prevalent use of angel wings is for protection. The guardian angels are those that wear wings.
Angel wings neon sign collection
The neon angel wings sign is a beautiful and majestic sight. Its glowing wings are a symbol of hope and protection, and it's sure to light up any room it's in.
Angel wings neon sign bedroom
The angel wings neon sign is a great way to add some decoration to your bedroom. This is a must-have for any angel-lover or anyone who wants to add a touch of magic to their home.
Angel wings neon sign decor
Angel wings are definitely one of the most popular sale neon sign decors out there. And it's easy to see why. They just look so damn cool! There's something about those big, beautiful wings that makes them irresistible
Angel wings and halo neon sign
The Angel wings neon sign comes complete with a halo, making it the perfect way to add some celestial flair to any space. This sign is sure to make a statement and brighten up anywhere it stays in.
>>> Discover more: Floating all day long with cloud neon sign

Can I make my own angel wings neon sign?
Using Orant Neon's online design tool, you may create your own angel wings neon sign with a custom neon sign Orant Neon: color and size that fits any space.
Color
Want to make your place stand out? We can help with that! Our wide range color of LED neon artwork is sure to please. With 22 colors available, you're bound to find the perfect match for any theme.
Size
Our signs come in a range of sizes, from 60 cm (2 feet) to more than 300 cm (10ft). The greatest dimension is used to determine the dimensions mentioned (length or height). Do not hesitate to get in touch with us if you want a bespoke size.
>>> Explore more: Rose neon sign for a more romantic living space

Angel wings neon sign idea
We offer many customization choices for any space and event. No matter what you want it to say or what it's for, you can contact us or use our clever online neon sign maker to design your very own LED neon signs Orant Neon.
For each different space, you can customize the sign to fit the atmosphere. The bedroom is a great place to hang the angel wings neon sign. You can place the sign above the bed and enjoy the incredible soft light. Or the living room to impress your guest.
Custom angel wings led neon sign price

Your ultimate cost will depend on how big a sign you choose to make. The cost increases with the size of the sign you want to create. The price will also depend on how intricately designed the shape is.
Is the sign battery-operated?
We do have an option for the battery pack for small signs. You can choose between power socket plugs or a battery pack. This will depend on what kind of customization you want.
Use angel wings neon sign outdoor
You can use our custom angel wing sign as an outdoor decoration. It comes with an IP67 waterproof rating. We advise using glass neon rather than LED if you intend to place your sign outside. Glass Neon is appropriate for all applications and weatherproof.
Angel wings neon sign for sale

You can get the angel wings neon sign at Orant Neon. Our products are handcrafted by professionals. We also price our products as low and competitively as possible while still maintaining a high standard of quality.
Shipping Information
All orders are processed and ready to be shipped within 5-7 business days upon receipt of payment. Orders are not shipped or delivered on weekends or holidays.
| | | |
| --- | --- | --- |
| Shipment method | Delivery Time | Shipment cost |
| Standard | 10-14 Business Days | FREE |
| Express Shipping | 8-10 Business Days | $35 |
Please note: If your order has any other changes, the delivery time will be later than expected corresponding to the number of days waiting for order adjustment.
Relevant products:

The angel wings neon sign is a great way to decorate any room. The bright colors and intricate design created by Orant Neon are sure to catch the eye of anyone who sees it. It would be perfect for any space that could use a little bit of brightness and protection ambiance.