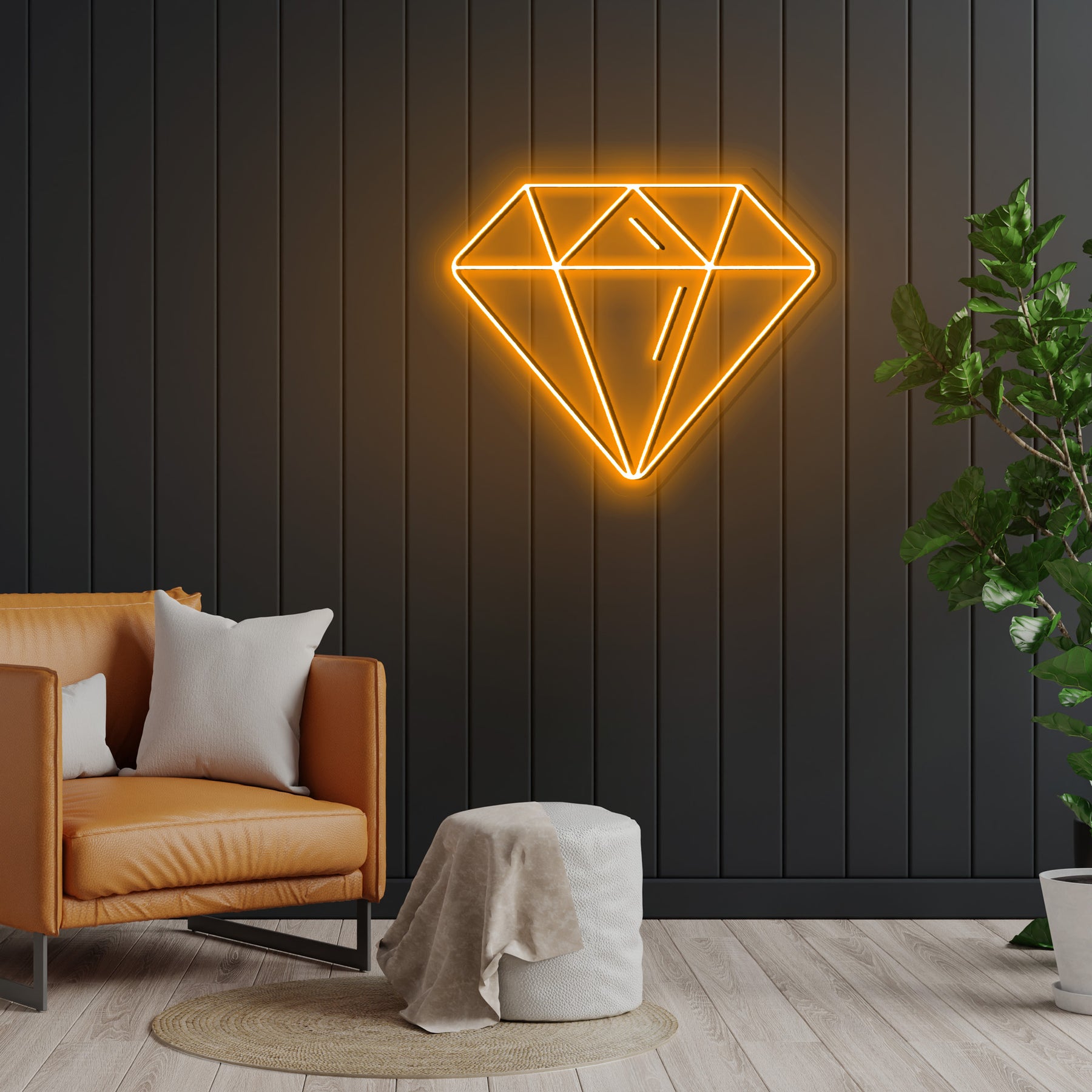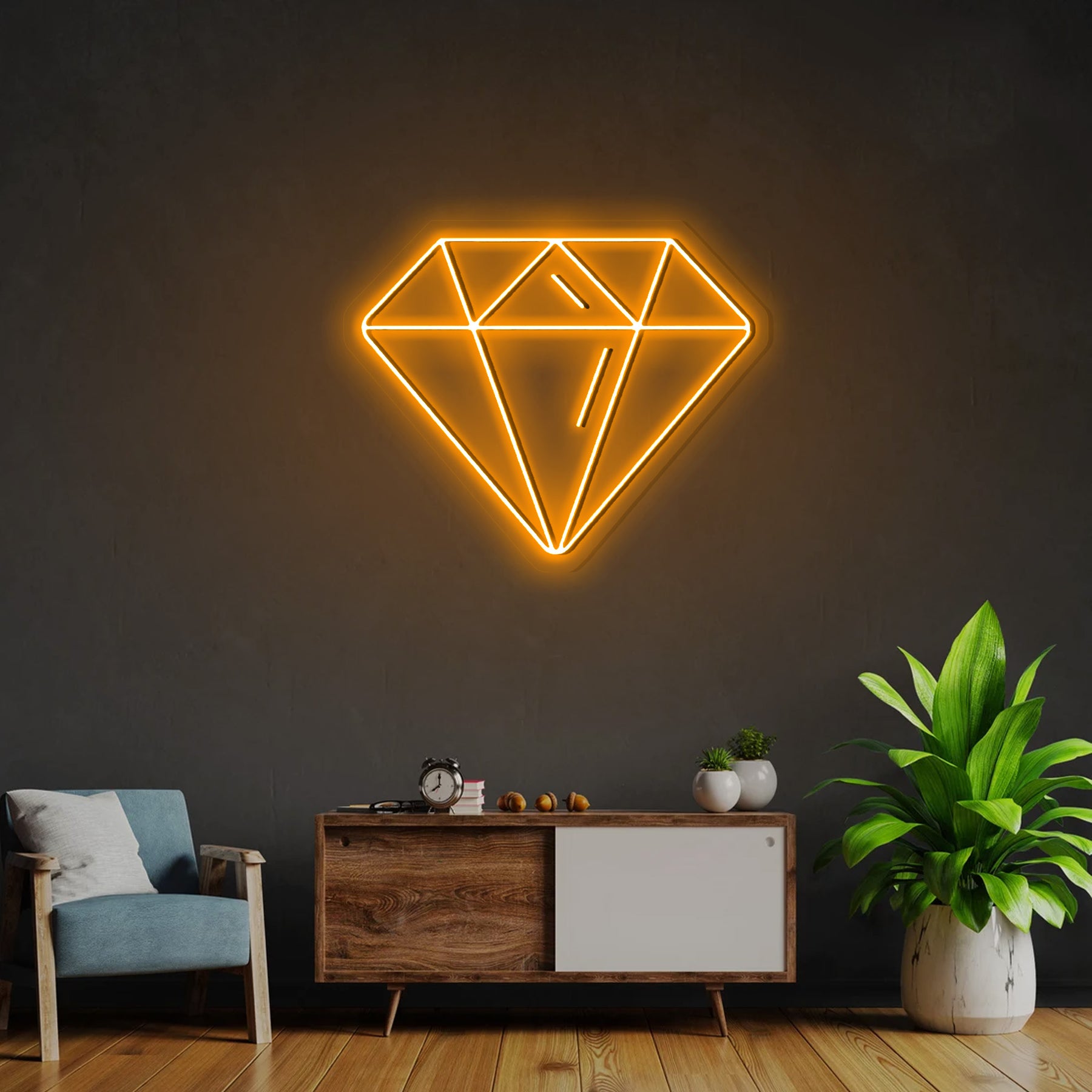 Diamond
Backing Style:
Cut to Shape
Diamond Neon Sign | For Home Wall Decoration
The diamond neon sign is a luxurious and beautiful piece that is perfect for motivating and inspiring anyone. Whether you are looking for a new addition to your home décor or a unique gift for someone special, Orant Neon's diamond neon LED sign is sure to impress.

>>> Discover more: Aesthetic neon sign - Light up your space with aesthetic neon signs

Diamond neon sign for sale collection
Shine bright like a diamond. The vibrant, dazzling light of the diamond neon sign is sure to catch everyone's attention.
Diamond neon sign
If you are looking for a striking and eye-catching piece of decoration for your home or business, look no further than the diamond neon sign. This stunning sign is made up of hundreds of bright, flashing neon sign cheap that will catch the eye of everyone who sees it.
Diamond neon sign bar
Neon signs are a popular way to decorate bars and pubs. They add a touch of excitement and glamour to the space and can be used to create a themed look. This elegant diamond neon sign will make your bar stand out.
Diamond neon sign bedroom
A diamond neon LED sign is the perfect piece of bedroom decor. It's flashy and eye-catching, and it adds a touch of glamour to any room. Plus, it's super-easy to set up. You plug it in, and it starts shining!
Diamond neon sign board
The Diamond neon sign board is an excellent decor piece for any room. Whether you're looking for a new piece of decor for your home or office, the Diamond neon sign board is definitely worth considering
Diamond neon sign bulb
This Diamond neon lamp is versatile and perfect for a range of spaces. It emits a soft, calming light that's perfect for every room, and the contemporary design means it will fit in with any decor.
Diamond neon sign decor
With this sparkling neon diamond sign, you can have your home lit up like a star. Just flip the switch and watch as it shines bright against any background! It's perfect for any home that wants to stand out in a crowd.
Diamond neon sign event
The Diamond neon sign is both cool and beautiful. It is perfect for adding a touch of glamour and sophistication to any event. Whether you are hosting a black-tie gala or a casual get-together, this sign is sure to impress your guests
Diamond neon sign for wedding
When you see the Diamond neon sign, it is impossible not to feel its elegance and beauty. The universally recognized emblem of enduring love and dedication is the diamond. This sign is perfect for a wedding because it symbolizes the everlasting love between two people.
>>> Explore more: Angel wings neon sign - Let's fly away

Neon diamond sign custom
With our online design tool, you can create your neon diamond sign in a wide selection of colors and sizes.
Neon diamond sign custom color
25 neon sign colors are available for your selection. If you would like your sign to keep its color when it's turned off, you can choose Orange, Baby Pink, Green, Hot Pink, Blue, Red, Purple, Lemon Yellow, Ice Blue, Yellow, or Warm White color.
If you want the sign turned white when it's off, you can choose White Orange, White Yellow, White Pink, White Green, White Blue, Cold White, or White Red color.
Neon diamond sign custom size
The neon sign custom can be customized with different sizes, depending on the shape. You also tell us what specific size you want on your sign. When choosing neon sign sizes, you should consider a few factors about the space you intend to hang it to design the best neon signs.
Neon diamond sign special custom
Want a neon sign that's all your own? We can make it happen! From extra fonts to size - we have you covered with customization options galore for any project or occasion. Please feel free to send us some text, pictures, logos, sketches, or even a list of your thoughts. We will get back to you within 24 hours.
The diamond neon sign is safe to touch
You can touch the LED neon sign without the risk of being burned. Our neon signs have minimal voltage and produce very little heat. It's safe to touch.
Neon diamond sign price
Our custom-made signs start at just $100. The cost varies depending on the size, font, and design you choose for it.
Diamond neon sign for sale
You can get the diamond neon sign for sale here at Orant Neon. We have the most innovative neon signs in town! Our diverse range of pre-designed glow paint is sure to suit any style, no matter how your taste may be.
How to repair LED Neon signs?
Check the power circuits first when you notice that your neon lights Orant Neon are blinking or not working correctly. You can use tools like a multimeter to see if the voltage is making its way from one location in an electrical circuit without being stopped by any broken wired.
Shipping Information
All orders are processed and ready to be shipped within 5-7 business days upon receipt of payment. Orders are not shipped or delivered on weekends or holidays.
| | | |
| --- | --- | --- |
| Shipment method | Delivery Time | Shipment cost |
| Standard | 10-14 Business Days | FREE |
| Express Shipping | 8-10 Business Days | $35 |
Please note: If your order has any other changes, the delivery time will be later than expected corresponding to the number of days waiting for order adjustment.
Similar product:
The diamond neon sign is a work of art that brings stunning light to any room. It is an eye-catching addition to any décor and adds a touch of elegance and glamour. Orant Neon's diamond sign is a perfect choice if you're looking for a new light fixture for your home or want to add some personality to your space.