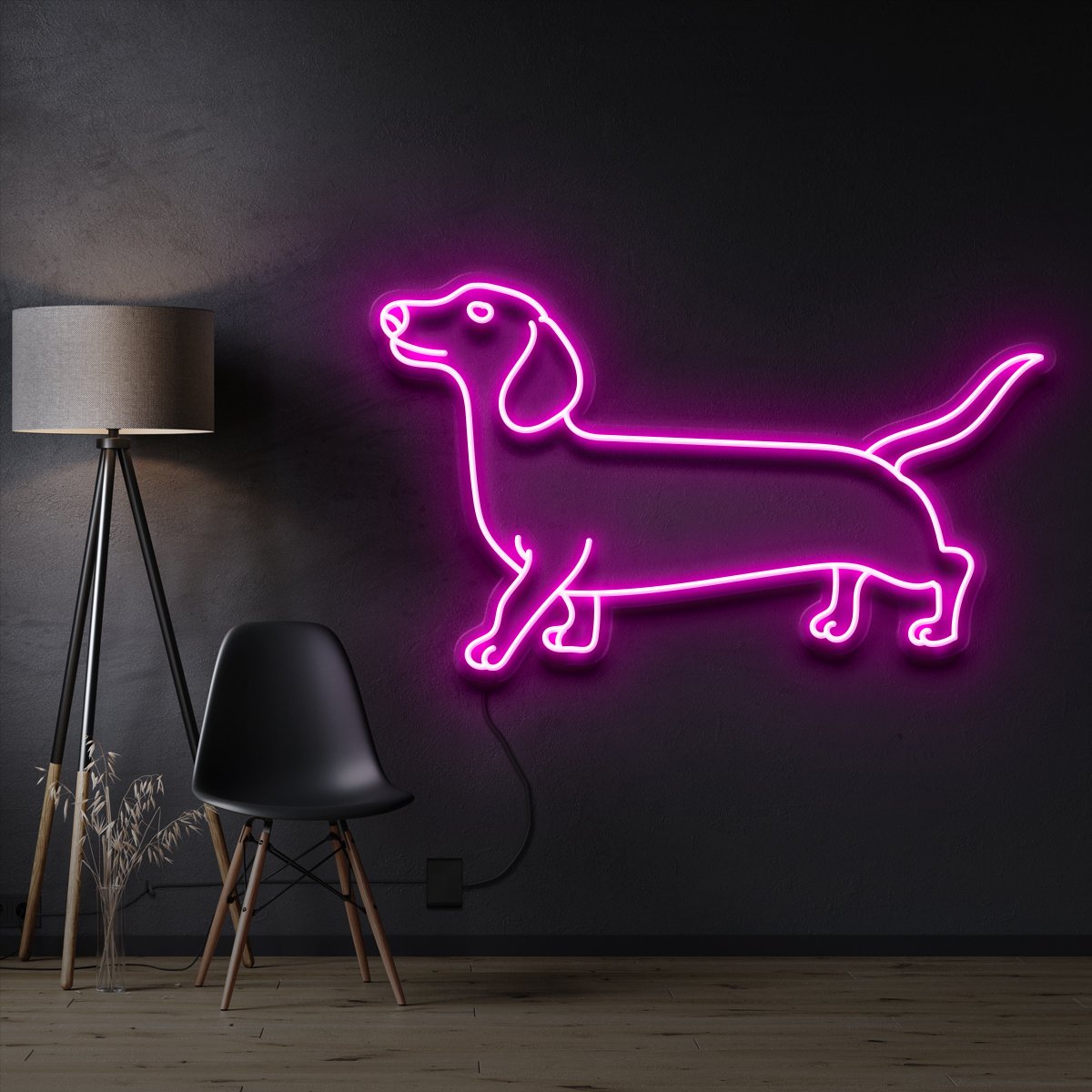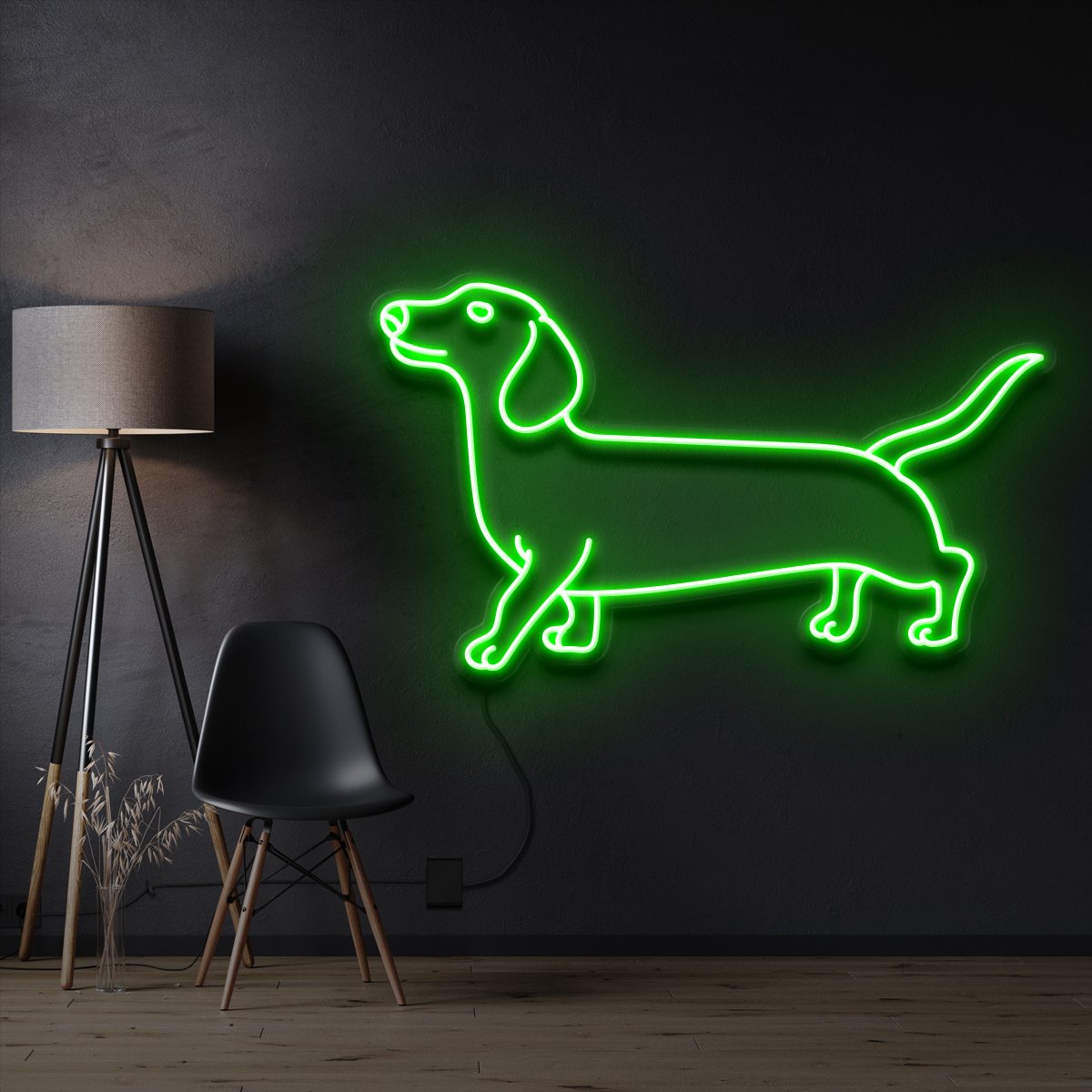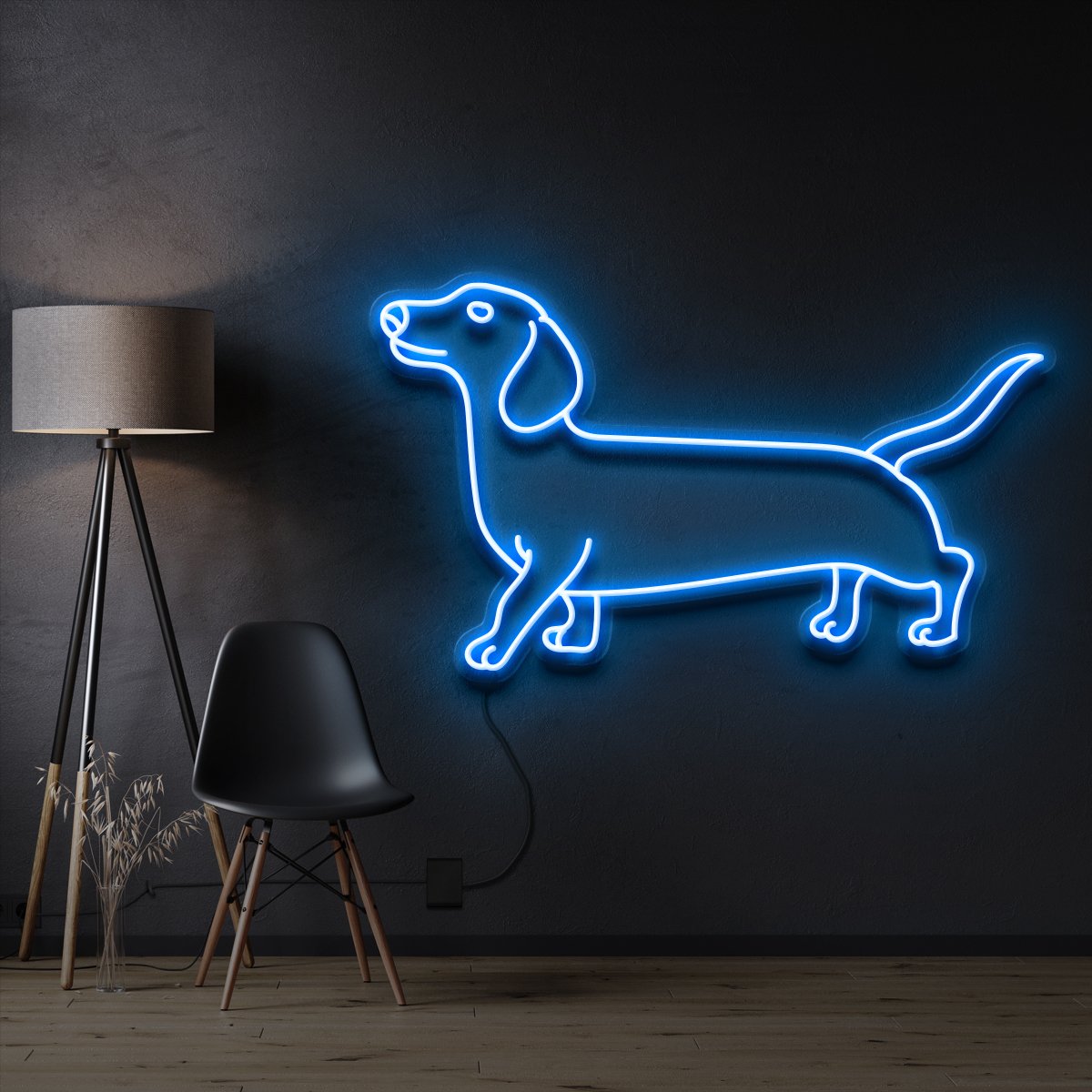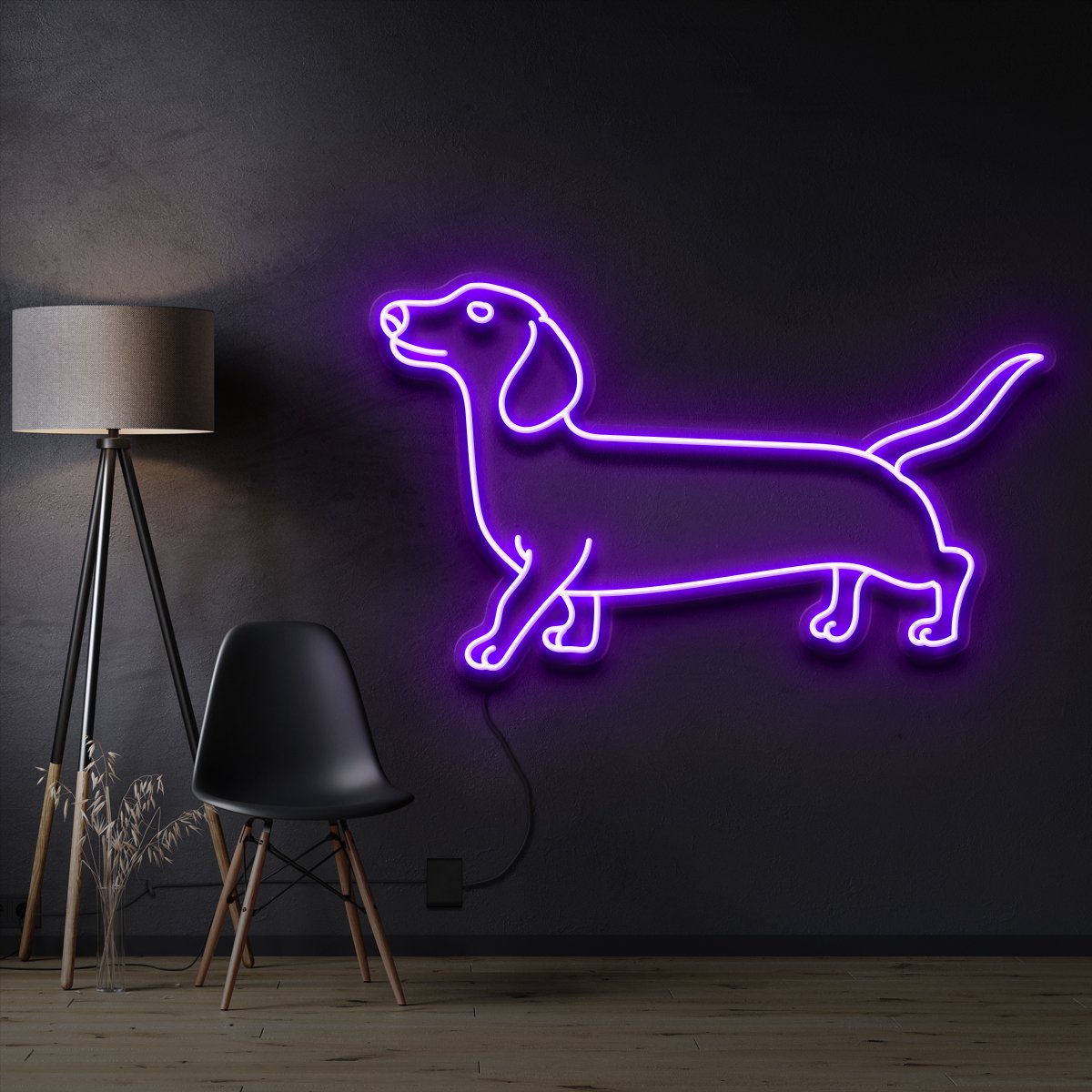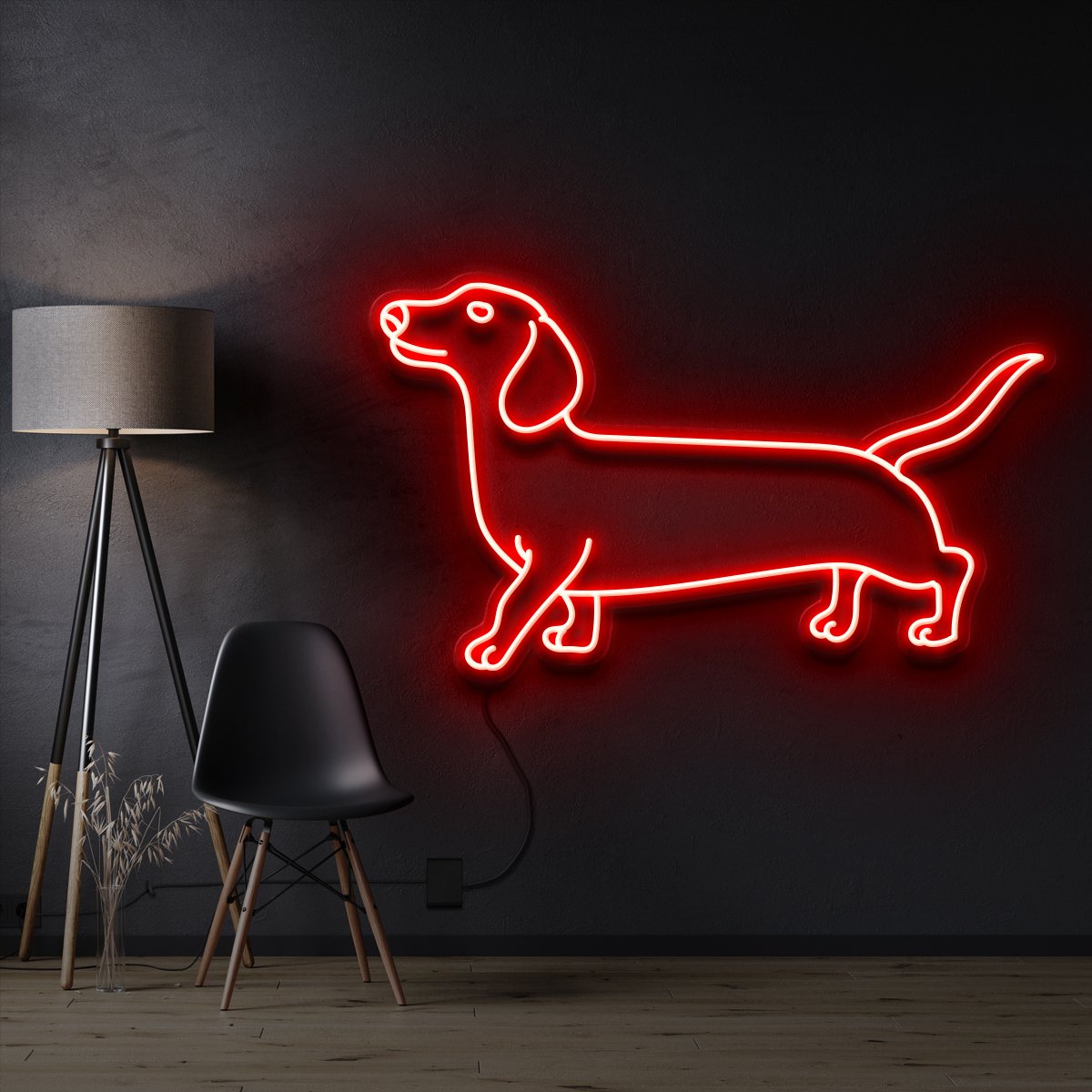 Dachshund
Backing Style:
Cut to Shape
Dachshund neon sign is a perfect way to show off your love for this breed. Not only does it look great, but it also serves as a reminder of the joy that these dogs bring to their owners. 
>>> Explore more: Animal Neon Sign | Take Your Decor To The Next Level

Meaning of Dachshund neon sign 
The Dachshund neon light is a famous symbol of love and loyalty. It symbolizes the bond between a pet and its owner and the strength of friendship and companionship. The sign is often seen in restaurants, bars, and other places where people gather to socialize. Its bright colors bring joy to any setting and remind us of the importance of relationships in our lives.
Can I design my own custom Dachshund neon lights?
You can utterly custom neon sign neon lights if you like. However, the price will depend on the difficulty of the design.
Font
If you are wondering about font for neon sign, don't worry, we have nearly 30 fonts for you to choose from. You will indeed create your perfect neon light.
Sizes 
The minor neon light we provide start at 60 cm (2 ft), while the largest ones reach over 300 cm (10ft). Just let us know if you require a particular size, and we'll try our best. When choosing neon sign sizes, you should consider a few factors about the space you intend to hang it to design the best neon signs.
Color
At the Orant Neon, customers can choose from 25 neon sign colors. There are a total of 11 colors. When the neon light is off they are white and when the light is on it will show the correct color. The other 10 colors still retain their color even when the lights are off (just not as bright).
>>> Refer: Amazing Dog Neon Sign For Dog Lovers
Decorating suggestions with Dachshund neon sign light
Check out some interesting decor ideas for each space with Dachshund neon lights.
For livingroom
Add a touch of whimsy to your living room with Dachshund neon lights. This eye-catching piece of art will surely light up your space and bring a smile to your face. Not only is it fun and unique, but it also can be used as an accent piece in any room. Whether you want something playful or more subtle, the Dachshund neon lights will surely add personality and charm to any living space.
For bedroom
Add a unique and stylish touch to your bedroom with a Dachshund neon light. This eye-catching piece of art will surely be the center of attention in any room. With its vibrant colors and unique design, this neon sign will surely bring an extra sparkle to your bedroom. It's perfect for those who love their four-legged friends and want to show it in style!
>>> Refer: Cat Neon Light | Your Hairy Friend Is Shining

For bussiness store 
A Dachshund neon sign is a great way to add a unique touch to your business store. Neon signs are eye-catching and help draw attention to your store, making it stand out. The Dachshund neon lights will create an inviting atmosphere for customers and make them feel welcome. 
Not only that, but it can also be used as a conversation starter with customers and can even bring in more business. With its bright colors and unique design, the Dachshund neon lights will make an impression on anyone who enters your store.
With its vibrant colors and unique design, a Dachshund neon sign will surely be an eye-catching addition to any home or business. Whether you're looking for something special to decorate your space or the perfect gift for someone who loves dachshunds. Go to Orant Neon buy it now!