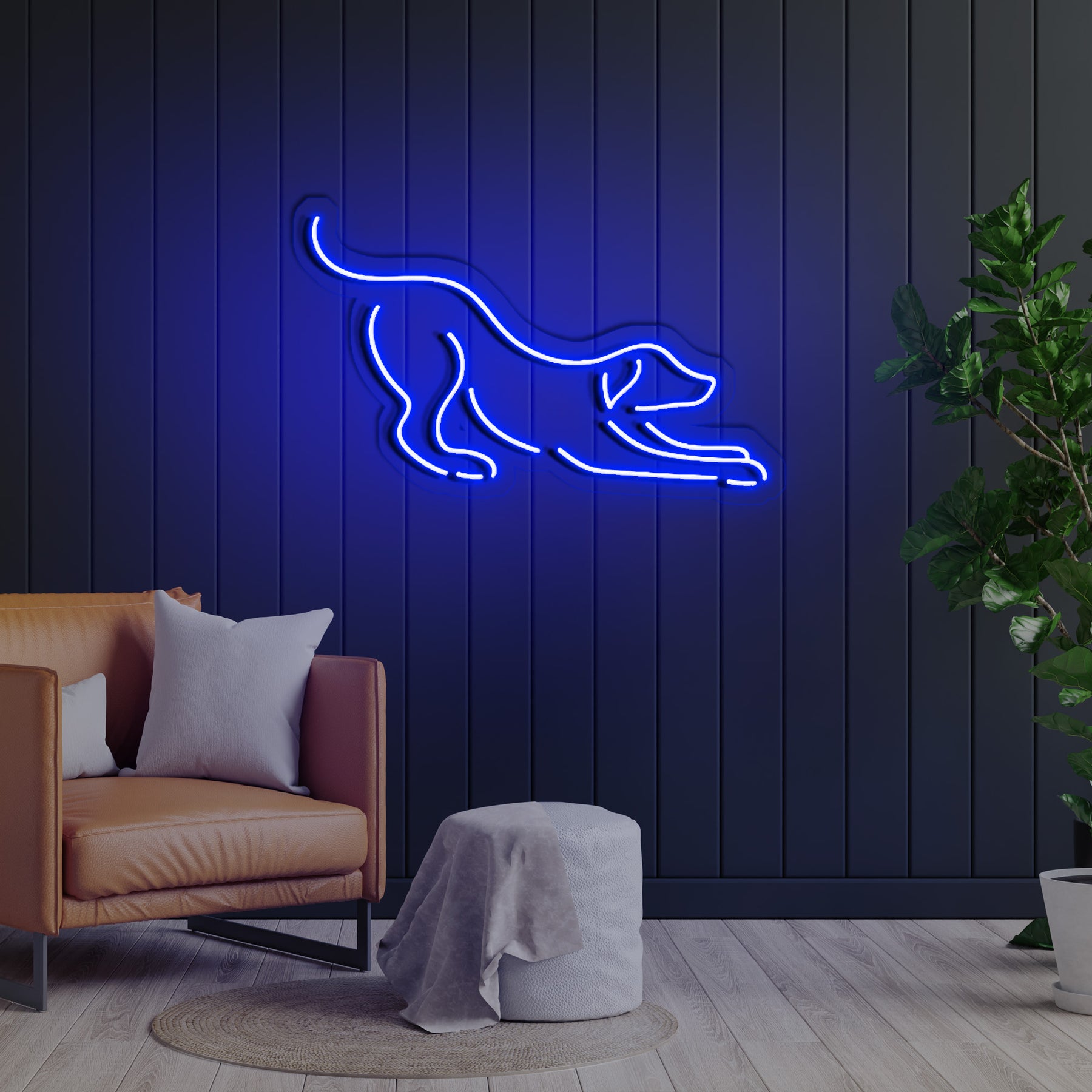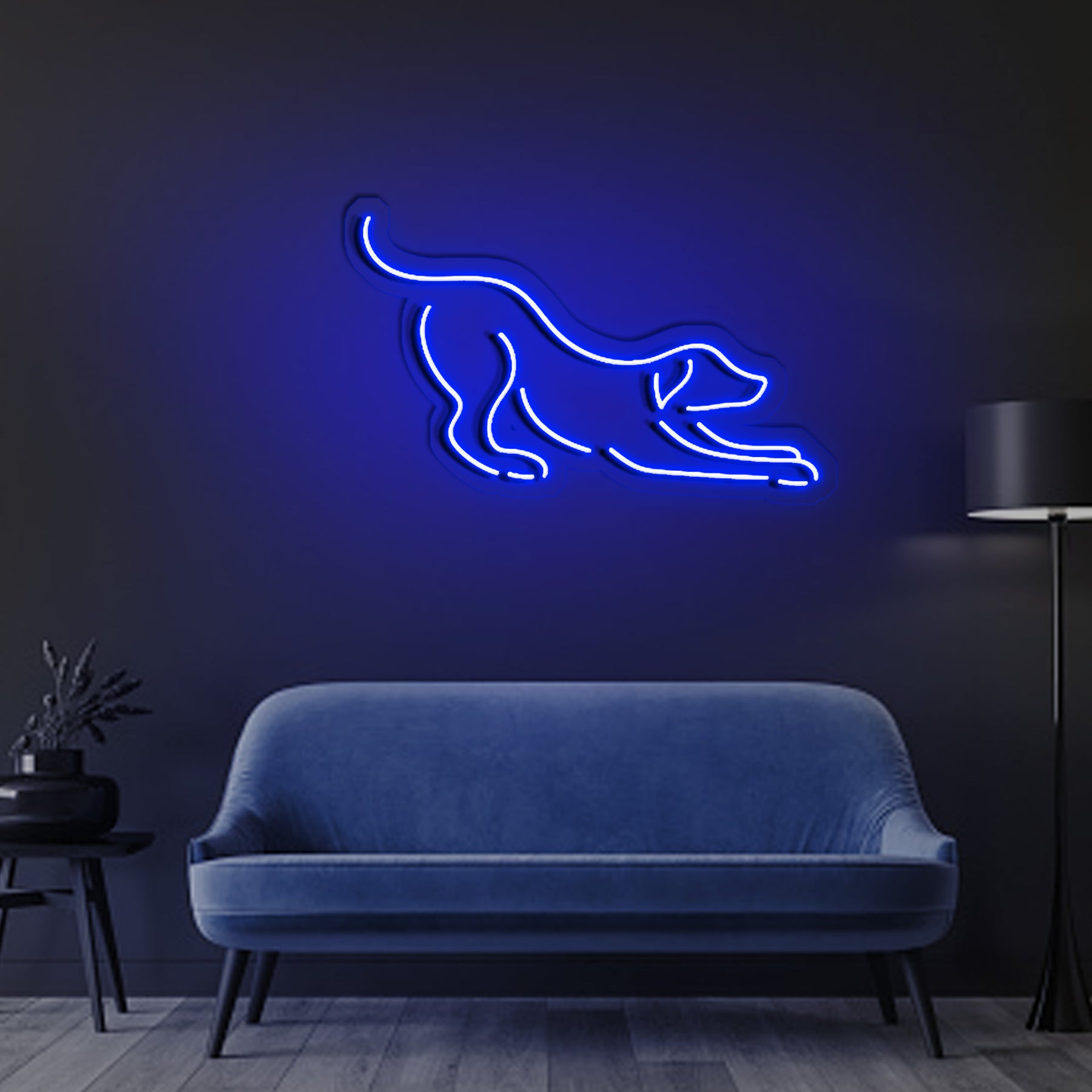 Playful Dog
Backing Style:
Cut to Shape
Neon Dog | Amazing For Home & Shop Decor
Look no further than our neon dog sign for dog lovers! Are you looking for a great piece of decoration to light up your space? Orant Neon's incredible neon dog sign will definitely create a cozy atmosphere for your space and cheer up your puppy!
1. Show some love to your best friend with our neon dog sign
Animal neon sign is a popular way to add a touch of fun and personality to any home or business. Want to show some love to your four-legged friend? This sign got you covered.
Now, this dog may not bark and jiggle his tail, but he will light up the whole room in style. Bringing you a great mood and cozy vibe. Plus, he won't pee on the floor, so you can have this boy anywhere you like.
2. Neon dog light collection
This unique collection of signs is sure to add some fun and personality to any room. There are signs that feature popular dog breeds. The collection includes a variety of different designs, all of which feature bright and vibrant colors.
2.1 Dog anime
Do you like something cute and weird? Get the neon signs anime. The sign is so creative, and it's really hard to resist this cuteness. They also come with a glossy finish, which makes them look more high-end.
2.2 Dog beer
There's something special about a bar that has a beer neon sign with dog image. It's not just the light but the whole atmosphere. It's like the place is saying, "Hey, we're a fun place, come on in and have a good time." And that's exactly what you need when you're looking for a place to have a few drinks and unwind.

2.3 Flying dog
The flying dog neon light is an amazing sign for the fans of this brewery. Even if you are not a fan of this brewery, this is a must-have sign for all lovers of beer. This neon sign will make your space stand out from the rest.
3. Where can I use neon dog sign?
Neon light dog are versatile. They're decorative signs that can be used pretty much everywhere. If you're looking to switch up the mood and change the vibe, use neon signs.
3.1 Living room
Neon sign dog are great for the living room. Show your guest that you're a dog lover. You can choose a dog breed that symbolizes something like loyalty or strength. The sign is a nice conversation starter.
3.4 Wedding
How about lighting up your big day with a neon dog sign? No one will ever predict this. Surprise everyone at your wedding. If you and your loved one are dog lovers, then you need this sign to make a statement.
3.5 Bar
The bar and neon sign are a great couple. The dog light up sign glowed brightly in the window, attracting attention from all over the neighborhood. People would come from blocks away just to see it. The neon light dog a perfect way to create a relaxed atmosphere. It's playful and fun and sets the tone for the whole night.
3.6 Kitchen
Revamp your kitchen with a neon sign dog. Your greasy kitchen could use some neon light orantneon.com to clean up and make it space an inspirational space for good food. With this sign, you can create a great theme for the kitchen or simply add some joy to the wall.
3.7 Business
Do you own a vet? Do you want to make your dog grooming & spa services look more friendly and inviting? Take this neon sign asap and hang it in the waiting room or anywhere you like. This sign will add ease and a comfortable feeling to customers and their furry friends.
3.8 Bedroom
The bedroom is where you can make use of this neon light to get a good sleep. The dog neon signs is gorgeous and magnificent. It can be personalized to look just like your dog, making it ideal for your bedroom. This sign is a neon sign bedroom idea worth a try.
>>> Refer: Cat neon signs - Your hairy friend is shining
4. Neon dog sign custom
Here at Orant Neon, you can custom led signs within minutes. Our tool can help you create a text-based sign that can be modified by size, color, and font. If you have a special design in your mind, you can send us your idea. We'll try our best to make your dream sign come true.
4.1 Color
We have 25 neon sign colors for you to choose from. These are separated into the effect when the light is off. Some of the signs will change their color to white when it's unplugged. While the rest comes with a cover that will make sure the original color is still visible, even when the sign is off.
4.2 Font
Orant Neon can replicate most of the fonts as you wish. However, there are some font for neon sign that better-fit neon signs more than others. Our online tool offers some preset-font that we often make for the customers.
5. Is dog neon light cheap?
Neon dog signs at Orange Neon range in price from $250 to $350. Neon signs exist in a wide variety of forms, and the size and level of design sophistication can affect how much they cost. Our neon signs, however, are quite reasonably priced. We can give you the factory price that our competitor cannot beat..
6. Dog neon signs battery operated
Most of our signs are plugged in. For little lights and signage, we can provide battery-pack options. Please get in touch with us to find out if your own design is suitable for a battery pack.
7. Neon dog light make noise?
Unlike traditional glass neon signs, our LED neon signs don't make noise. Due to their low wattage and lack of heat production, they pose no fire hazard. They're safe to use and also have a long life span.
>>> Explore more: Snake neon sign | Show elegance and power
Shipping Information
All orders are processed and ready to be shipped within 5-7 business days upon receipt of payment. Orders are not shipped or delivered on weekends or holidays.
| | | |
| --- | --- | --- |
| Shipment method | Delivery Time | Shipment cost |
| Standard | 10-14 Business Days | FREE |
| Express Shipping | 8-10 Business Days | $35 |
Please note: If your order has any other changes, the delivery time will be later than expected corresponding to the number of days waiting for order adjustment.

Get yourself a cute neon dog sign at Orant Neon store. Bloody adorable, they are! You can have this neon dog sign at home, in the living room, bedroom, kitchen, etc. Or use it to create a spotlight for your business and event. Our unique and meticulously made signs will surely not disappoint you.