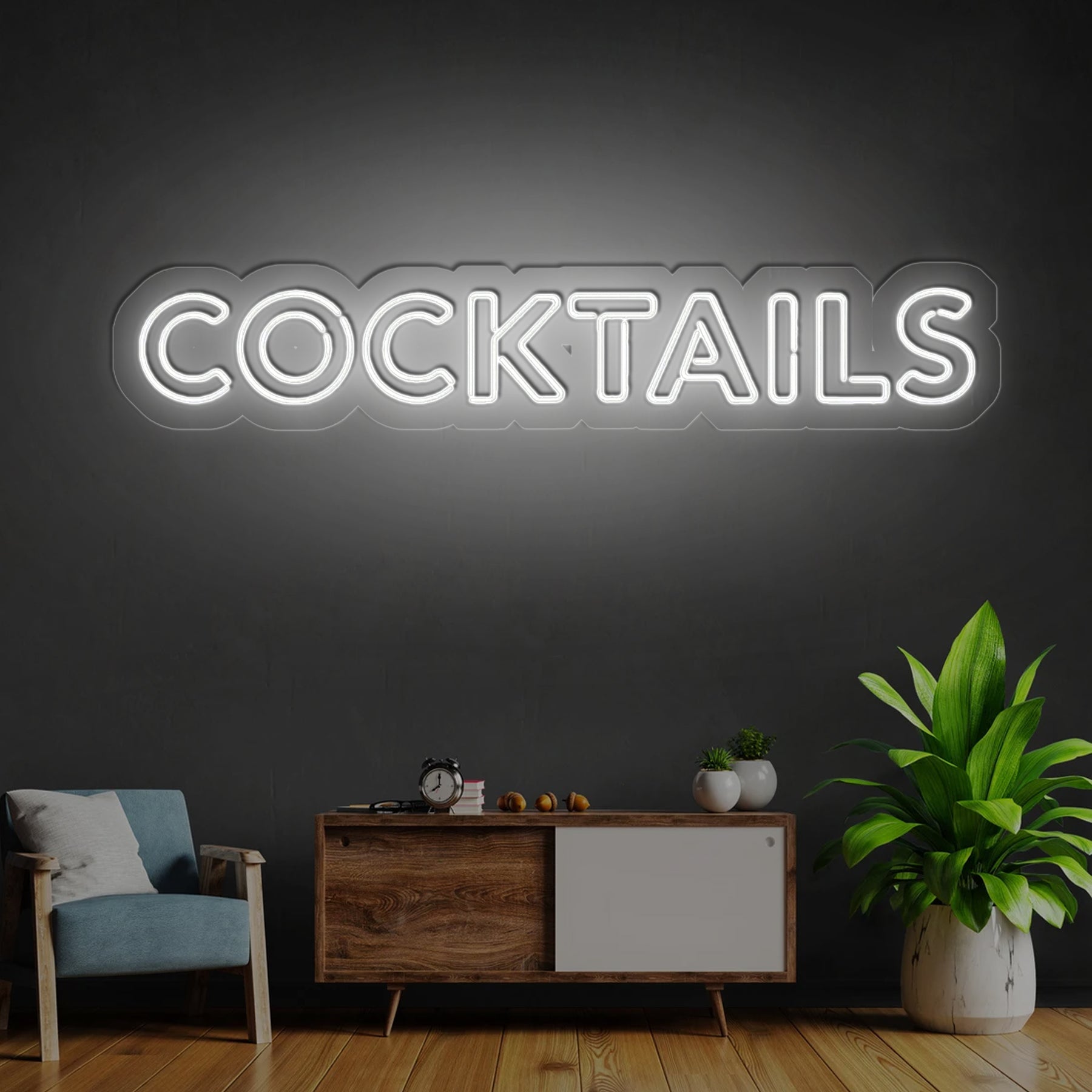 Gorgeous Neon Cocktails Sign For Your Business
Description
The neon cocktails sign is a suitable decoration for parties or dining spaces that many people love. Neon signs are luminous, eye-catching, and perfect for businesses that want to stand out. To learn more about this product, please read the article below of Orant Neon!
The bar neon sign is a glowing, often colorful, display that uses electronic tubes or LEDs to create readable text or images. They are commonly used as advertisements to attract attention to bars, nightclubs, and other businesses.

Cocktail bars and clubs have been popular nightlife destinations for decades. And a key component of their allure has always been the flashy, colorful, and sometimes over-the-top LED neon that adorns their walls and windows. Check out the neon cocktails sign collection below and take one home.

Tech specifications of neon sign
Size: Neon lights custom

as your request (Minimum size of a letter is 4CM)
Flexible

Size Neon Sign:

(Width x Height): Dimensions (6 x 12mm) or (8 x 15mm)

Neon Light

Flex Jacket

: White coat (White display off) / Color jacket (Color display off)

Neon Color LED

: Red, Blue, Green, Orange, White, Warm white, Light pink, Yellow, Lemon yellow, Ice blue, Purple, Pink

Next round

: 5mm . Acrylic Sheet

Acrylic board colo

r: Transparent/black/color

Guarantee

: 24 month

Backboard shape

: Cut to Shape, Square Back, Invisible Acrylic

LED Power Adapter

: Standard 230v or 110v LED power adapter

AC power plug

: EU / UK / AU / US plug

Main part

: Acrylic sheet, Neon flex, Power supply, Installation accessories

Transparent cable

: Approx. Length 2m (from LED sign)

AC power cord

: Approx. 1.5m long (from transformer)

Installation method

: Mount (on the wall) or Hang by rope (on the ceiling)
>>> Discover more: Super cool Wine neon sign that will make your bars pop
Cocktails LED sign custom

If you've got a creative idea, turn it into a LED neon. Following our website, you can experience your custom neon sign at Orant Neon. You can customize the following components:
Font
Orant Neon comes pre-installed font for neon sign with many different styles for you to choose from to suit your desired content. Orant Neon has soft, eye-catching fonts like Rocket Clouds, Bayshore, and Brittany or old fonts like Typewriter or Kiona.
Sizes
In addition, you can also choose nine options for the desired size of the product. For products with only text, excluding design images, the size of the lamp will be from 50cm (20inch) to 180cm (71inch). If you want to request another dimension, don't hesitate to contact Orant Neon directly.
Color
At Orant Neon, customers can select from 25 neon sign colors. There are a total of 11 colors; when LED neon are off, they seem as white, and when they are on, they appear as colors. Another 10 colors will be given color jackets in to keep the light up when it is off.
Some popular neon colors that you can refer to:
Red

Orange

Yellow

Green

Blue

Pink

White

Back

>>> Explore more: Let's Budweiser neon sign be an icon in your bar
FAQs about cocktail neon light
Neon light interior decoration ideas
At its simplest, you can use cocktails led sign to decorate your bar, bedroom, or dining space. Besides that, neon cocktail signs can be given as a special gift to loved ones.
You can also use neon cocktails for your parties, like birthday parties, or use it as a signpost for your wedding.
Power consumption of LED sign
This is arguably one of the main advantages of LED neon lights over conventional neon light. According to statistics, a normal neon light using one foot will consume 20 watts per hour.
Conversely, the same length and thickness of a neon LED can be used for the same amount of time while consuming as little as 1.2 watts. When comparing the energy usage of our LED neon lights with traditional neon lights, the ratio is about 15:1. The cost-effectiveness depends on the number of signs.
How does an LED neon work?
Neon cocktails sign, a material that transmits electricity using indium gallium nitride (InGaN), is how LED neon works. Electrons fill the electron holes when electricity is applied, releasing light energy.
Neon is a newly introduced element because it has the atom needed to transport the charge, while InGan, another aspect, lacks the necessary electron-hole to provide the direction. Therefore, neon LEDs contain two semiconductors, each with a distinct purpose. In contrast to LEDs, which produce light, neon lights provide energy.
Shipping Information
All orders are processed and ready to be shipped within 5-7 business days upon receipt of payment. Orders are not shipped or delivered on weekends or holidays.
| | | |
| --- | --- | --- |
| Shipment method | Delivery Time | Shipment cost |
| Standard | 10-14 Business Days | FREE |
| Express Shipping | 8-10 Business Days | $35 |
Please note: If your order has any other changes, the delivery time will be later than expected corresponding to the number of days waiting for order adjustment.
Relevant products:
Highlight beautiful and meaningful parties or solemn events with neon cocktails sign. A neon cocktail sign is a great way to catch customers' attention and promote your business. For more information on how to get the perfect neon light for your business, visit Orant Neon. Drop by Orant Neon and start decorating your space!