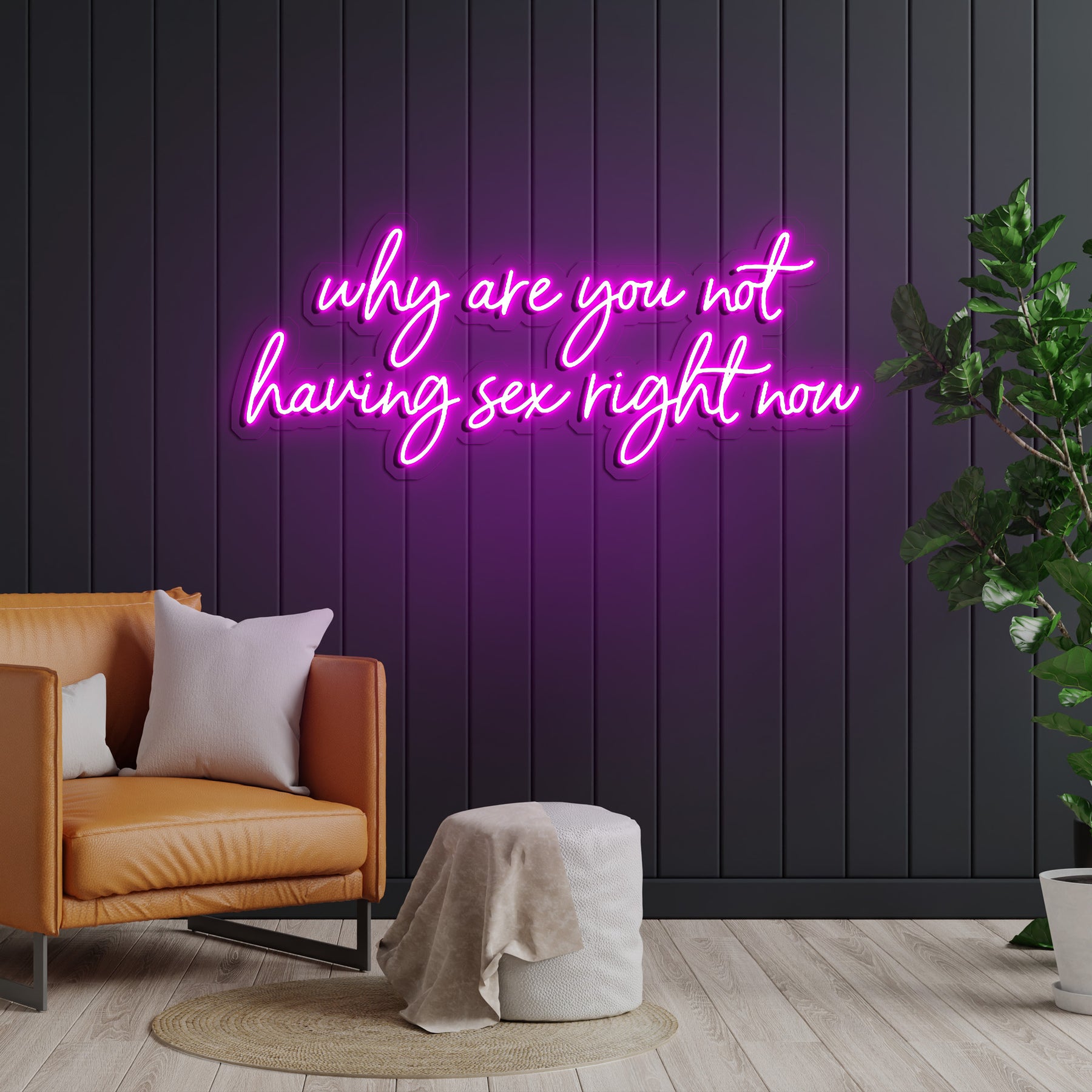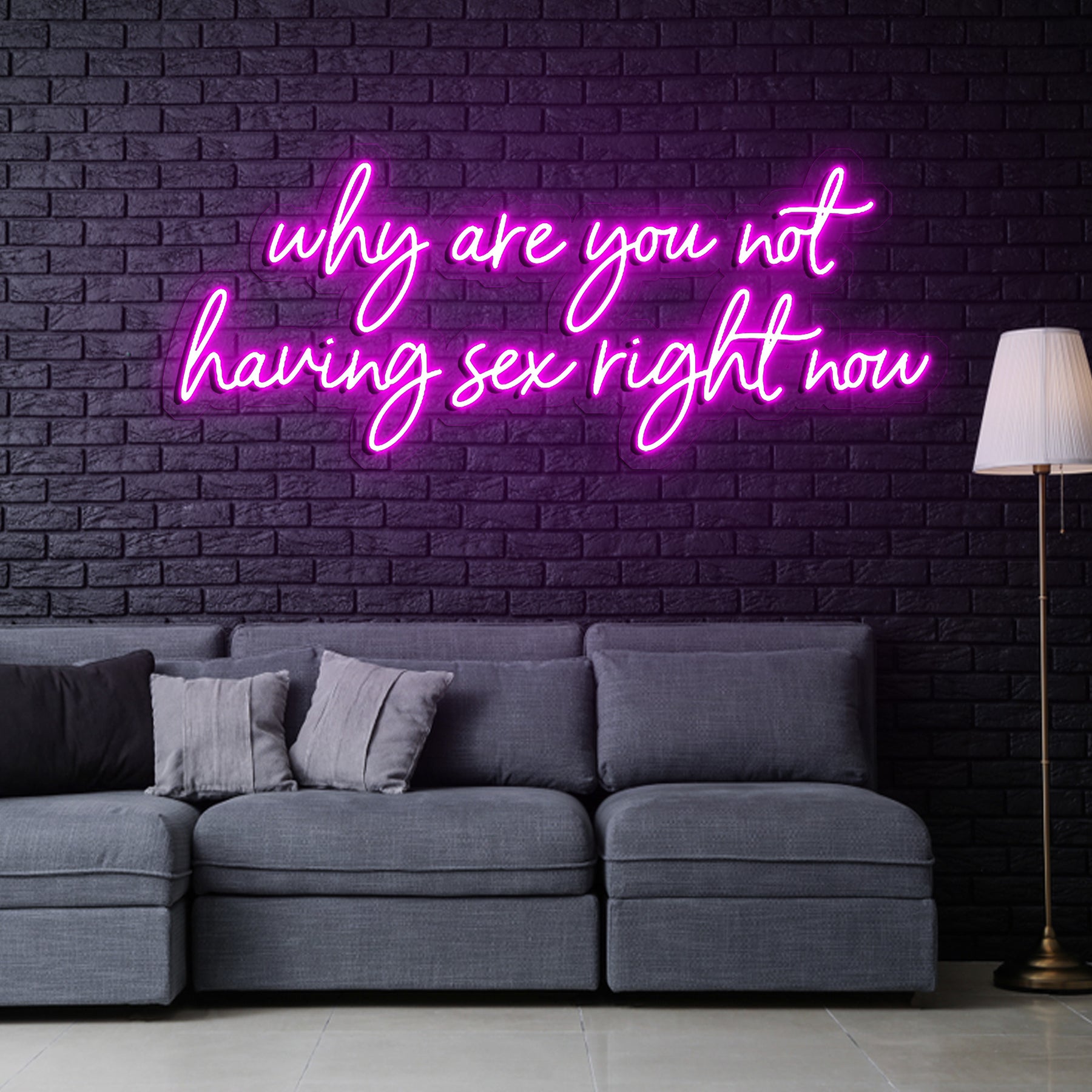 Why Are We Not Having Sex Right Now
Get This Why Are We Not Having Sex Right Now Neon Sign
Use Orant Neon's Why Are We Not Have Sex Right Now neon sign for your bedroom to warm up your love and partner. Hot, sexy and romantic are the adjectives for this neon sign. Come, learn about Why Are We Not Having Sex Right Now sign with us with the article below!
Why should you put the Why Are We Not Having Sex Right Now neon sign in your bedroom?
If you're struggling to get in the mood for sex, you can do a few things to reduce stress and increase libido. One way is to relax and be intimate with your partner. Alternatively, you can try to reduce the stress in your life by creating a suitable space. In this case, the product will become indispensable.
You can put this sign in your bedroom to create warm lighting and a romantic atmosphere, helping your partner understand what you mean without saying it.
Can I custom my Why Are We Not Having Sex Right Now neon sign?
You may modify the Why Aren't We Having Sex Right Now neon sign using Orant Neon's led sign custom service! We provide a neon sign generator on our website so that you may practice creating your sign.
You will create your best neon sign with a few changeable elements such as color, font and design.
Color
Orant Neon also offers many variations in addition to the hues mentioned above. Customers can choose from 25 neon sign colors at Orant Neon. There are 11 hues, 11 of which will show as white when the neon signs are off and as colored when they are on. Another ten hues will be given a color jacket to keep the light on even when it is off.
Font
You can pick the font for neon sign from different styles, like Barcelony, Hesterica, Kiona, and Typewriter. But steer clear of calligraphy fonts or fonts with uneven widths. That'll mess with the product's quality and aesthetics and make it unsafe during transport.
Note when choosing a neon sign for the bedroom
When choosing a neon sign for your bedroom, there are many factors to consider. The most important thing is to find a sign that fits your style and taste. You also need to consider the size of the sign and the message it sends. Here are some tips to help you choose the perfect Why Aren't We Having Sex Right Now neon sign for your bedroom.
Choose the suitable color
Tip 01: Try different color combinations.
It pays to review the color theory and color wheel before deciding which neon sign colors to use in your bedroom. Utilizing complementary hues is one method of choosing your color scheme.
What shades go well together? The complimentary hues are placed across one another on a red, yellow, and blue (RYB) color wheel. The most significant contrast is produced in this way. The finished product is a vibrant neon sign that stands out.
Contrasting colors draw attention to the distinctions between each color, whereas complementary colors accentuate each other. Consider using contrasting hues (such as a hot red neon sign with a dark green wall) to make a big statement. The trick is to use cool colors to contrast warm hues and vice versa.
Tip 02: Pick a hue that inspires the appropriate emotion.
Particular hues bring on certain states and emotions. Warm hues like orange and red arouse emotions like love, rage, and desire. Cool hues like purple and blue are associated with both tranquility and melancholy. With a Why Are We Not Having Sex Right Now neon sign, you should choose warm tones to create an intimate atmosphere.
Give your neon sign a warm color scheme to give your space a cozy, warm feel. However, a cool color scheme would be more appropriate if you're trying to achieve serenity and focus.
Consider the size of the space to choose the neon sign size
We highly recommend that you take measurements of the area where your personalized Why Aren't We Having Sex Right Now neon sign will be placed.
Even if you have an excellent sense of scale, we advise measuring your space, particularly if there is limited space. Like a window, a backdrop, or in-between shelving, as examples. Here is an illustration of a precisely sized neon sign in a confined space.
Shipping Information
All orders are processed and ready to be shipped within 5-7 business days upon receipt of payment. Orders are not shipped or delivered on weekends or holidays.
| | | |
| --- | --- | --- |
| Shipment method | Delivery Time | Shipment cost |
| Standard | 7-14 Business Days | FREE |
| Express Shipping | 5-10 Business Days | $75 |
Please note: If you're Why Are We Not Having Sex Right Now led has any other changes, the delivery time will be later than expected corresponding to the number of days waiting for order adjustment.
Overall, the Why Are We Not Having Sex Right Now neon sign will help refresh the romantic atmosphere of your space. Even better, you can also design your own sign. And now, bring it to your space at Orant Neon!