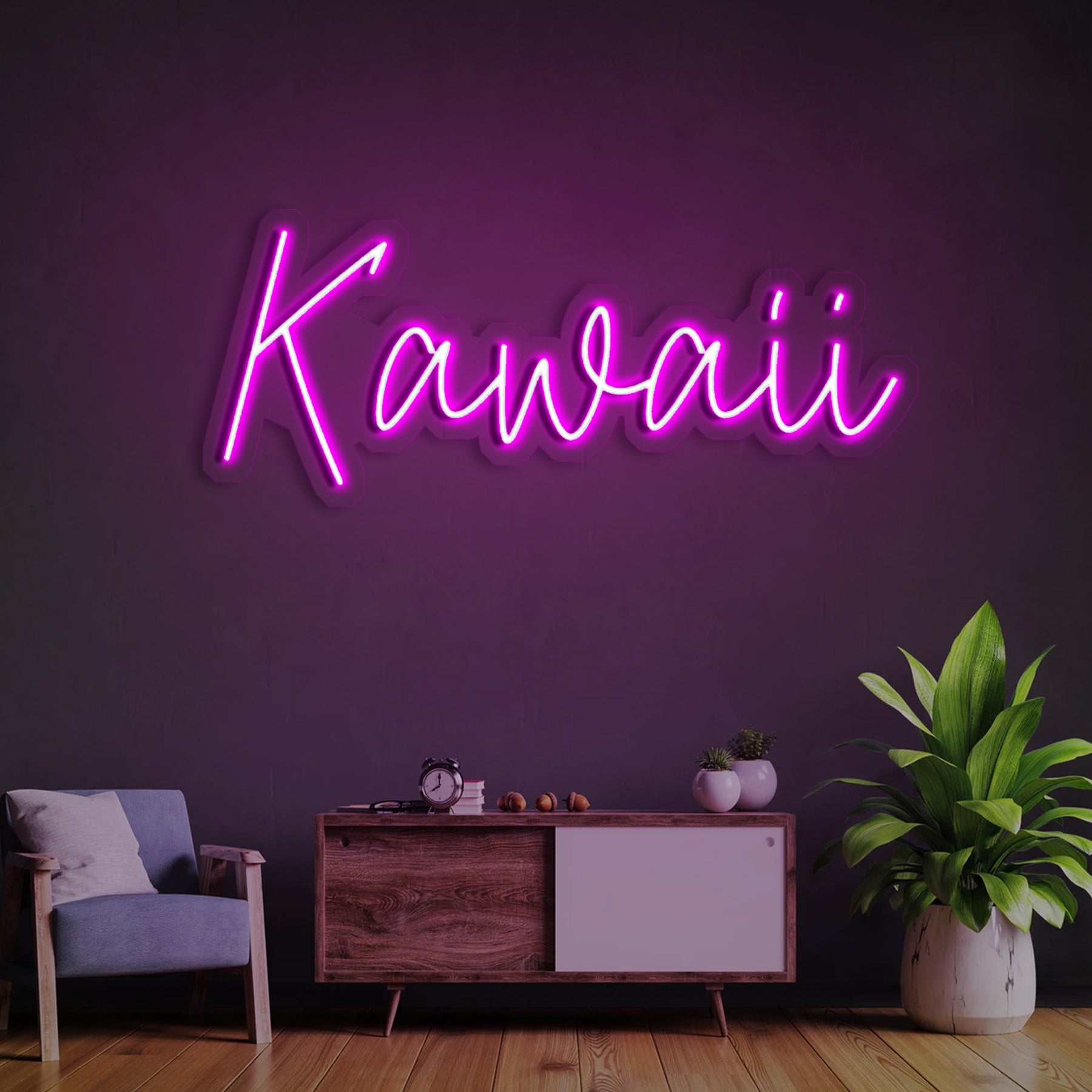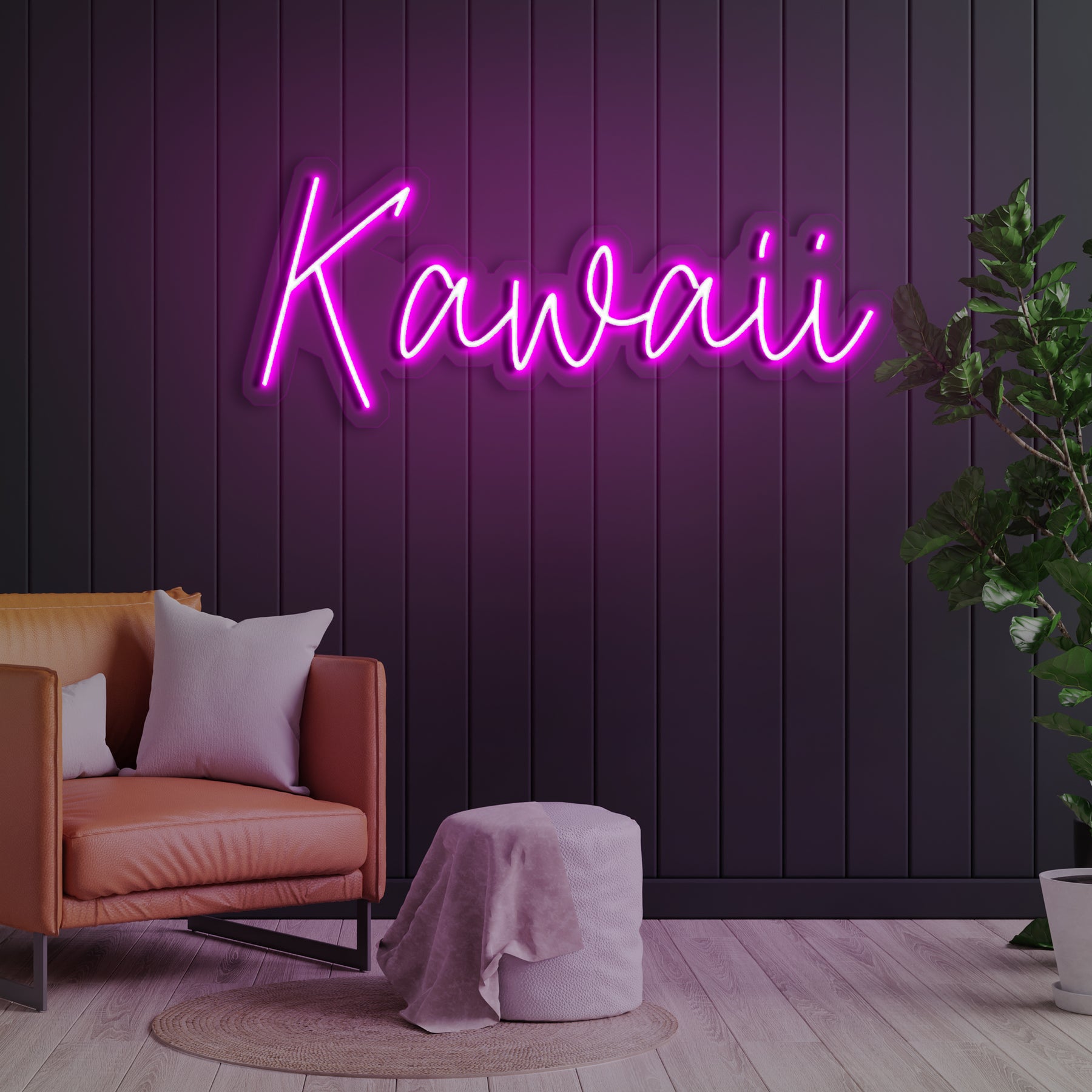 Kawaii
Backing Style:
Cut to Shape
Kawaii Neon Sign - More Fun & More Adorable
Make a statement and allow your space to reflect who you are! You may create the atmosphere of your dreams with a Kawaii neon sign of Orant Neon!
Meaning of Kawaii neon sign
Kawaii in Japanese refers to someone who is "cute," "lovable," and without flaws. A Japanese creative and cultural style may also be seen in the Kawaii culture. With the aid of vibrant colors and figures that resemble children, it has a charming quality. Perhaps it is this special meaning that the Kawaii neon sign is a very popular sign in our collection "Anime neon sign".
Kawaii neon lights collection in Orant Neon
Here are some beautiful Kawaii neon lights that you can refer to to make your space more brilliant and gorgeous.
Kawaii neon sign
Neon lights with a Kawaii aesthetic are great for a living room, bedroom, or stunning wall decor. These neon Japanese characters with letter lights can be a lovely gift for your loved one. Say goodbye to boring walls and welcome fun with neon sign Japan.
Kawaii Anime Face neon sign
You may have a stunning neon Kawaii Anime Face sign displayed on your door, windows, or wall. This object may illuminate your environment and transform it; it can also serve as a decoration to add creative flair to your party. Fostering a warm and romantic environment. You may change the brightness with a dimmer as desired.
Kawaii Tea Bag neon sign for cafe
Are you a lover of all things cute and kawaii? Do you also enjoy a cup of tea now and then? If so, this sign is for you. You can bring the Kawaii culture into your cafe with this dream Kawaii Tea Bag neon sign inspired by all things cute!
>>> Refer: Sailor Moon Neon Sign | Great Childhood Memories
How to have a Kawaii neon sign Japanese custom-made?
You can make your neon word light using our online custom neon lights. Experiment with colors, fonts, and sizes to create a one-of-a-kind neon light. You can see how it'll look against different backdrops to get a more accurate picture of how it will look in real life.
After you're done, simply put it in the shopping cart, and you'll receive a handcrafted, one-of-a-kind neon light in a matter of weeks.
Some questions about neon lights
How much does a Kawaii neon sign cost? How many colors are neon signs for sale? You can find the answers to these questions in the material below.
Cost
The price of Kawaii neon signs depends on various factors such as size, color, design, or order quantity. Please get in touch with Orant Neon's team to receive a quick and accurate product quote!
Where to buy
It would be best if you chose a reputable neon light orantneon.com supplier to buy high-quality products.
Orant Neon is confident in distributing quality neon signs and LED signs. Besides, we also support 24 month's warranty from the date of purchase for all customers.
Color
We have up to 25 neon sign colors for you to choose from. 11 of these colors will be white when the light is off, the rest will keep its color even when the light is on but will be darker when turned on.
Some popular neon sign colors that you can refer to:
>>> Refer: One Piece Neon Sign | Express Your Unique Personality

How to use the Kawaii neon sign Japan for your room?
You can use the Kawaii neon sign Japanese with something to decorate your space. Here are some suggestions to help you get more ideas.
Pastel neon light
Neon lights in pastel hues will work well with your Kawaii accessories and furnishings. The white light will keep things simple. These lights may be used to make your room brighter or to write out amusing statements.
Custom neon signs to light up displays
Use Kawaii neon lights as part of your interior design to illuminate a Kawaii item display on shelves or in front of a mirror. Online, you may discover a wide variety of neon signs that you can customize to create the ideal aesthetic for your place.
Neon light above your bed
Install the Kawaii neon sign Japan behind your bed for a restful, soothing glow at night. This is a fantastic way to bring some Kawaii style to your bedroom, and it will aid in your ability to sleep well.
Shipping Information
All orders are processed and ready to be shipped within 5-7 business days upon receipt of payment. Orders are not shipped or delivered on weekends or holidays.
| | | |
| --- | --- | --- |
| Shipment method | Delivery Time | Shipment cost |
| Standard | 10-14 Business Days | FREE |
| Express Shipping | 8-10 Business Days | $35 |
Please note: If your order has any other changes, the delivery time will be later than expected corresponding to the number of days waiting for order adjustment.
Related articles:
Ever wished you could own the neon lights that characterize Tokyo nightlife? Orant Neon's Kawaii neon sign will bring the spirit of Tokyo right into your bedroom. Your area will have a vintage Tokyo flavor thanks to the adorable attitude.