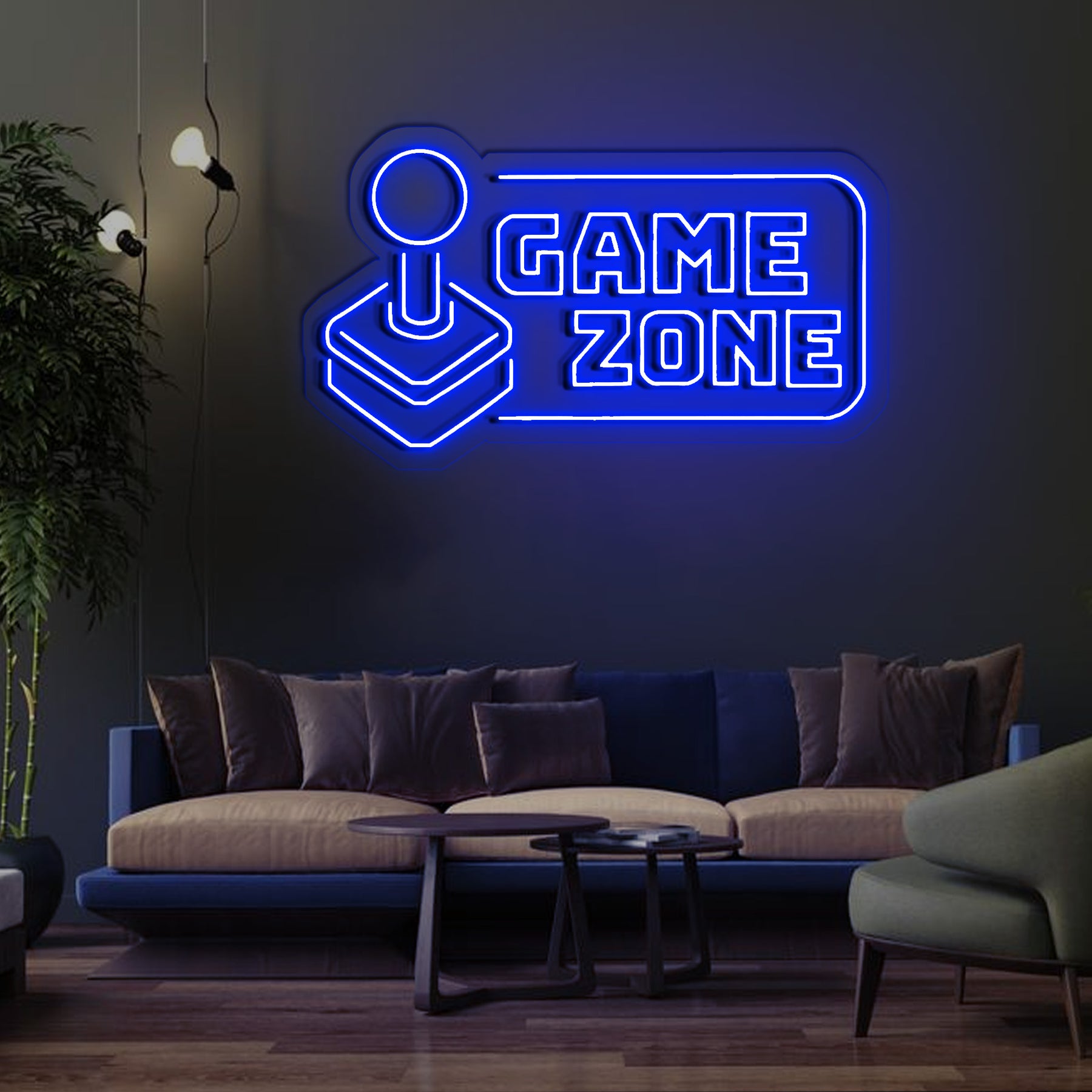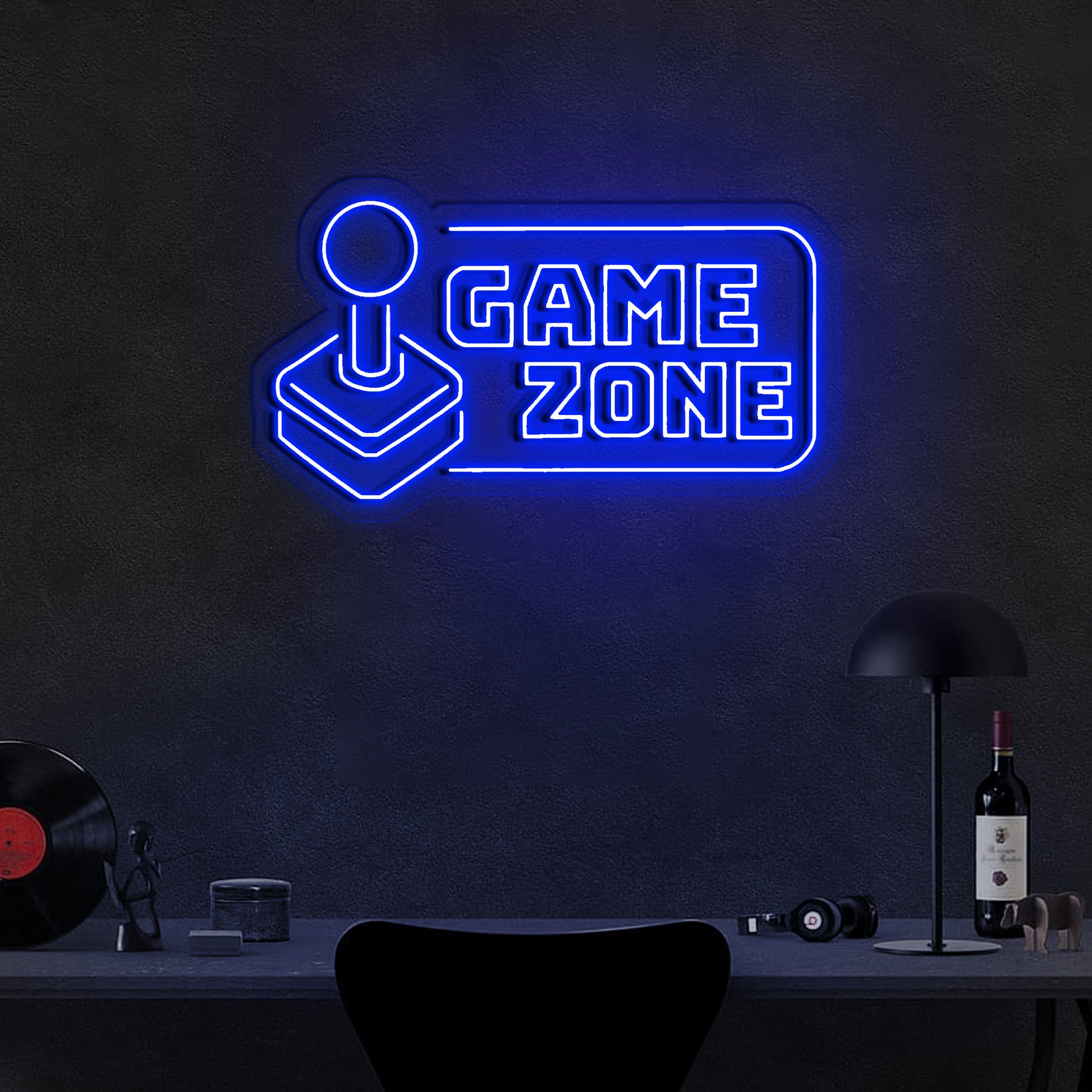 Game Zone
Backing Style:
Cut to Shape
Game Zone Neon Sign | Create Dynamism For Your Room
The Game Zone neon sign at Orant Neon will be best for your game room or bedroom. If you hang it out on the wall or the table, it will become the highlight of the whole space.
Decorate the Game Zone neon sign for your space
The world of gaming is filled with excitement and anticipation. Whether it's the next big release or the newest console, there's always something to get gamers excited. And one of the best ways to show off your love of gaming is with a gaming neon sign.

Thanks to the Game Zone neon sign, your gaming room or chill zone will have the ideal atmosphere. It's time to bid the drab walls farewell and welcome the happy times. The attractive elegance will capture your attention since our signs are made to last!
Game Zone transforms and illuminates the area around it. Use it to warm up your video gaming room, bedroom, trendy bar, or particular game area. Perfect for adding color to your decor and hanging on walls. You will have more color options with Orant Neon's products. Take it and call it your own!
>>> Read more: Among Us Neon Sign | Great Gift For Game Lover
Customizable Game Zone neon for the home and workplace
You can make your own neon Game Zone by using Orant Neon's custom neon lights service with the following criteria:
Color
You have a lot of possibilities with Orant Neon. For the Game Zone neon sign, customers can choose from 25 neon sign colors different hues. Neon signs have a total of 11 colors; when they are off, they are white, and when they are on, they are colored. Ten additional hues will receive color coats to continue to shine even when the lights are off.
Size
Customized goods' dimensions will be built to their Gaming Zone neon sign. When choosing neon sign sizes, you should consider a few factors about the space you intend to hang it to design the best neon signs. Orant Neon advises against creating neon sign orantneon.com larger than 10 feet in height. Calculate your available space and contact our experts for customized guidance.
Font
Customers can select a typeface based on their tastes or Orant Neon's recommendations. But stay away from calligraphy typefaces and letters with irregular widths. This will make manufacturing and delivery more challenging.
The design
Users can design Gaming Zone neon sign or anything else and send it to us, regardless of size or color. Orant Neon will provide guidance and a precise simulation of the client's design.
How much does neon Game Zone cost?
If you want a unique sign, we may create one for you by your requirements. This price can also change depending on the needs of each customer. Any size or sophistication of personalized signage is available for purchase. The cost may vary depending on the style, color scheme, and delivery window of the product you choose.
Decorating ideas with a Game Zone neon sign
Thanks to the Game Zone neon sign, your gaming room or chill zone will have the ideal atmosphere Purchase this sign light to add brightness and contrast to your room. If you want to make your gaming space calming and peaceful, neon lights Orant Neon games will be your first pick.
But how do you go about incorporating a neon sign into your decor? Here are some ideas to get you started:
Create a focal point: A neon sign can make a great focal point in a room. Whether you want to add it to a blank wall or highlight it as part of a gallery wall, a neon sign will surely add some visual interest.
Go for an accent: If you want to use a neon sign to add a pop of color or light up a dark corner, consider using it as an accent piece. You can place it on a shelf, desk, or window.
Make a statement: A neon sign can also be a great way to make a statement in a room.
>>> Refer: Xbox Neon Sign | Unique Decor For Game Room
Shipping Information
All orders are processed and ready to be shipped within 5-7 business days upon receipt of payment. Orders are not shipped or delivered on weekends or holidays.
| | | |
| --- | --- | --- |
| Shipment method | Delivery Time | Shipment cost |
| Standard | 10-14 Business Days | FREE |
| Express Shipping | 8-10 Business Days | $35 |
Please note: If your order has any other changes, the delivery time will be later than expected, corresponding to the number of days waiting for order adjustment.
Related articles: Add Light From Twitch Neon Sign To Your Space
In conclusion, the Game Zone neon sign is a great way to add dynamism to your room. The sign is bright, colorful, and eye-catching, and it will please any video game fan. So, if you're looking for a way to add some fun to your space, look no further than the Gaming Zone neon sign. Let's raise your mood with Orant Neon products right now!