101+ Best Open Neon Sign For Business Store Decor
An open neon sign can add a vibrant and eye-catching touch to your business, drawing attention from potential customers. The sign's unique design and vibrant colors will help create a lasting impression in their minds. For more information on this impressive neon sign, we recommend reading the following content provided by Orant Neon.
>>> Explore more: Best Neon Aesthetic For Wall & Any Space
1. Benefits of Open neon sign for business
Are you wondering why people are ignoring your store when they go by? Maybe they don't know whether you're open or closed today. Fortunately, you can make any ordinary business sign into a central focus by adding an LED neon open sign.
Everyone can easily recognize your neon whether it's sunny or rainy. You have the freedom to choose an LED light design that enhances the ambiance of your store and improves visibility, whether you intend to use them indoors or outside. See our wide selection of open neon light that complement any company style.
These can be hung anywhere on your storefront, whether it has horizontal or vertical neon sign. Open LED neon light can draw in new clients and instantly increase sales. With the collection from Orant Neon, it's time to set up your store for brisk sales. Order yours now!
Neon open light will attract customers
2. Neon Open light collection for sale
Snap-happy millennials, visitors, internet reviewers, bloggers, and just about anyone seeking a photo-worthy backdrop to honor their next social media upload is crowd-sourced fame just a click away. Get some free online publicity by using an open neon sign. 
2.1 Open LED
LED neon open sign designs often have clear lines, a basic, elegant appearance, and a minimalist, modern style. The LED is made to be flexible and adaptable. There are numerous installation options and configurations to meet the needs of different applications.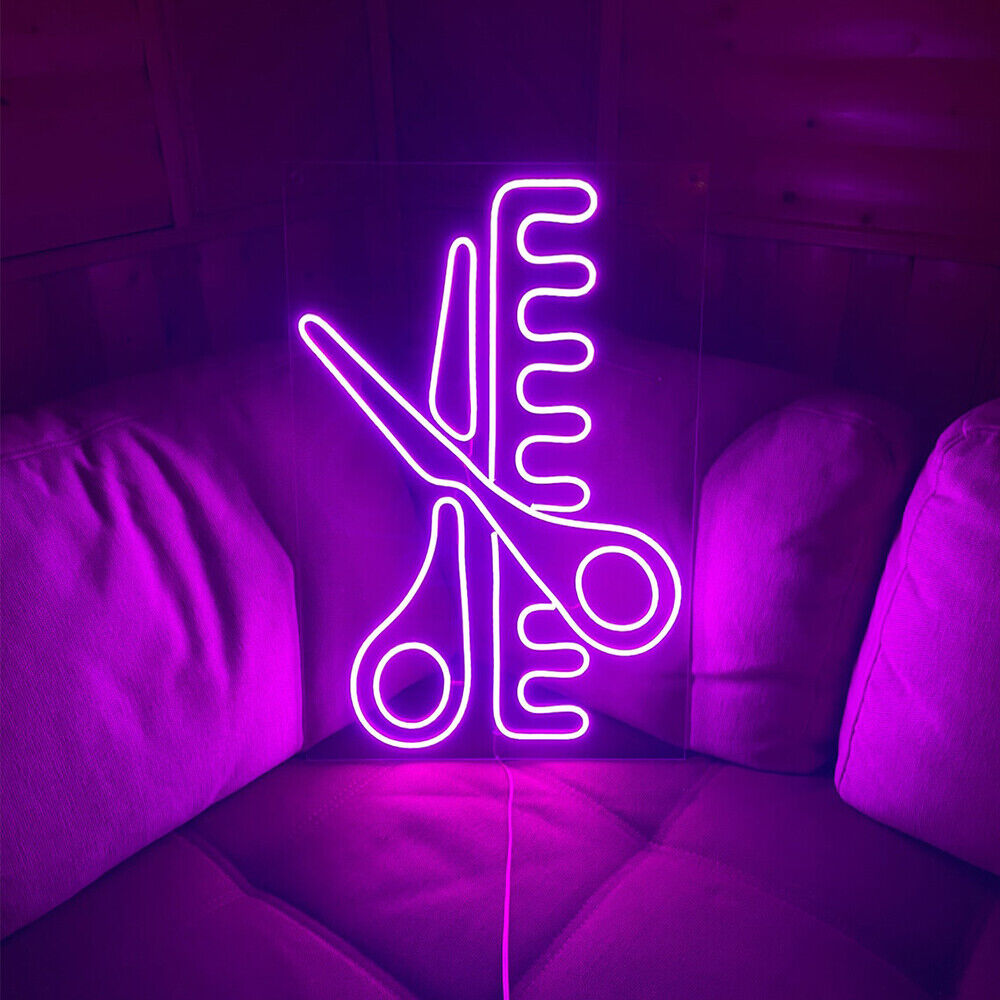 Beautiful, high-quality open LED for hair salon use
>>> Refer: Beach Neon Signs | Ideas Home Decor For Summer
2.2 Closed sign
A closed sign is a typical design element used to show that a company, establishment, or place of business is currently closed or not available for business. Closed signs can come in many different shapes and designs, but they often have a rectangular or circular shape with the word "closed" clearly printed in the middle.
The word "closed" is prominently displayed in the middle.
2.3 Welcome Open neon
Several establishments use illuminated welcome open neon sign, which light up as the business opens, increasing their visibility and capturing customers' attention. The overall goal of a welcome sign's design is to be uncomplicated, giving the message that the shop is open in an obvious manner.
The Welcome Open neon sign's design is a simple
2.4 Bar Open sign
Your bar will look nice with a bar open sign. Simple pink and blue tones are used in this neon sign's design. Also, since they're made of sturdy materials, you can use them for a long period. Visit Orant Neon to purchase this hot open neon sign!
Bar Open sign stands out with pink and blue tones
2.5 Miller Lite neon
The Miller Lite neon sign's timeless and classic design symbolizes memories and America. The design is basic but effective, highlighting the bright neon light with sharp lines and minimalism. The Miller Lite LED sign's style perfectly embodies the company's attention to traditions and excellence.
The American tradition of Miller Lite neon is represented
2.6 Club Open LED
Modern and elegant, Club Open LED's design makes use of cutting-edge LED lighting technology to produce an experience that is dynamic and immersive. The club comes to life at night thanks to a variety of LED lighting fixtures and effects.
The Club open sign can help your club come to life
>>> Refer: Man Cave Neon Sign | Unique Highlights For Any Space

2.7 Open 24 hours signs
The sign often has a simple, minimalist style with the words "24 Open" in large, noticeable letters that are easy to see from a distance. The Open 24 Hours sign's design is frequently adapted to the unique requirements of the business.
Open 24 hours signs can be changed at your option
3. Why choose to customize your neon lights?
You can select from a variety of colors and patterns for the neon light open sign to ensure that your sign stands out from the competition.
3.1 Choose color
Our 12 color options for our open neon sign are Red, Green, Blue, Teal, Pink, Light Pink, Purple, Yellow, Orange, Ice Blue, White, and Warm White. On request, we also provide RGB Multicolor Changing LED signage.
Orant Neon's neon sign has 12 colors for customers to choose
3.2 Choose font
For example, script and sans-serif fonts perform better than other types of designs. Only fixed-line width fonts are advised so the neon open sign can depict them correctly. Neon cannot accurately depict calligraphic or other variable-width typefaces. 
If you're set on a particular typeface, our team of designers will be pleased to help you make a special design that works with our sizing and font options!
The font is selected according to customer requirements
3.3 Choose size
Our open neon sign are available in various sizes, ranging from 60 cm (2 ft) to more than 300 cm (10ft). Do not be reluctant to contact us if you require a custom size. The size is based on the largest dimension, which is either Height or Length. Send us an email if you'd like to know the specific measurements.
We need letters to be at least 5 cm tall. The neon can only be cut to a certain size and twisted to a certain degree. Although smaller sizes are conceivable, we often advise keeping a minimum size of 10cm/letter because it enables us to produce the best results.
The ideal size will be suggested by Orant Neon
>>> Refer: Dance Neon Light | Best LED Sign For Party Decor
4. How much does a neon Open sign cost?
Our neon name signs start at just $100. The cost can vary depending on the font, sizing, design complexity, and total length of open LED neon light used. To get an accurate price, head over to Orant Neon's "Design Your Own Neon Sign" page. 
Here, you'll find a user-friendly interface where you can unleash your creativity to design your own custom neon signs. Choose from a variety of vibrant colors, captivating fonts, and varying lengths to match your exact specifications. Not only can you personalize the content of your sign, but you can also tweak its aesthetic attributes, ensuring the final product truly mirrors your vision. The custom neon signs can be an exceptional addition to your home decor, business establishment, or special event, bringing a unique glow and ambiance that's hard to miss.
Neon open sign costs around $100
Related products:
Everything you need to know about the open neon sign that Orant Neon brought to clients is presented above. For many years, neon signs have been a common form of commercial advertising. They can be utilized to bring attention to a company or product since they are eye-catching.