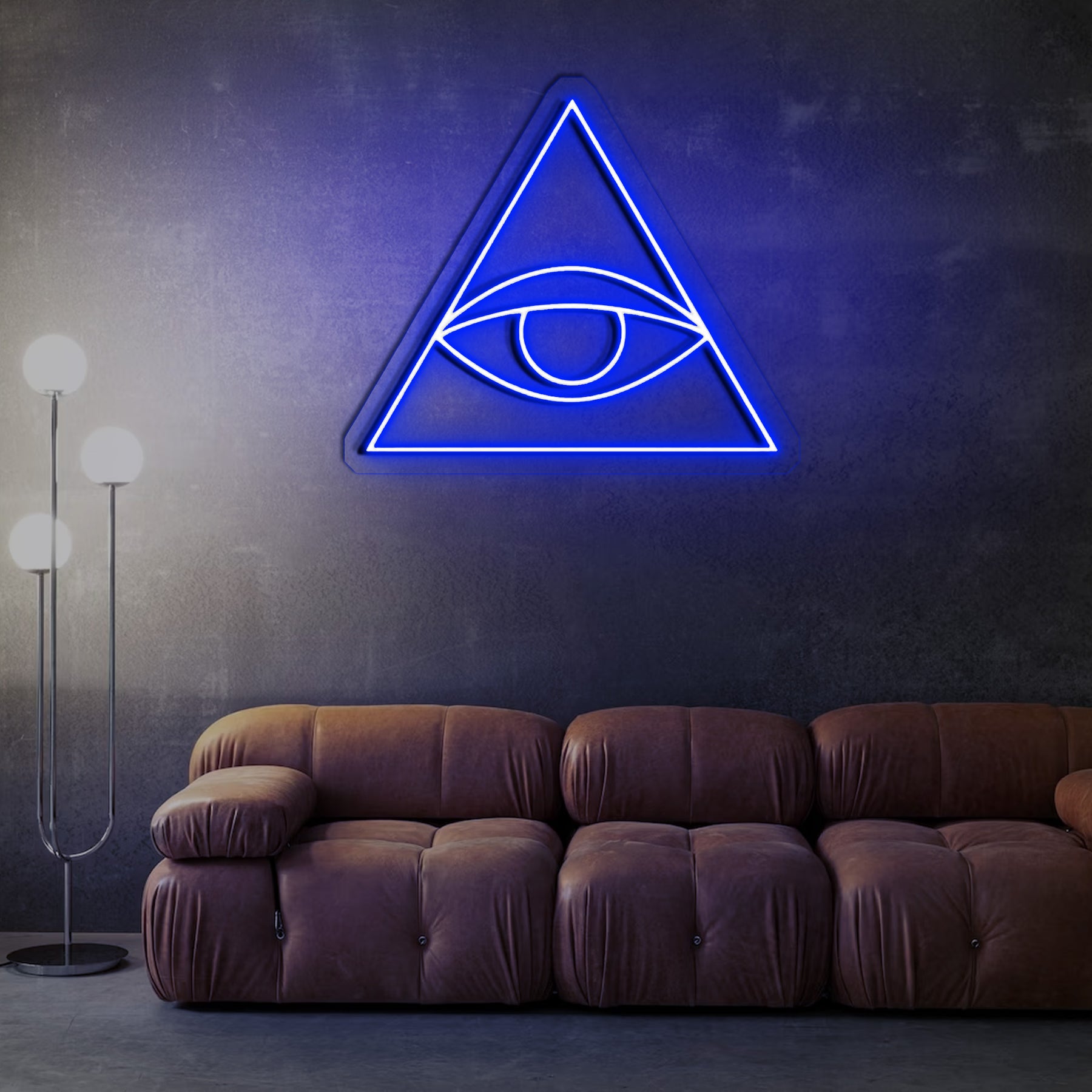 Evil Eye
Backing Style:
Cut to Shape
Evil Eye Neon Sign | Symbol Of Good Luck
Evil Eye is a symbol used by many people in everyday home decoration to attract good luck. So, should an Evil Eye neon sign be used? Let's find out with Orant Neon!
>>> Discover more: Geometric neon sign - Levitate your room with neon sign
The meaning and benefit of Evil Eye icon
What is the meaning and benefit of Evil Eye neon sign? Let's find out with Orant Neon!
Evil Eye neon sign meaning
A talisman or amulet that is shaped like an eye and generally comes in blue or green to represent spiritual protection is known as a "Evil Eye".
The benefit of the Evil Eye neon sign light
A piece of LED art can keep an eye on your home. This neon has blue and yellow circles that illuminate. It can be used as a talisman to fend off ill intents and envy and counteract the Evil Eye. This neon sign emits positive vibrations due to its low-energy technology and ease of installation.
Evil Eye neon sign customizable in Orant Neon
If you want to create a unique neon with your favorite color, use custom neon sign orantneon.com service.
Color
Orant Neon offers up to 12 basic colors for customers to choose from, including the following options:
Ice Blue, Green, Blue, Yellow, Purple, Pink, Light Pink, Teal, Orange, Warm White, and White.
Size
Dimensions of customized Evil Eye neon signs for sale will be ordered. However, we recommends only making neon sign orantneon.com with sizes between 2 ft and more than 10 ft.
Estimate your space and contact our team directly for specific advice.
Shape
Besides size or color, users can design Evil Eye or anything and send it to us. Orant Neon will advise and accurately simulate the customer's design.
Evil Eye neon sign at home
Here are some ideas that you can use to decorate the Evil Eye neon sign at home.
In bedroom
Use this amazing neon Evil Eye decoration to guard your bedroom. The Evil Eye is a good luck charm that will prevent any unfavorable energy from entering your home and keep it joyful and pleasant.
Refer to some neon sign samples to decorate the bedroom:
Top Golf

Statue of Liberty

Gaming Controls

In the bathroom or reading room
The neon Evil Eye is a fun bathroom or reading room addition. Bright and warm lighting will help create a pleasant, relaxing space while reading or taking a bath.
Warm neon signs for reading rooms:
Serotonin Molecule

Penrose Triangle

Origami Swan

Interlocking Triangles

Shipping Information
All orders are processed and ready to be shipped within 5-7 business days upon receipt of payment. Orders are not shipped or delivered on weekends or holidays.
| | | |
| --- | --- | --- |
| Shipment method | Delivery Time | Shipment cost |
| Standard | 10-14 Business Days | FREE |
| Express Shipping | 8-10 Business Days | $35 |
Please note: If your order has any other changes, the delivery time will be later than expected corresponding to the number of days waiting for order adjustment.
Overall, an Evil Eye neon sign will give you mental stimulation and eye-catching decoration. To receive product advice or refer to other neon signs, please visit Orant Neon!