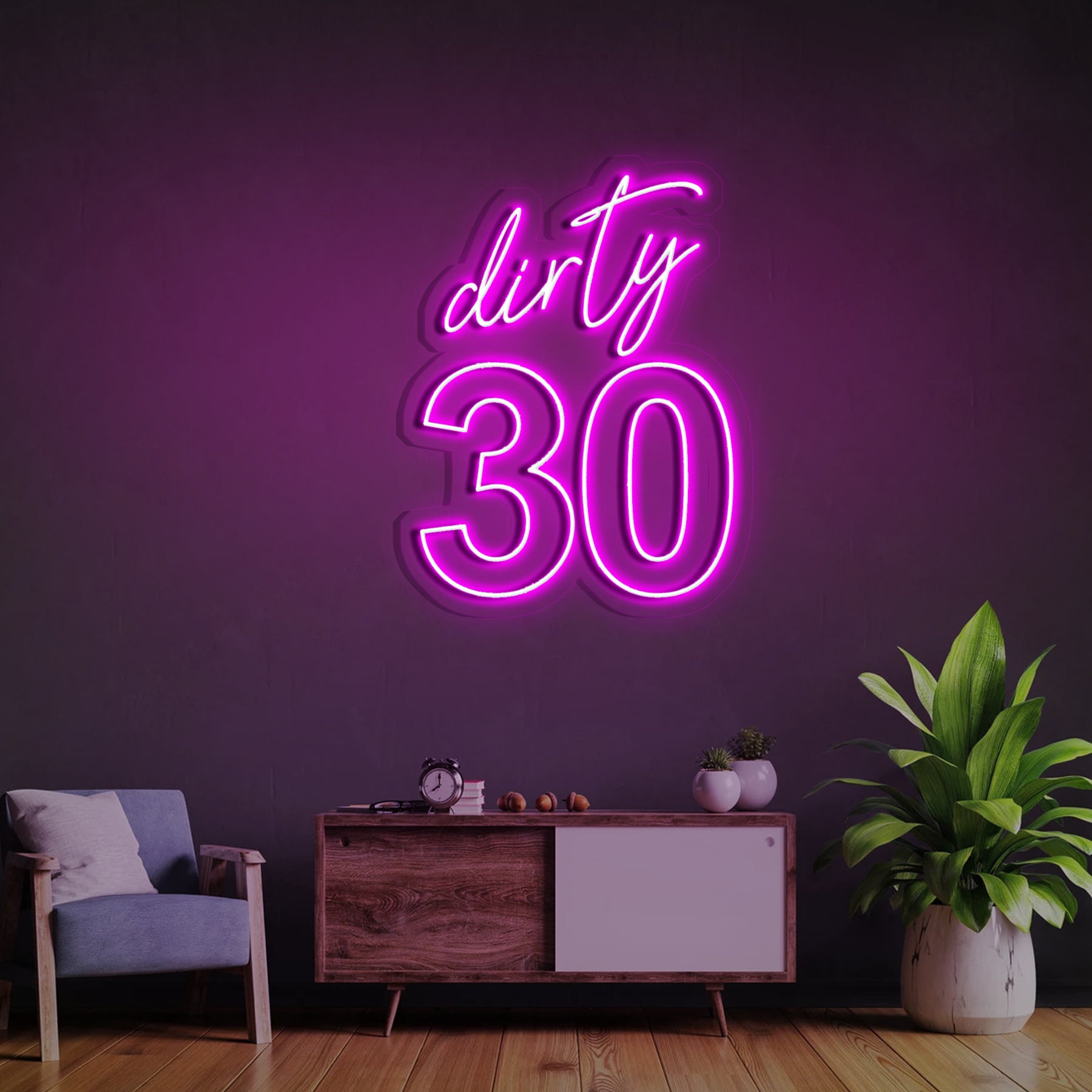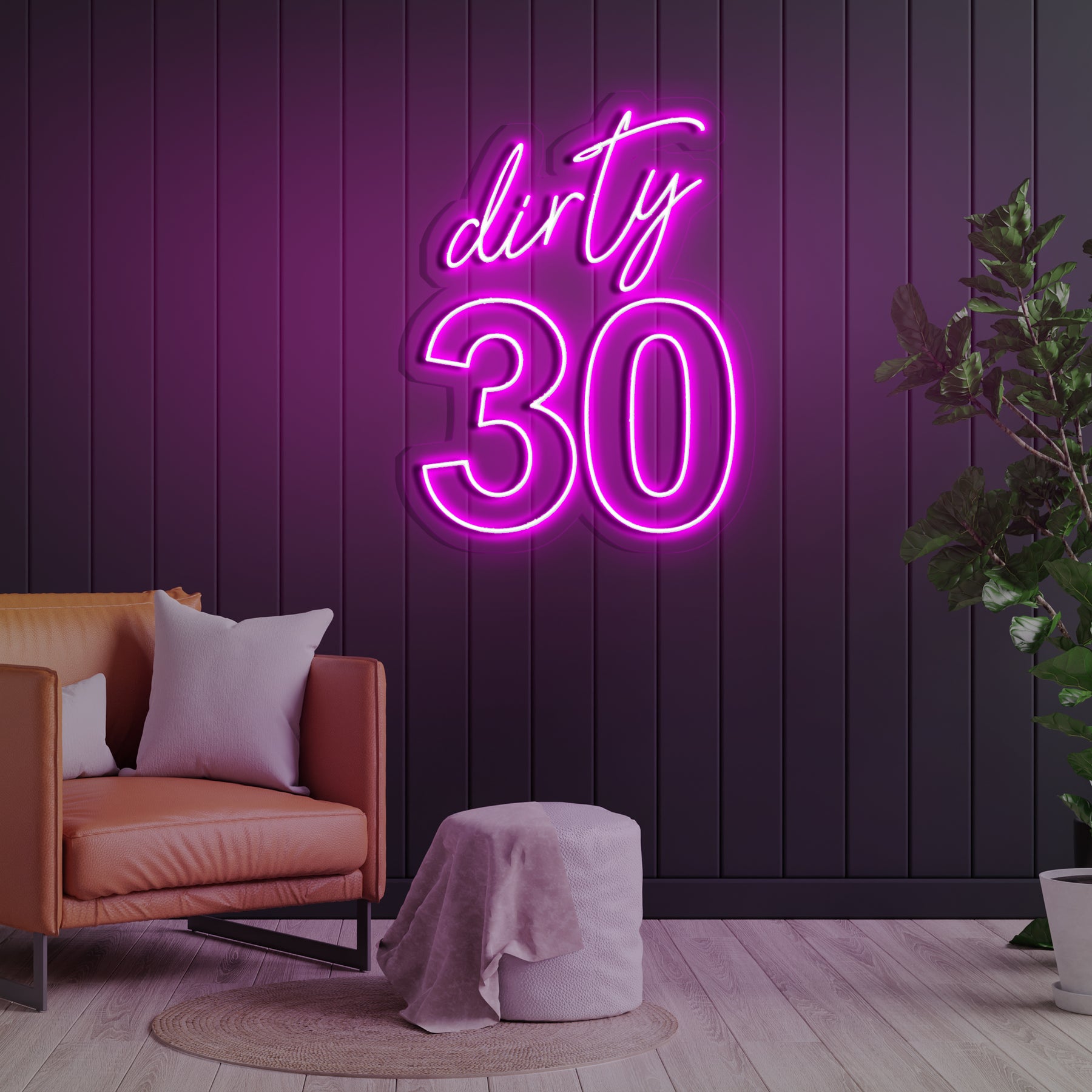 "Dirty 30" Birthday
Backing Style:
Cut to Shape
Dirty 30 Neon Sign
|

Make A Fun Birthday Milestone

The Dirty 30 neon sign from Orant Neon is a fun and unique way to celebrate this birthday milestone. They are a great way to add some personality and style to your party. And let's get an interesting conversation starter!
Meaning of Dirty 30 neon sign
Dirty 30 is a popular neon sign that can be seen in many bars and nightclubs. The sign is usually red or blue and says "Dirty 30" in big, bold letters. The sign is often used to advertise special events or promotions at a bar or club.
So, what does the sign mean? The most common interpretation is that it indicates the bar or club is having a "Dirty Thirty" party – meaning a party for people who are turned thirty years old. This is usually a milestone birthday, and people often want to celebrate it a big way.
Another interpretation of the sign is that it simply means the bar or club is open for business – and ready to get "dirty" (meaning rowdy or wild). So, if you see a Dirty Thirty neon sign, now you know what it means!
Can you customize a Dirty 30 neon sign?
With the custom neon sign Orant Neon service, you may customize the neon sign in every way! On our website, we offer a neon sign generator so that you can practice constructing your sign.
Products from Orant Neon are shipped worldwide. As a result, you can order and receive things at home from anywhere. Isn't that convenient?
Font
You can choose the font for your Dirty 30 sign from various styles, including Barcelony, Hesterica, Kiona, and Typewriter. However, avoid choosing calligraphy fonts or fonts with uneven widths. This will affect the quality and aesthetics of the product as well as the safety during transportation.
Color
Orant Neon also provides you with many variations in addition to the aforementioned hues. Customers can choose from 25 hues at Orant Neon. There are 11 hues in total, 11 of which will show as white when neon signs are off and as colored when they are on. In order to keep the light on even when it is off, another 10 hues will be given a color jacket.
Dimension
Orant Neon recommends lamps between 60 cm (2 feet) and 300 cm in size (10ft). If you want a product with different sizes from this range, please contact us for more information, product and service recommendations.
The perfect Dirty 30 neon sign ideas for space
If you're looking for a fun and unique way to decorate your space, look no further than Dirty 30 neon signs! If you're looking for the perfect Dirty Thirty neon sign for your area, here are some ideas to get you started!
Dirty 30 neon sign bedroom
This is the perfect neon sign for your bedroom if you're looking to add a touch of fun and personality. The Dirty 30 neon sign is a great way to decorate your room and show off your sense of humor. Plus, it makes a great gift for friends or family members who are celebrating their 30th birthday.
Dirty 30 neon sign for birthday party
For the ultimate Dirty 30 birthday party, you need a neon sign that says it all! What better way to let your guests know it's time to get down and dirty than with this fun and festive sign?
This sign is sure to get the party started, and it's a great way to add some extra decoration to your party space. Plus, it's sure to be a hit with all your guests - no matter their age. So if you're looking for a way to make your Dirty 30 birthday party extra special, this sign is a must-have.
FAQs about the Dirty 30 neon sign
This article will answer some of the most frequently asked questions about the Dirty Thirty neon sign.
Can Dirty 30 neon signs outdoors be used?
There are two types of neon signs today, indoor neon signs and outdoor neon signs. Neon signs outdoors are resistant to harsh weather, including sun, rain, or snow. If you want to use an outdoor neon sign, please contact Orant Neon directly to order.
Can the Dirty 30 neon sign be repaired?
Some of the following factors may contribute to neon signs not functioning properly:
Power problems with power.

Damage to glass or other components.

When did it start working?
If you make any of the following simple errors, you can thoroughly review and repair the subsequent steps by yourself:
Step 01: Examining the power source comes first. Locate the voltage source, then check the connections to ensure nothing is coming apart. Make use of a multimeter. If there is not enough power, your neon sign will blink repeatedly before going out. It might be necessary to use a setup transformer to raise the voltage.
Step 02: Inspect connections and wires for fraying. Any broken or shorted cables will limit the power supply. They will have to be modified.
Step 03: Inspect the glass tube for leakage. Lights fade due to neon gas leaks because the air destroys the ions. Depending on how much of gas has been consumed, you might not be able to get this rectified. However, a damaged tube can be replaced with a new one.
Step 04: Check the transformer out. Damaged transformers can cause a number of problems. For a simple remedy, replace it.
After trying the steps, if it doesn't fix it, take your neon sign for repair or contact the manufacturer to get a warranty.
Shipping Information at Orant Neon
All orders are processed and ready to be shipped within 5-7 business days upon receipt of payment. Orders are not shipped or delivered on weekends or holidays.
| | | |
| --- | --- | --- |
| Shipment method | Delivery Time | Shipment cost |
| Standard | 10-14 Business Days | FREE |
| Express Shipping | 8-10 Business Days | $35 |
Please note: If your order has any other changes, the delivery time will be later than expected corresponding to the number of days waiting for order adjustment.
30 is a significant milestone in anyone's life. It's a time to reflect on the past, celebrate the present, and look forward to the future. And what better way to commemorate this special occasion than with a Dirty 30 neon sign? Get this at Orant Neon and make your party better!